News
Oscar-Winning Director Milos Forman Dead at 86
The Czech-born director won the Oscar twice for One Flew Over the Cuckoo's Nest and Amadeus.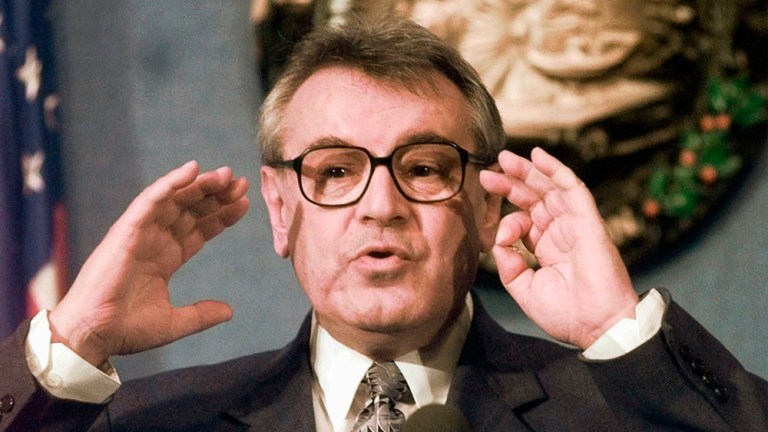 Milos Forman, the Oscar-winning director of One Flew Over the Cuckoo's Nest and Amadeus, has died at the age of 86, according to the Hollywood Reporter.
Forman, who was born Jan Tomas Forman in Czechoslovakia, died on Friday in the U.S. after a short illness. He had a home in Connecticut, according to his manager Dennis Aspland.
The youngest of three sons, Forman was born on Feb. 18, 1932 in a small town outside Prague. His parents were killed in Auschwitz and he lived at a boarding school for many years after that. He began studying film at the University of Prague in the early 1950s and started making films during the next decade.
His 1968 film The Fireman's Ball had an anti-establishment theme to it which angered the Soviet bureaucracy that was then ruling Czechoslovakia, so Forman decided to emigrate to New York.
His first American feature, Taking Off (1971), did not exactly do that, but he scored his first major Hollywood success four years later with One Flew Over the Cuckoo's Nest (1975), an adaptation of Ken Kesey's anti-authority novel set in a mental institution.
The film earned the Oscar for Best Picture, while Forman and stars Jack Nicholson and Louise Fletcher also won their categories. The movie also won for Best Screenplay, making it just the second movie in history (after 1934's It Happened One Night) to win in the five major Oscar categories.
Forman won Best Director again — while the movie won Best Picture and six additional awards — in 1984 for Amadeus, the brilliant and sumptiously mounted historical drama based on Peter Shaffer's play about the life of Mozart.
His other films included Hair (1978), an electric adaptation of the classic counter-culture rock musical; Ragtime (1981), based on the novel by E.L. Doctorow; The People vs. Larry Flynt (1997), about the Hustler publisher's battle for his First Amendment rights; and Man on the Moon (1999), in which Jim Carrey played the eccentric comedian Andy Kaufman.
Forman is survived by his third wife, Martina Zborilova, who he married in 1999, and four sons — one set of twins with Zborilova and another pair from his second marriage.