Features
oscar nominees: Supporting Actor
A quick look at this year's nominees.
While many people place the most emphasis on the Lead actor/actress because they are the one most often in the spotlight, those who back them up are just as important. After all, where would Sherlock Holmes be without his dear Watson? Or The Doctor without his respective companion? In the "Actress In a Supporting Role" category, we had some relative newcomers but this year's nominees for supporting actor are all household names. Unlike some other award shows, fans do not get to vote on who wins an Oscar for their category, it's all in the hands of the Academy of Motion Picture Arts and Sciences. This article will take a quick look at each of the gentlemen the Academy has nominated to win an Oscar for their supporting roles in some of 2012's best movies.
1. Alan Arkin
For his performance as Lester Siegel in Argo
Actor, author, singer and composer, the modern Renaissance man Alan Arkin has been making art for decades. Born Alan Wolf (how appropriate, no?) Arkin in 1936, he has become one of those actors who creates incredibly compelling and engaging characters. Arkin is one of only six actors to receive an Academy Award nomination for his first onscreen appearance. Thus far, he has won twelve different awards for his acting, alone. This year, Arkin is nominated for his supporting role in Argo, an American thriller about what happens after a group of militants storm the U.S. Embassy in Tehran, during the Iran hostage crisis of 1971-1981. Arkin plays Lester Siegel, a film producer who works with a C.I.A. specialist as they execute a plan to get the hostages out. Arkin's outspoken character provides humor in a film where there might not be any otherwise. But the strange yet wonderful thing is, Siegel is a serious guy who doesn't really intend to be funny, it just works out that way. It's a wonderfully complex story and Arkin plays a wonderfully complex character. He's got a lot of talented competition this year, but there is a chance that Alan Arkin may pull away with the win. After all, who doesn't love the unintentionally funny guy?
Previous Academy Award Nominations:
1966: Nominated for Best Actor in The Russians Are Coming, The Russians Are Coming
1968: Nominated for Best Actor in The Heart is A Lonely Hunter
2006: Won Best Supporting Actor in Little Miss Sunshine
2. Robert DeNiro
For his performance as Pat Sr. in Silver Linings Playbook
Raised in the neighborhood of Little Italy in Manhattan (well, that explains a lot), Robert DeNiro is often thought of as THE tough and gritty actor. I don't know about you, but when I see DeNiro enter a scene, I expect to be mildly afraid of him. While the aforementioned may come to mind when we think of this spectacular actor he can, and has, stepped out of the role of the hardass enforcer and into a less expected but more comedic character. Playing Pat Sr. in Silver Linings Playbook is one of those times when he's broken the mold. Pat Sr. is a good ol' boy for sure, but you can't help but find him funny and endearing with all of his superstitions and the fact that he makes his living by continually gambling on one team. DeNiro does a great job playing the matriarch of this more than slightly messed up family. And when it comes down to it, the guy you thought would be embarrassed of his son is the one cheering him on the loudest. I give DeNiro a lot of credit for his ability to portray this ever so unique and quirky character. Not only did he do the job, he excelled at it. Having already won numerous awards for his acting, Robert DeNiro might just go home with another this February.
Previous Academy Award Nominations:
1974: Won Best Actor in The Godfather Part II
1976: Nominated for Best Actor in Taxi Driver
1978: Nominated for Best Actor in The Deer Hunter
1980: Won Best Actor in Raging Bull
1990: Nominated for Best Actor in Awakenings
1991: Nominated for Best Actor in Cape Fear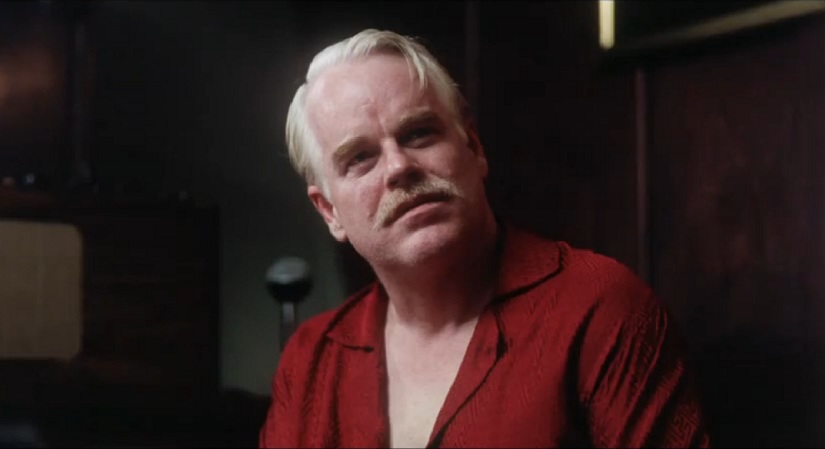 3. Phillip Seymour Hoffman
For his performance as Lancaster Dodd in The Master
Actor and theater director Philip Seymour Hoffman was born in the Rochester, New York (not very far from me here in Syracuse!) in 1967. Hoffman's first acting role was a one time appearance on Law and Order in 1991. Almost always in the supporting role, Hoffman has established a flourishing and reputable acting career playing diverse and offbeat characters. Hoffman is the guy we love to be creeped out by. In The Master Hoffman's character, Lancaster Dodd, is the leader of a philosophical movement known as "The Cause." "The Cause" is a growing, cult like group with popular psychology, self helpish overtones and religious undertones. Without getting too deeply into plot points and details, I will say one thing: it's reportedly based on Scientology. Kind of says it all, doesn't it? Hoffman delivers a stunning performance as "that creepy guy," this time with 75% more religion! I don't think anyone else would've pulled off this role as well as Hoffman did. I'm not sure if that's a compliment or not, but one thing is for sure, Phillip Seymour Hoffman is nominated again this year and if it were in the category of "guy who makes our skin crawl, but we love him for it," he'd most definitely be going home with a little golden dude. Come on guys, I mean the statuette!
Previous Academy Award Nominations:
2006: Won Best Actor in Capote
2007: Nominated for Best Supporting Actor in Charlie Wilson's War
2008: Nominated for Best Supporting Actor in Doubt

4. Tommy Lee Jones
For his performance as Thaddeus Stevens in Lincoln
I'm sure I'm not the only one who has noticed this, but man is Tommy showing his age! Luckily for him though, his mass of wrinkles works perfectly for his recent role in Lincoln. Born in San Saba, Texas in 1946, Tommy Lee Jones is now a veteran actor in Hollywood. Interesting tidbit, while attending Harvard, Jones roomed with now ex-Vice President and Eco-warrior, Al Gore. Jones received a B.A. in English literature and graduated Cum Laude in 1969. After college, Jones moved to New York and began his acting career. After a few years on Broadway, Jones relocated with his family to Los Angeles, where he started his film and television career. After years and years of movies, good and bad, Jones has proven himself again and again. We love to see him as the curmudgeon with a heart of gold. In Lincoln Jones again plays that role. Thaddeus Stevens is one of the key players in getting the Thirteenth Amendment passed. For much of the film, you aren't quite sure which way he's going to go. He says that he supports equality and then changes what he has to say so that no one is sure whether he supports or not. I won't give away the surprise ending, but I will say that our grumpy old man is again outed as the unexpected ally who never really needed convincing. While some may take Tommy Lee Jones for granted, I think it's a mistake and that we may well see him go home with the award this year.
Previous Academy Award Nominations:
1991: Nominated for Best Supporting Actor in JFK
1993: Won Best Supporting Actor in The Fugitive
2007: Nominated for Best Actor in The Valley of Elah 
5. Christoph Waltz
For his performance as Dr. King Schultz in Django Unchained
Christoph Waltz was born in Vienna, Austria. He is the son of Johannes Waltz and Elisabeth Urbancic, both set and costume designers. By the time he came to the attention of a larger audience in Tarantino's Inglorious Basterds (2009), he already had a long acting career in Austria. Known for playing the token bad guy, Waltz fills a slightly different role this time. Working with Quentin Tarantino for the second time, in Django Unchained Waltz plays a German bounty hunter Dr. King Schultz. Set in the Antebellum era in the deep south, Dr. Schultz is a newer proponent of equality and is offered an opportunity to avoid violence and maybe even the ability to further the idea of equality. While it's made obvious that Schultz is not a fan of slavery, at the beginning of the film he appears to simply view the idea as a backwardness among Americans rather than a moral issue requiring immediate action. In fact, Schultz is willing to hold Django's freedom over him until he gets what he needs, instead of freeing him right away. While the film covers some very serious topics, one can't help but laugh at certain times. One of these times is when Schultz is attempting to get to know Django and iron out the terms of their agreement after they first meet. Django is talking about his wife, who has been taken from him and how she was raised by a German mistress. I will admit to chuckling when Schultz looks at Django and says "Let me get this straight, your slave wife speaks German and is named Broomhilde Von Shaft?" Somehow, Waltz manages to thoroughly pull off the very strange combination of heartfelt and funny. Still a newcomer to the Hollywood scene, Waltz seems to have found a friend in Quentin Tarantino and that very well may take him far in Hollywood. Hell, he's already won an Oscar for his previous work with Tarantino, why not make it two?
Previous Academy Award Nominations:
2009: Won Best Supporting Actor in Inglorious Basterds