News
Once Upon a Time in Hollywood: Trailer, Cast, Release Date, and News
Here's everything we know so far about Quentin Tarantino's Charles Manson movie, Once Upon a Time in Hollywood.
Once Upon a Time in Hollywood will put one of Tinseltown's most infamous crimes, the 1969 murders by the Manson Family, through the madcap–and often quasi-historical–lens of writer-director Quentin Tarantino. It will also be Tarantino's first effort since 2015's The Hateful Eight, meaning it is supposedly his penultimate film.    
As if that idea wasn't intriguing enough, Tarantino has put together an amazing cast for the film, with names like Brad Pitt, Leonardo DiCaprio, Margot Robbie, Al Pacino, Kurt Russell, Timothy Olyphant, Damian Lewis, Dakota Fanning, along with the director's repertory players Tim Roth, Michael Madsen and Zoë Bell. (Oscar-winning cinematographer Robert Richardson also had a hand in the making of the film!)
The film is set in Los Angeles during the summer of 1969, which includes the Tate-LaBianca murders, but there is no word yet on whether the film will recreate the historic events or use them as the backdrop to another story.
Here's everything we know about the movie:
Once Upon a Time in Hollywood Trailer
The first clip from the movie was posted by Leonardo DiCaprio on Twitter and features Kurt Russell's Stuntman Randy (is he related to Stuntman Mike from Death Proof?!):
The latest trailer for Quentin Tarantino's Once Upon a Time in Hollywood is here!
Check out the earlier trailer, too…
Once Upon a Time in Hollywood Release Date
Once Upon a Time in Hollywood will open on July 26, 2019. When the Django Unchained director's take on the world of Charles Manson was originally announced, the film was slated to be released on August 9, 2019, the 50th anniversary of the murders that ended the peace and love generation of the 1960s. 
read more: Every Once Upon a Time in Hollywood Easter Egg
Once Upon a Time in Hollywood Story
Charles Manson was the leader, and proposed lead singer, of the Manson Family, a fringe group of outsiders who became the most famous mass murderers in America. In 1969 they committed a string of murders in the Los Angeles area that included director Roman Polanski's pregnant wife, actress Sharon Tate. The murders were brutal. Tate was stabbed 16 times. Manson was trying to instigate a race war where he would be put in charge of the survivors after the fallout. The crime shocked America and brought an abrupt end to the revolutionary decade. Manson died in a Bakersfield hospital at the age of 83 on Nov. 19, 2017.
Quentin Tarantino described Once Upon a Time in Hollywood as "a story that takes place in Los Angeles in 1969, at the height of hippy Hollywood."
"I've been working on this script for five years, as well as living in Los Angeles County most of my life, including in 1969, when I was seven-years-old," Tarantino said in a statement (via THR). "I'm very excited to tell this story of an LA and a Hollywood that don't exist anymore. And I couldn't be happier about the dynamic teaming of DiCaprio and Pitt as Rick & Cliff."
read more: A History of Charles Manson in Movies and Pop Culture
Once Upon a Time in Hollywood Cast
Leonardo DiCaprio, who worked with Tarantino on Django Unchained, will play former western TV star Rick Dalton (as opposed to early reports that he'd be Manson). Brad Pitt, who previously starred in Inglourious Basterds, is Cliff Booth, Dalton's longtime stunt double. Pacino will play Marvin Shwarz, Rich Dalton's agent.
Here's a look at Leonardo DiCaprio and Brad Pitt in character as 1960s Hollywood semi-players. In the film, DiCaprio plays fading Western TV star Rick Dalton while Pitt portrays Dalton's career-long stuntman, Cliff Booth. Both are desperate and on their way out during the sumer of 1969, which is when the film is set. Pitt also looks fairly unrecognizable with that shaggy hair. DiCaprio, meanwhile, is clearly going to rock some vintage West Coast try-too-hard fashion.
Margot Robbie will play 1960s icon Sharon Tate. The Valley of the Dolls star, and wife of Rosemary's Baby director Roman Polanski, made the perennial penal system poster boy Manson famous. Tate was pregnant when she was killed at her L.A. home at 10050 Cielo Drive in 1969.
read more: Sharon Tate's Sister Adored Margot Robbie
Here's a look at Margot Robbie as Sharon Tate, rocking some '60s chic style…
Tate, who was one of the more revered starlets of the late '60s, crossing the line between sex symbol to art house style given her relationship with Roman Polanski. The Valley of the Dolls star met Polanski on his film The Fearless Vampire Killers, and they were soon married. Allegedly their relationship was a source of inspiration for Polanski's next film, Rosemary's Baby. However, Tate's own pregnancy fell to tragedy when the Manson Family selected her house one night to turn into the site for a murder spree. She was eight and a half months pregnant.
Damon Herriman will play Charles Manson. We have more details on his casting here.
Deliverance and Smokey and the Bandit star Burt Reynolds was to play George Spahn, the ranch owner who rented land to Charles Manson and his followers, before his sad passing earlier in 2018. (Once Upon a Time in Hollywood is by far not the first movie made there, however.) His casting was the first indication the film will hew closer to the dark mythology around Charles Manson than some of the previous casting has implied, as Spahn was intergal to Manson having a place to implement his brainwashing and hate. He has since been replaced by character actor statesman Bruce Dern, the Oscar nominee who appeared for a brief but memorable role in Tarantino's last movie, The Hateful Eight.
Deadline has most recently revealed that Girls alum Lena Dunham, Austin Butler, Maya Hawke and Chilean actress Lorenza Izzo have joined the film in unspecified roles. 
read more: Once Upon a Time in Hollywood Ending Explained
Tarantino is also pulling from his usual troupe of actors with Kurt Russell, Tim Roth, and Michael Madsen, who together or separately acted in Death Proof, The Hateful Eight, Pulp Fiction, Kill Bill, and Reservoir Dogs, all cast in the film.
Damian Lewis will play Steve McQueen, one of the actors who defined cool in the sixties. Keith Jefferson, who appeared in The Hateful Eight and Django Unchained, will play Land Pirate Keith.
Emile Hirsch will play Hollywood hairstylist Jay Sebring, one of the four victims on Cielo Drive. Dakota Fanning was cast as one-day President Ford assassin wannabe Squeaky Fromme.  Clifton Collins Jr. plays s Ernesto The Mexican Vaquero., Keith Jefferson and Nicholas Hammond will play director Sam Wanamaker. Luke Perry was cast as Scotty Lancer. Timothy Olyphant is also in the family.
Scoot McNairy will reportedly play Business Bob Gilbert, a cowboy character who stars in an apparently-fictional Western TV show from the film's 1969 time period. The character seems supplementary to the film's world-building, described as "an element of a Pulp Fiction-like tapestry of the summer of 1969 in Los Angeles."
James Marsden has been cast in an unspecified role.
read more: Once Upon a Time in Hollywood Post-Credits Scene Explained
The film cast Spencer Garrett, Martin Kove, James Remar, Brenda Vaccaro, Nichole Galicia, Mike Moh, Craig Stark, Marco Rodriguez, Ramon Franco and Raul Cardona as a variety of characters, according to Deadline. Garrett (The Magicians, Insecure) will play celebrity TV interviewer Allen Kincade. Stark and Remar both worked with Tarantino on Django Unchained, and Stark also played in The Hateful Eight. Kove is currently reprising his role as the iconic karate bad guy in Cobra Kai, the Karate Kid spinoff on YouTube Red.
Once Upon a Time in Hollywood Poster
The first posters have been revealed…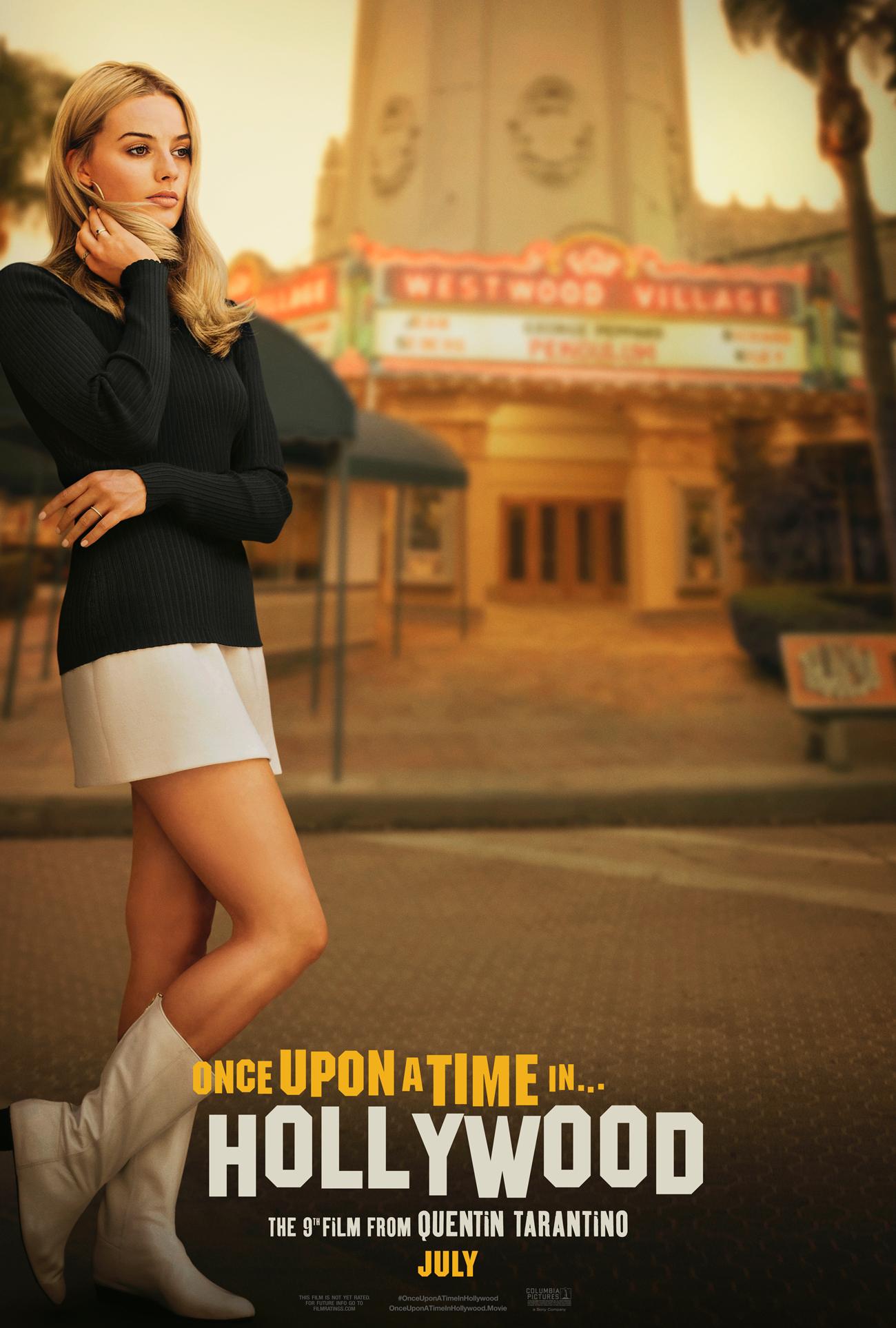 Read and download the Den of Geek SDCC 2019 Special Edition Magazine right here!