Features
On Hayao Miyazaki's feature film retirement
As Hayao Miyazaki announces that he's to retire from feature filmmaking, we look back at his legacy, and what it means for animation...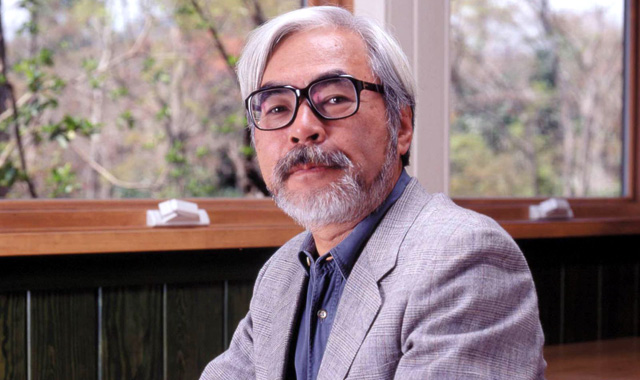 For many visitors to the Venice Film Festival, the weekend's screening of Studio Ghibli's The Wind Rises came with more than a hint of melancholy. Shortly after that film played to an enthralled audience, studio head Koji Hoshino made the announcement that Miyazaki would soon be retiring from filmmaking.
"Miyazaki has decided that [The Wind Rises] will be his last film," Hoshino said, "and he will now retire." Although Hoshino didn't elaborate further, it's probably fair to say that a series of factors have led to what must have been a difficult decision for the famously driven animator, artist and filmmaker – not least the controversy surrounding The Wind Rises in his native Japan, where the animator was criticised for his anti-war sentiments.
Miyazaki had originally intended to retire back in the 90s, and even announced as much shortly after he finished the dark, allegorical fantasy Princess Mononoke. Happily, his love of animation brought him back, and his returning film was Spirited Away – an acclaimed film that managed to win Best Animated Feature in 2003. In the years since, Miyazaki continued to create some wonderful pieces of work – Howl's Moving Castle, Ponyo and now this year's The Wind Rises show how seamlessly he could move between fantasy, whimsy and drama, and how, even in his 70s, he was never content to simply repeat himself with each picture.
The Wind Rises, in particular, feels like a summation of so much of his life and interests, even if it is entirely lacking his trademark love of the fantastical. A biopic about the designer of the Mitsubishi Zero Fighter, and also the turbulent period of change that took place in Japan before, during and after the Second World War, it seems, in retrospect, a fitting and powerful place for Miyazaki to bring his feature filmmaking career to a close.
And what a career it has been. He'll be most fondly remembered for the 11 stunning features he directed between 1984 and the present; Nausicaa Of The Valley Of The Wind was his sweeping, seminal work, with its success enabling Miyazaki and his collaborator Isao Takahata to form Studio Ghibli. Thereafter, classic followed classic: Castle In The Sky was an adventure as bracingly urgent as it was beautiful. My Neighbor Totoro was an unashamed revel in Japan's natural beauty, as embodied in its bunny-eared woodland spirits. The slight yet heartfelt delight of Kiki's Delivery Service was followed by the exhilarating tale of a porcine flying ace in Porco Rosso.
Before all those, Miyazaki directed The Castle Of Cagliostro, a feature-length adventure featuring the wily thief and manga hero Arsene Lupin III. Packed with character and stunning action sequences, Miyazaki's assured style and control is evident in every scene. Going even further back, Miyazaki had toiled for more than a decade as a key animator and storyboard artist on animated TV shows including Moomin, Heidi and Future Boy Conan. His two 1970s short films, Panda! Go Panda!, and its follow-up, The Rainy Day Circus – created with Isao Takahata (who directed) – show faint glimmers of the magic he'd perfect so spectacularly in My Neighbor Totoro nearly 15 years later.
This all adds up to a remarkable body of work, and we haven't even begun to cover the manga he drew over his career – including his 58-chapter epic, Nausicaa, which he drew over the course of 12 years – or his beautiful short films, which are too numerous to list in full.
If you don't mind, there now follows a brief anecdote.
Last year, I went on a pilgrimage to the Ghibli Museum, tucked away in a sleepy suburb of Tokyo. Among the exhibits in that delightful, eccentric place, there's a little cinema, which is dedicated to showing one of the studio's short films – films unavailable anywhere else, and only shown in the museum's screening room.
Each visitor is given a special ticket on entry to the museum, which entitles the recipient to enter the screening room just once – there's no option to run around the corner and rush in to watch the film again, which was something I was quietly planning earlier that morning.
The film that happened to be playing that day was called Mei And The Kittenbus – a delightful spin-off story from My Neighbor Totoro. The screening room was so full, I ended up sitting on a step in the aisle, my knees up past my ears like a little kid. Looking around, I noticed just how varied the audience was: there were plenty of young children, but also lots of parents, grandparents, and wide-eyed foreigners from all over Europe, America, Australia and goodness knows where else.
However old they were, and wherever they came from, they all wore the same expression: absolute, rapt excitement. The atmosphere in that room, as the 12-minute film played out, was extraordinary – full of good-humoured laughter and gasps of joy.
This, I think, is the secret at the heart of Hayao Miyazaki's films. Somehow, his films cut through barriers of age, nationality and gender. When the final credits rolled on Mei And The Kittenbus, I felt as though I'd not just seen a lovely film but I'd also shared something truly special with all those strangers in the room. It was a wonderful moment, and all the more precious because I know, deep down, it will never happen again.
Those short films tell us an awful lot about Miyazaki and his seemingly endless dedication. After Spirited Away ended his initial phase of retirement, Miyazaki's rate of work suddenly exploded. Between the release of Spirited Away and Howl's Moving Castle, he wrote and directed four short films, as well as serving as producer on 2002's The Cat Returns. Between 2004 and 2010, he made four more shorts, as well as Ponyo.
This is an extraordinary amount of work for one artist to produce, and it almost seems unthinkable that he'll cease entirely with The Wind Rises. Maybe he'll carry on making short films instead of features. Perhaps he'll return to creating his delicate, intricate watercolour manga pieces again. But if Miyazaki really has retired, it's certainly fair to say he's earned it, having thrilled, stunned and beguiled audiences for so very, very long.
Whatever you do next, Miyazaki-san, from the bottom of my heart, thank you. If movie magic exists at all, it's in the unique films you made.