News
Olivia Wilde's Don't Worry, Darling Lands at New Line After Bidding War
Olivia Wilde is following up Booksmart with Don't Worry, Darling, a new thriller she's directing and starring in.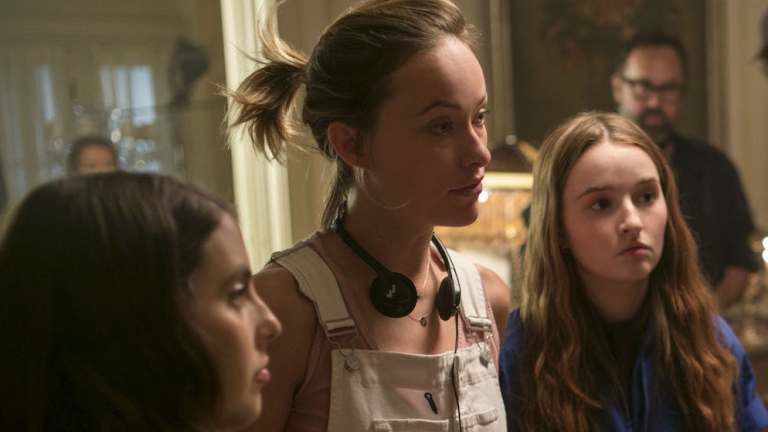 Booksmart might still be the most entertaining movie to be released in 2019. It's certainly one of our faves with its gleeful anarchy that not only proved there is still life in the R-rated teen anthem subgenre, but also announced Olivia Wilde as a major director to watch. And she's following the movie up with another directing project that will bring her in front of the lens this time as a woman in a marriage that is apparently anything but idyllic.
It was announced last month that Wilde would direct and produce Don't Worry, Darling, a psychological thriller set in the 1950s. Further she is reteaming with Kate Silberman on the project. Silberman was one of several writers on Booksmart who also produced that riotous comedy. She's onboard as a producer as well as screenwriter, with sources telling us she is totally rewriting the script (a previous version was penned by Shane and Carey Van Dyke). Now we know that it proved such a hot commodity after Booksmart that it triggered a bidding war that ended with New Line Cinema on top.
According to Variety, a total of 18 bids were placed on the film by an unknown number of studios before New Line came away with the project. The film is described as a "A psychological thriller about a 1950s housewife whose reality begins to crack, revealing a disturbing truth underneath." With the subject matter of '50s domestic life, as well as a previous logline teasing about it being timely for the Times Up era, one wonders if she might find out there is more than meets the eye with her husband, though that last bit is pure speculation based on the Gaslighting-esque title. (The setting also evokes a time for many popular thrillers from Alfred Hitchcock, a figure who himself may not have done well in the Times Up era.)
Wilde has always had range both on screen and stage, having done memorable work in Meadowland and Drinking Buddies (we're also admittedly partial to Tron: Legacy), but she appears to have really come into her own as an exciting directorial voice once Booksmart wowed audiences at SXSW. It went on to become the critical darling of the summer, earning a current 97 percent fresh rating on Rotten Tomatoes, and it seems destined to go on to become a dorm room classic. So her next project would instantly generate attention. The fact it is also a starring vehicle that seems ready to wade into the issues of today has made this one to keep an eye out for as it develops.
A previous version of this article was published on July 31.
Read and download the Den of Geek SDCC 2019 Special Edition Magazine right here!
David Crow is the Film Section Editor at Den of Geek. He's also a member of the Online Film Critics Society. Read more of his work here. You can follow him on Twitter @DCrowsNest.