News
Okja Trailer: Netflix Sci-Fi Movie Unveils its Giant Pig
Okja, a Netflix sci-fi film from Snowpiercer's Bong Joon Ho, releases its first full trailer.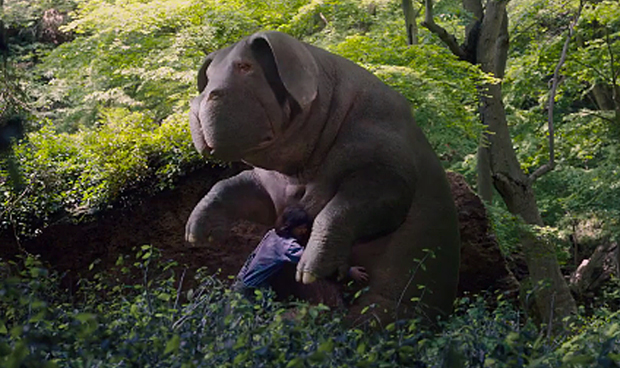 Netflix has several original movies on the way, notably evidenced by the recent unveiling of the trailer for their expensive Will Smith-starring, David Ayer-directed sci-fi/fantasy/crime film Bright.
However, well before we'll get to see that, the streaming giant will drop another intriguing original in the South Korean sci-fi film Okja. Directed and co-written by Bong Joon Ho, who adapted a French comic to make the apocalyptic train epic Snowpiercer, the film showcases a plot almost akin to a Disney film, laced with darker themes.
Okja Trailer
The full trailer for Okja has arrived, finally lifting the viral veil that previously covered its crucial details, notably the titular creature, which is revealed to be – as previously hinted – a giant grey pig-type creature resembling an oversized land-walking manatee. The animal, who forms a bond with a young girl named Mija (An Seo Hyun), becomes the center of conflict between the Mirando Corporation of Lucy Mirando (Tilda Swinton), which created Okja specifically to become hunger-ending super-stock, and a group of English-speaking activists, represented by characters such as Jay (Paul Dano) and K (Steven Yeun). Characters Frank Dawson (Giancarlo Esposito) and Dr. Johnny Wilcox (Jake Gyllenhaal) are also briefly seen.
The trailer arrives in the aftermath of an Okja teaser trailer, a viral video-style clip starring the chameleonic Tilda Swinton as Lucy Mirando, the eponymous CEO of the Mirando Corporation. She's promoting the conceit that her company's cadre of (purportedly more delicious) genetically modified pigs – advantageously deprived of "night terrors" – will save the world from catastrophes such as famine and climate change. Of course, beneath Lucy's well-dressed, glazed-eyed exterior lies a terrible secret; an apparently giant spectacle of a secret that Netflix is maintaining tightly during the film's buildup.
The video also refers to the URL superpigproject.com if you're interested in more behind-the-fourth-wall Okja viral material.
You can also check out the earlier teaser trailer for Okja that is as oblique as it is odd. The film centers on a young girl named Mija (An Seo Hyun), who strikes a bond with a multinational corporation's genetically modified animal (a pig of some sort,) named Okja. Unfortunately, things get complicated, since the experimental Okja is growing at an alarming rate, going from handbag-sized pet to something dwarfing an average person, revealed to be the company's ultimate GMO. While their friendship is the stuff of charming childhood wonders, it also occurs against the interests of the company, whose beneficent anti-hunger public mission likely obscure more sinister political motivations. The brief clip provides some insight into the film's style, focusing on the experiment-making company boss played by Tilda Swinton, presumably saving the full reveal of Okja for a later clip.  
Okja Release Date
Okja gets ready to unveil what could become – for entirely different reasons – the most memorable pig movie since Babe when it debuts on Netflix on June 28.