News
Official Secrets Trailer: Keira Knightley as Iraq War Whistleblower
Keira Knightley, Matt Smith, Matthew Goode, and Ralph Fiennes star in the real-life story of British whistleblower Katharine Gun.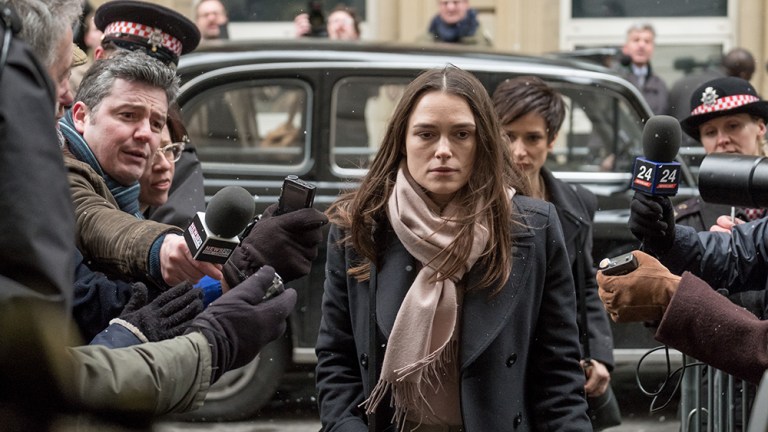 Keria Knightley is an actress often associated with period dramas—a choice, she told BBC News while promoting her film Colette, because it's where she finds the "strongest roles"—but her latest film, while technically a period drama, takes place much more recently than the films we usually think of as falling into that category.
The movie is called Official Secrets, and it tells the story of British whistleblower Katharine Gun (played by Knightley), a civilian translator at the Government Communications Headquarters intelligence office in the U.K., who leaked top-secret information to the press concerning illegal activities by the United States of America in their push for the 2003 invasion of Iraq.
Official Secrets has a killer cast. In addition to Knightley, it stars Matt Smith, Matthew Goode, Ralph Fiennes, Rhys Ifans,  Indira Varma, Conleth Hill, Tamsin Greig, Monica Dolan, and Katherine Kelly.
Check out the trailer…
There's a certain dramatic irony of watching movies set in recent history. We know how this will all turn out, and can see more directly how the actions being depicted have influenced our current world order. Official Secrets may take place in 2003, but it very much feels like a movie that has some important, desperate things to say about where we are now.
As an America, it's also interesting to see this historical event play out from the perspective of the British. The film is directed and written by South African filmmaker Gavin Hood, who has previously directed Oscar winner Tsotsi, X-Men Origins: Wolverine, Ender's Game, and Eye in the Sky.
Official Secrets hits select theaters in the United States on August 30, 2019.
Kayti Burt is a staff editor covering books, TV, movies, and fan culture at Den of Geek. Read more of her work here or follow her on Twitter @kaytiburt.