News
Ocean's 8: Cast, Trailer, Release Date, and More News
Ocean's 8 will continue the heist movie tradition of the film series, armed with an impressive all-female cast.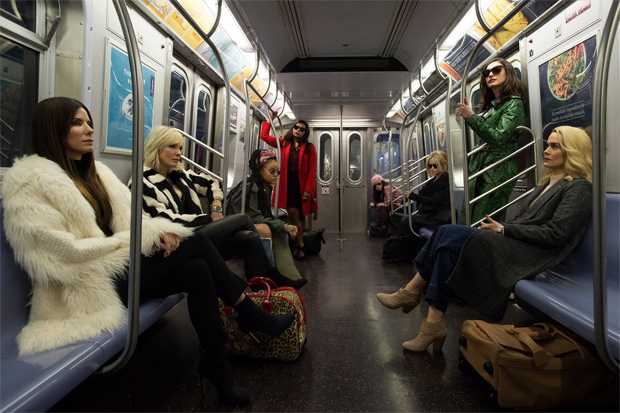 Say what you will about remakes and reboots, but the Ocean's franchise just naturally lends itself to this kind of filmmaking. After all, the beloved "original" Ocean's Eleven movie from 2001 was a remake of the 1960 Rat Pack film that went by the same name. And a not very good Rat Pack movie at that. So a continuation with Ocean's 8 sounds perfectly marvelous to us, sports fans. And hey, as it turns out, this is as much a sequel as reboot of the saga, continuing the exploits of the Ocean family… just now it's Danny Ocean's estranged sister (Sandra Bullock) getting in on the action and planning a major heist.
The movie is directed by Gary Ross (The Hunger Games, Seabiscuit). He also co-wrote the script alongside Olivia Milch. Production ran from October to December of 2016 in New York City.
So let's roll the dice and see what we can expect from Ocean's 8!
Ocean's 8 Cast
Studios Warner Bros. and Village Roadshow released the first image from Ocean's 8 back in January, revealing the assembled primary cast riding on a (conspicuously empty) New York City subway car. In the film, the women, a team of elite larcenists, will attempt an ambitious heist of the city's famous annual Met Gala charity ball; a fashion-centric event that has raised as much $12 million in one night. However, as we can see, the would-be robbers are locked in a tense moment, doing anything but blending in to their surroundings.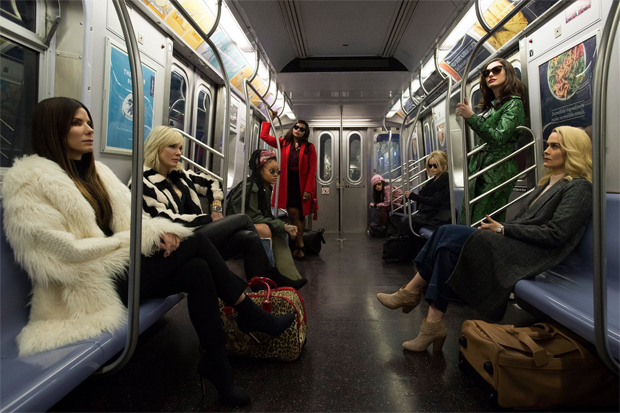 The cast, pictured left to right in the photo, consist of:
Sandra Bullock as Debbie Ocean, estranged sister to George Clooney's Danny Ocean.
Cate Blanchett as Lou
Rihanna as Nine Ball
Mindy Kaling as Amita
Awkwafina as Constance
Helena Bonham Carter as Rose
Anne Hathaway as Daphne Kruger
Sarah Paulson as Tammy
Richard Armitage, Dakota Fanning, Katie Holmes, Olivia Munn, Kim Kardashian West, and Richard Robichaux are also in unspecified roles. Notably, the picture is also going to have Matt Damon reprising his role of Linus Caldwell from the original Ocean's Trilogy.
further reading: The Must See Movies of 2018
Check out this poster showcasing its shades-sporting main lineup of female finaglers, ready to pull off a heist worthy of the Ocean's film franchise.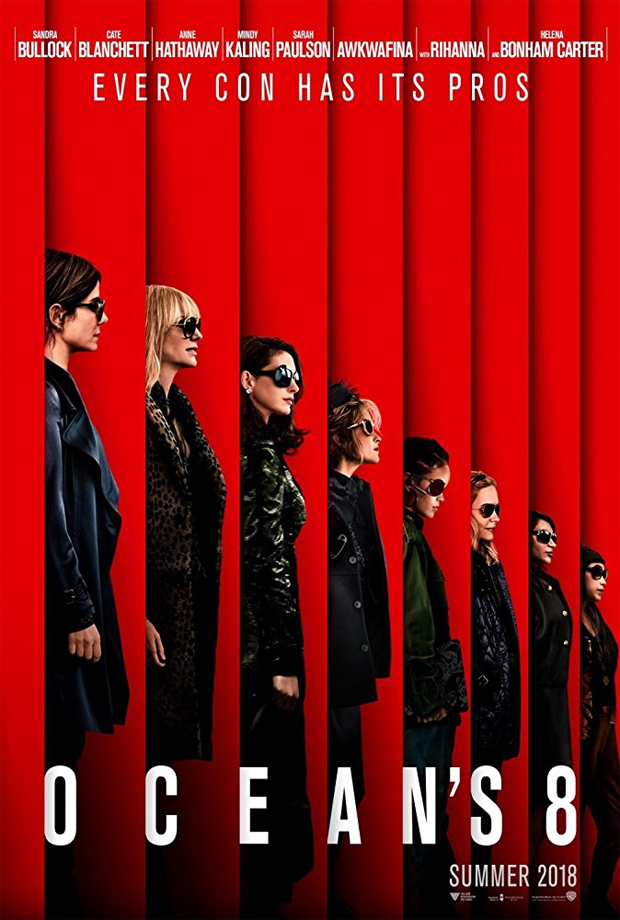 Ocean's 8 Trailer
We've got a new, full-length trailer for Ocean's 8! It goes further into Sandra Bullock's character's backstory, but mostly doubles down on the fun, heist-centric tone of the first trailer. Check it out…
And here's the first full trailer for Ocean's 8…
Ocean's 8 Release Date
Ocean's 8 will sneak into theaters on June 8, 2018.