News
Ocean's 8 Cast Reinvent Franchise for "Greater Good"
The Ocean's 8 cast discusses the rarity of an ensemble with more than one woman...and how the industry is now scrambling to catch up.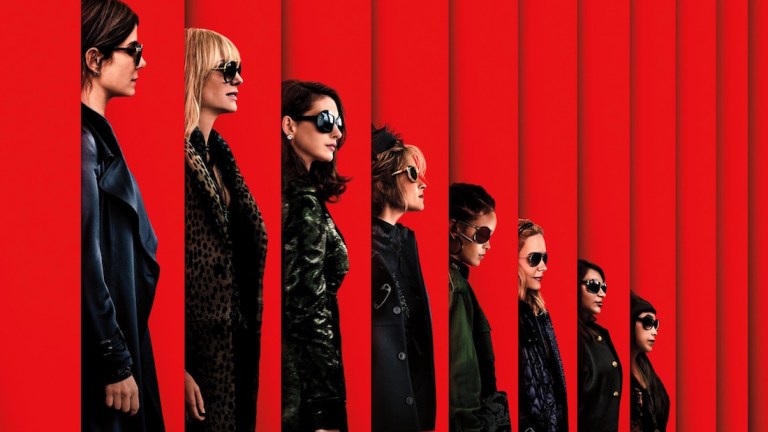 As they enter the Metropolitan Museum of Art's famed Temple of Dendur, it's clear that the cast and filmmakers of Ocean's 8 have bonded just as well as the franchise's storied Rat Pack. For while it is a gloomy, overcast spring morning in the park outside the window, the interior is lit with a buoyancy of co-stars who so enjoy each other's company that they're messaging one another in a group text mere minutes before their press conference. What is of course remarkable about this is that unlike the older fraternity of thieves led in the past by George Clooney, or Frank Sinatra before him, this is the marvelous—and unfortunately rare—sight of an all-women ensemble.
And all the castmates present for the Ocean's 8 press conference, including Sandra Bullock, Cate Blanchett, Anne Hathaway, Mindy Kaling, Sarah Paulson, and Awkwafina, are only too aware of this unique moment. Bullock, who is the head Ocean ringleader in the film, even admits she was surprised at how rewarding the experience was. Even with nothing left to prove, the star was slightly taken off guard by how satisfying it was to come away with a camaraderie that is is so common for male-driven get-togethers that Lauren Bacall historically labeled a slew of them as being a pack of rodents.
"By the end, and now continuously and long past when this film is out, we managed to connect on a level that we never ever have been given the chance, because we don't get to work [with so many other women]," Bullock says with genuine appreciation for the experience. In this vein, she points out there are usually five lead roles in a film, and one woman is often the only actress present. "We're all alone and little islands, and here we are Hawaii… I feel really lucky, because there are no more stones I need to turn over, but on this one, I really feel like I came out with more than I ever imagined."
It is a sentiment shared by all of the performers present. Some have joined popular franchises before (a word Blanchett personally detests), but never one where they're at least not partially treated as the lone paragon of their gender. Anne Hathaway, for instance, was a memorable Catwoman in Christopher Nolan's otherwise mostly male The Dark Knight Rises, but here she is just one piece of the puzzle… an antagonistic one that allows her to gleefully embrace and deconstruct stereotypes of Hollywood actresses. (She's the mark in the film, a vain movie star with a $150 million diamond necklace around her throat).
"It was fun to kind of know the research was already done," Hathaway muses. "The muscle memory was in there about what her life was like, but to also wonder what would have happened if at the beginning of my career, I thought of fame as something that was real, as opposed to how I think about it, which is it is very [illusionary]." Nevertheless, even as the ostensible antagonist of the piece, she gets to play off Blanchett, Bullock, and the others as opposed to being the lone one watching boys fight (even right after a death scene in an Oscar winning role).
"I've never been given an opportunity like this and I've been doing this for a minute," Hathaway says. "So it's a wonderful space to occupy, and I'm really excited for the moment when this doesn't feel special anymore."
The opportunity itself is derived from several other unique ones, as per director Gary Ross. Probably best known for directing the original The Hunger Games film, it was on the set of that first Katniss Everdeen blockbuster, which turned Jennifer Lawrence into an overnight action movie star, that Ross began pondering a way to reinvent the Ocean's franchise.
Says Ross, "I think the thing that stuck about Hunger Games was the kind of impact it had on girls, seeing a protagonist like that who they could relate to and in the kind of movie they'd never seen a protagonist like that in before. So I was with a friend one night, and we were talking about this and realized there'd never been this kind of ensemble. There'd been a lot of male versions of this, but there'd never been this kickass ensemble of women coming together like this before." Indeed, Ross suggests the idea of doing a heist film with the Ocean's franchise was natural given his own personal friendship with Steven Soderbergh, who directed the three Ocean's movies starring George Clooney and Brad Pitt.
Further it was seeing Sandra Bullock on the press tour for Gravity, the sci-fi survivalist film that starred her and George Clooney, that gave him the idea of making this the story of Danny Ocean's sister. After all, a talking point again and again during those 2009 junkets were developing a brother-and-sister relationship between Bullock and Clooney.
"I never told you this Sandy, but it was right around the time of Gravity, and you and George were talking about the brother-sister relationship, and I kind of took that seriously, and I went, 'Wow.'"
It was a hook that even Bullock herself was initially skeptical about—she wanted to see a screenplay that "didn't completely suck" first—but it was a pitch that has been ruminating for nearly a decade ever since. Ross wisely sought the writing talents of Olivia Milch (the writer-director of Dude) to help craft the screenplay, and they created a panache that lured everyone else in. It was in fact that ambition that attracted Blanchett to the movie.
"You don't read the script cold," Blanchett says. "You read the script with the kind of pedigree and the legacy of the movies, which Gary knew absolutely inside-out… and knowing that Sandy was going to be in it, I could kind of already see the tone. And of course the first question is who are the other ladies going to be? And Gary sort of lay forth his A-team, which he got."
Further, listening to Ross and Milch recollect the early skepticism as the project faced, Blanchett takes a special pleasure in noticing the industry is now running to catch up with the nature of Ocean's 8.
"Isn't it interesting," Blanchett marvels, "you were saying two or three years ago that this seemed like an impossibility. How could you possibly get this made? And it's so great it being released now, and you go, 'Well, of course!' A lot has shifted, I think."
And in that sense, Ocean's 8 still delivers the familiar and franchised (sorry, Ms. Blanchett) goods of a chic caper with style to spare. However, it does so from a slightly different and distinctly feminine perspective. Much to Hathaway's faux-chagrin, and even in a movie about thieves, Ross hopes the picture can suggest to young girls there is more in life than being a princess. And Hathaway, who has been part of that Disney princess-dream machine in the past, recognizes herself the importance of this film for an impressionable audience.
Says Hathaway, "You can't underestimate the power of visual representation. So to an eight-year-old girl, maybe we're not trying to say go have a life of crime, but we are saying go do what you want… There is space for you and there's space for you to do it with your friends, and there's room for all of you." It's a chance to have an "everybody's in mentality" for those who have been historically excluded.
Bullock also sums it up as Ocean's 8 depicts women taking care of each other and watching out for each other, and when they are fighting, it is for each other as opposed to over a man.
"I didn't care about the heist as much as how I cared about how they treated each other," Bullock reflects. She also adds with a laugh, "Sure we can fight, but we're fighting for the greater good, which is a whole lot of money."
Ocean's 8 goes in search of its own boffo greater good when it opens on June 8.