Reviews
Not Quite Hollywood DVD review
A terrific new movie that looks at some of the parts of Australian cinema that we rarely get to hear about...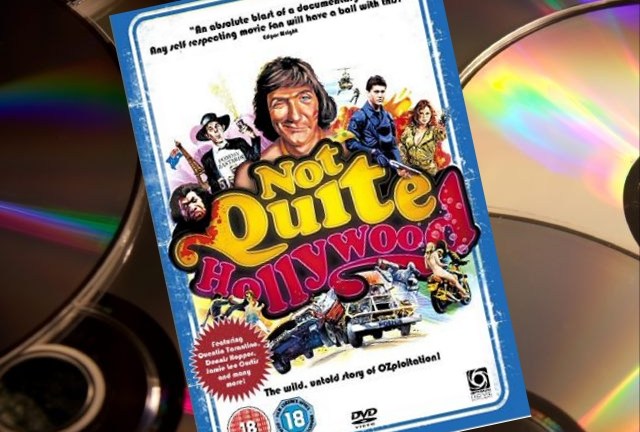 Australia…The country that gave us Kylie, Neighbours, shrimp on the barbie, bar-staff and Dick Van Dyke's accent in Mary Poppins. I kid with the stereotyping. Seriously. I don't fancy being attacked for being a xenophobic pom. I've always liked Australia and probably would have visited by now if it weren't for the fact that I can't face having to spend a week on a plane to get there. Australia has offered us many things over the years but I have to say that the term Ozploitation is not one I've heard before.
Even as a self-confessed cinemaphile, I have to say that I'm pretty green to Australian cinema. Obviously, I'm aware of the famous exports such as Peter Weir, Mel Gibson and Crocodile Dundee, but there's a whole underground scene of sex, gore and mayhem that has completely slipped me by. How did this happen? The new documentary film Not Quite Hollywood sets out to change all that and get the recognition it feels Australian exploitation films, or Ozploitation, rightly deserve.
If you like your films with nudity, gore, car chases, martial arts and a whole host of other mad shit, then chances are Not Quite Hollywood will be right up your street. The films are some of the most entertaining collection of oddities you could ever hope to see. The film itself is divided into three chapters: sex romps (Ockers, Knockers, Pubes and Tubes), goretastic horror (Comatose Killers and Outback Thrillers) and action (High Octane Disasters and Kung Fu Masters). If those chapter titles alone don't get you excited then this film isn't for you. For everyone else, you're in for a treat.
Each chapter contains clips from the relevant films along with interviews that tell the behind-the-scene tales. The clips themselves act as a greatest hits collection showing you all the best bits from the films and, because each genre is covered in its own section, they never get dull or repetitive. After watching the clips, it's hard not to want to rush out and find all the films mentioned. My only worry is that they might not be able to live up to the absolute fun as they promise, but this is something I'm definitely going to have find out for myself.
The interviews may even be more entertaining than the films they're discussing. Everyone involved has their say and no one holds their tongues. If people feel they got ripped off, they're not afraid to tell it the way it is. It's refreshing to hear such honesty and the stories and antidotes are always laugh out loud funny.
Whether it be George Lazenby (remember him?) punching the director Brian Trenchard-Smith on the set of The Man From Hong Kong (after being set on fire), or the use of live ammo used on the actors on Turkey Shoot, every single one is a gem. My personal favourite being the incident on the set of Howling III: The Marsupials which involves dressing up a mouse to look like a baby kangaroo (long story), the use of sedatives and an unfortunate death.
As mentioned, everyone gets their say. Famous faces such as Barry Humphries (giving his recipe for the perfect vomit), Dennis Hopper (drinking so much that he was technically dead) and even Quentin Tarantino pop up to give their tales. Tarantino in particular stands out, not because of his familiarity but for his genuine love and enthusiasm for the Ozploitation films. Anyone who's heard Tarantino yack in interviews before will know that, given a certain topic, he can talk and talk, and boy does he love these films. His passion for these films is truly infectious and will have you hanging on every word he says.
But Not Quite Hollywood is not about the big stars. It's about the underdogs finally given the spotlight they rightly deserve, and there are some standout characters littered throughout. From the producer/director John Lamond giving his interview with a stripper dancing behind him, to the surely insane stuntman Grant Page punishing himself with an almost suicidal glee. These are the true stars.
I can't recommend this film enough. It's opened my eyes to a whole new world of films I never even knew existed. Whilst Italy has it's Giallo films and America has Grindhouse, Australia has Ozploitation. And God love 'em for it. The level of love the director of Not Quite Hollywood, Mark Hartley, clearly has for these films spills out every minute and everyone involved is having an absolute ball. The best thing I can say about Not Quite Hollywood is it's made me remember why I love films. Surely that's praise enough.
ExtrasAlthough not packed with extras, what is available adds a little more to the story of Ozploitation. There's a Q&A session with some of those involved over the years, more Tarantino as he has a chat with the director Brian Trenchard-Smith and an interview with the director of Not Quite Hollywood, Mark Hartley. I feel they've missed a trick with the trailers on offer, though. Whilst a few of the Ozploitation films are represtented, it would've been nice to have the full trailers for all the films shown.
Film:
Disc: