News
Noomi Rapace talks about Ridley Scott's Prometheus
Noomi Rapace spills a few more details and thoughts about her involvement in Ridley Scott's one time Alien prequel, Prometheus...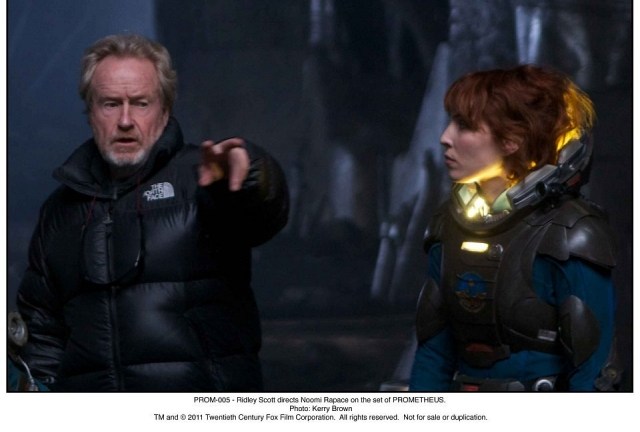 Very gradually, the covers are coming off Ridley Scott's upcoming Prometheus, and its closeness to the Alien franchise is becoming clearer. We're still hoping to get a proper trailer this side of Christmas.
One of the film's stars, however, Noomi Rapace, is on promotional duties for another film. She's appearing in Sherlock Holmes: A Game Of Shadows, which is heading into cinemas at the end of next week. As such, she's on the promotional tour for the film at the moment, and Collider asked her to spill a few beans about Prometheus.
"I was doing ADR two weeks ago, in London, and it looks fantastic", she said. "I remember when I came into some of the sets, it just blew me away. It took my breath away, with the way they created it. We didn't have green screen. I think we had it twice. They built everything. It felt like magic. It's stunning. What's so fantastic, with Ridley, is that he's such an artist and he creates really big, amazing shots, but it's still brutally beautiful, at the same time. I can't wait to see it!"
She went on to add "I feel like my character is the heart in the movie. You follow her, and she changes. In the beginning, she's a believer. She believes in God and she has a very strong faith. She is a scientist and an archaeologist. She's on this mission, and she's full of hope. In the middle of the movie, things happen and she changes into more of a warrior. And in the end, she's such a survivor."
"It was really a quite intense and dramatic journey for me to go through, and to do with Ridley and the other actors. But, when we were finished and we wrapped in Iceland, I remember that it was almost like I came back to Earth because I'd been on this spaceship and I'd been out on this weird planet. It's always quite fascinating, when I look back at things and I realize how deep into it I actually was. It's almost like I'm occupied by something."
Have we told you how much we're looking forward to Prometheus recently?
Here's the full piece over at Collider. It's well worth a read.