News
Nightmare Cinema Trailer Teases an Anthology of Terror
What's playing at the old Rialto? Nightmare Cinema and Angel Heart's Mickey Rourke is at the projector.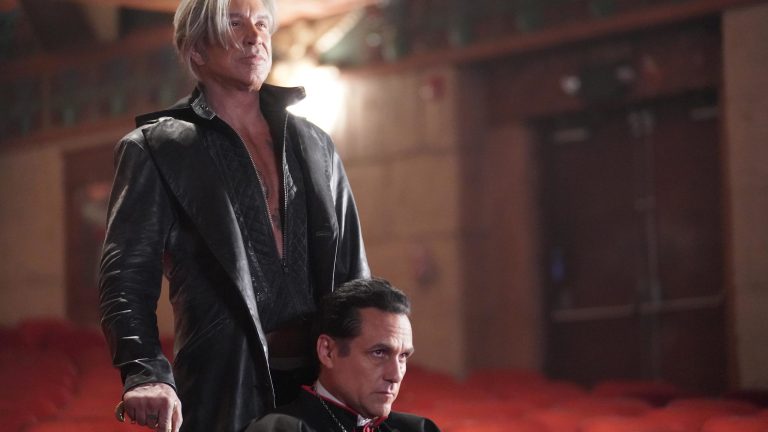 Five strangers, five tales of horror and one splatter of blood all over a school uniform to make it stick. Nightmare Cinema is coming to the Rialto and Mickey Rourke is the master of ceremonies. Horror filmmakers Joe Dante (Gremlins, Piranha, Innerspace), Mick Garris (The Stand miniseries), Alejandro Brugués (Juan of the Dead), Ryûhei Kitamura (Versus), and David Slade (30 Days of Night) made a deal with the devil, in association with Cinelou Films and Good Deed Entertainment for an anthology of five short films sharing a common thread.
"A series of down-on-their-luck individuals enter the decrepit and spine-chilling Rialto theater, only to have their deepest and darkest fears brought to life on the silver screen by The Projectionist – a mysterious, ghostly figure who holds the nightmarish futures of all who attend his screenings," reads the official synopsis. "By the time our patrons realize the truth, escape is no longer an option. For once the ticket is torn, their fate is sealed at Nightmare Cinema."
"I love being able to bring together visionaries of horror cinema from all around the world with their personal perspectives about what scares you," Garris said in a statement. "This is a project I've been working on for some time."
The film's producers say they may spin the idea into an anthology TV series like Twilight Zone, Outer Limits and Tales From The Crypt.
"Horror has become an industry strength again," said Canton Mark Canton from Cinelou. "When you look around at recent successes of films like It or Get Out, it's obvious there's a hungry audience out there that can't be ignored."
The film premieres at this year's Fantasia International Film Festival, along with the anime adaptation Bleach, Mega Time Squad, which is a science fiction comedy out of New Zealand, Witch in the Window, and the webcam erotica thriller Cam from Blumhouse.
You can watch the trailer here:
Nightmare Cinema opens on July 12.