Reviews
Night Train Murders DVD review
Not an easy film to watch, nor one you should pick up by accident. Holger checks out Night Train Murders, a film that owes something to Last House On The Left...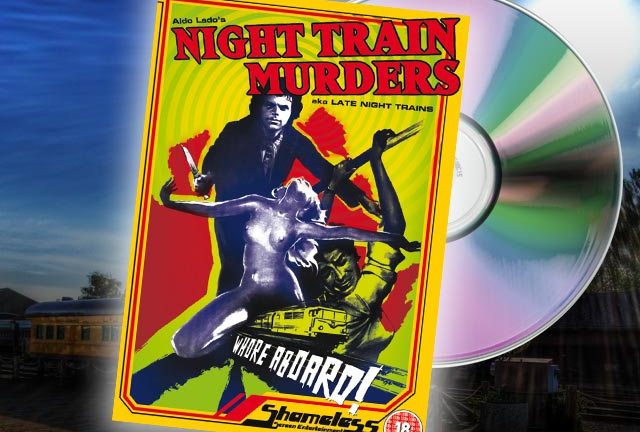 Please don't confuse Night Train Murders with Morecambe and Wise's Night Train to Murder. Seriously, don't ever mix those films up if you want to hang on to your sanity!
Night Train Murders is an obscure and sleazy rape/revenge thriller in the tradition of Last House on the Left that for years was banned in the UK and is now available on DVD by Shameless. It is not the kind of production you pick up randomly if, ooh, Alien vs Predator wasn't available. Unless you are a hardcore Eurotrash film aficionado, this film is not for you. And even if you are, you may have the occasional issue or two. It's the kind of film that modern torture pornographers had wet dreams about before they started producing their own movies.
Directed by Aldo Lado, this film tells the story of two girls on the way from Germany to Italy to celebrate Christmas. On the train they are confronted by two thugs who subject them to ever increasing levels of violence and degradations, eventually leading to their deaths. When the perverts finally reach Italy they happen to meet the parents of one of the girls and end up getting their brutal come-uppance.
Though the structure of the movie is more than clearly inspired by Last House on the Left, this is a much classier looking production and one can't help but think that another inspiration may have come from Claude Chabrol's then popular anti-establishment thrillers.
The discreet charm of the bourgeoisie filters through a number of the film's acts of violence. At an early point in the film the two violent drug addicts are joined by a very posh looking and nameless nymphomaniac character who gets a perverted kick out of the sex games and in actual fact often assumes leadership. An equally nameless, but well dressed male peeping tom on the train is forced to rape one of the girls, a chore he doesn't appear to be all too concerned about at that stage.
During the girls' ordeal the scenes are regularly cut to dinner scenes in the parents' house, mainly preoccupied by intellectual discussions about society and the reasons behind violence. Needless to say the father, the film's token liberal middle class character, then goes apeshit the moment he hears of the brutal murders. Violence, though initially started by the thugs, indeed appears to be something that is equally attractive to, yet suppressed by the bourgeois middle classes.
Okay, this probably makes the film out to be more of an intellectual exercise than it really is. In truth those pseudo-intellectual discourses often come across as pretentious and as simple pretexts for being allowed to show girls being raped by knives (that's right: by knives, not at knife point). What sets this movie apart from many similar others is of course the train setting. Everyone loves a film set on a moving train and in the hands of a master many a classic was filmed in this kind of set up. Especially in the early non-violent scenes the characters on the train are nicely captured. Later on the film, however, needs to resort to ever more contrived ways to make the idea of having all those acts of violence and degradation committed in a compartment in the middle of a boarded train believable.
Soundtrack genius Ennio Morricone wrote the music to this film that also lifts the quality of the production up quite a few notches. Greek Europop star Demis Roussos provides an incredibly kitschy song that is in remarkable contrast to the scenes on view. I am always intrigued to see how 1970s trash masters managed to engage the housewives' favourite musicians for productions that you didn't want your mother to see.
For Eurotrash Fans in particular, but especially for Dario Argento admirers, one of the delights of this movie is also the number of familiar faces they are going to encounter: Macha Meril, the ice cold and posh nymphomaniac, was Helga Ulmann, the medium in Deep Red; Flavio Bucci (Blackie, one of the thugs) was killed by a dog in the very same production; Irene Miracle (Margaret Hoffenbach) had a memorable underwater diving sequence in Inferno; and Enrico Maria Salerno (the father) was the investigating police officer in Argento's debut thriller, Bird with the Crystal Plumage.
Apart from a trailer for this movie (as well as some more for other new releases), this DVD is devoid of any extras. A previous Blue Underground release on region one at least had an interview with the director plus some additional promotional materials.
This is a niche market product that will find its small, but dedicated number of customers, and even though it is not necessarily a long forgotten hidden gem Shameless should get some credit for making this piece of Eurotrash sleaze finally available in the UK.