News
Nicolas Cage: new Ghost Rider, circling Green Hornet?
Can Nic Cage squeeze some extra shouting in as a Green Hornet villain before a second Ghost Rider rolls around?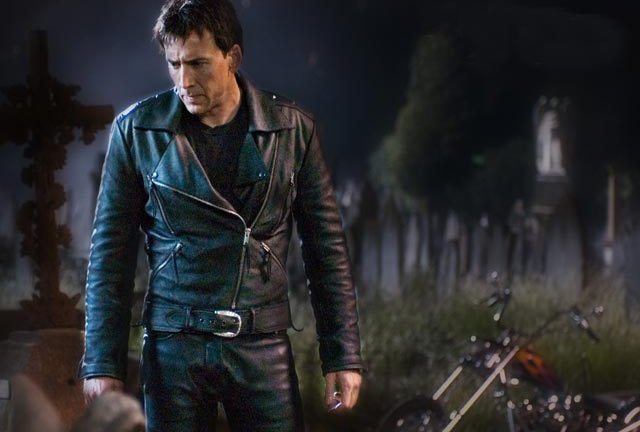 Throw as many accusations at Nicolas Cage as you like, about how he keeps getting paid for basically being shouty and playing himself, but the man just keeps on coming. While, for this writer, he's never climbed back up to the level of blockbuster brilliance that he attained back in 1996 with Con Air, he keeps banging out entertaining movies that we keep wanting to see.
Earlier this year, Cage played Nicolas Cage in Knowing, a decent box office hit, and already in the can, he's got Kick-Ass, Bad Lieutenant: Port Of Call New Orleans and Season Of The Witch in the can. We're unsure what his characters are called in each, but we can guess what they may as well be named.
Anyway, Cage is now circling two further projects. First up is a reboot of sorts of Ghost Rider. Talking to MTV about the project, Cage said, "I would like to do a reconceive … I would like to go in a whole other direction, and I think that's what they're talking about." He's looking, instead, for a film with more of an international flavour, although we should note that the first film wasn't without its fans. It mopped up nearly $230m worldwide in cinemas, and its DVD sales have hardly been shabby either.
That said, the suggestion is that a different take on Ghost Rider will now be arriving in 2011, with Mr Cage very firmly on board.
Before that, though, he might have to squeeze another comic book movie in. Seth Rogen has been in place to play The Green Hornet for some time now, having also co-written the screenplay to the film. And with Cameron Diaz reported to be joining the production too, and with Michel Gondry behind the camera, it's close to full systems go. Stephen Chow, it was confirmed, has now left the project, and thus the search is on for someone to play sidekick Kato. But the film's hunt for a villain may have landed at Mr Cage's door.
He's reportedly in negotiations to play the film's gangster villain, which sounds like a mighty fine idea to us. Expect confirmation in the weeks ahead, as the film's shoot is scheduled for the Autumn, ahead of a release next summer. Then, perhaps, it's Ghost Rider 2 the summer after. How much more Nicolas Cage goodness do you want…?