News
Nic Cage Appears on Japanese Corn Snack, Sparks Controversy
A Japanese snack, featuring the face of Nicolas Cage and intended to tie in with his new movie, has caused a bit of a stir...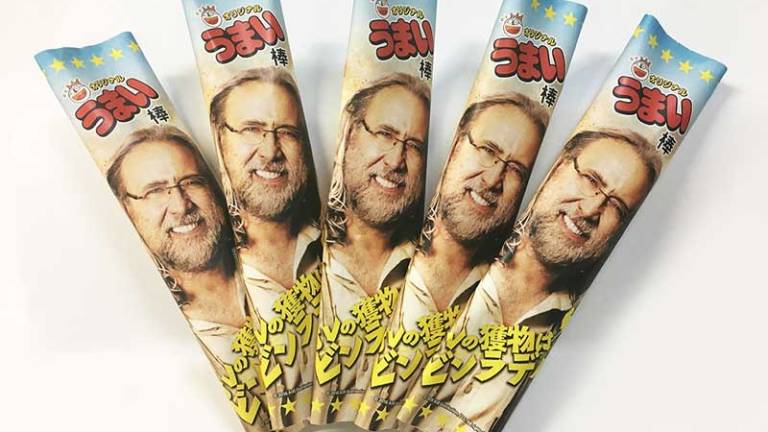 You may not have heard of Umaibo, but they're a popular snack in Japan. Usually sporting the familiar face of a cartoon cat, they're essentially a large, tubular, crunchy corn snack – if you're in the UK and familiar with a delicacy known as the Wotsit, you'll have an idea of their flavor and consistency.
But in a piece of news that is weird in a quintessentially Nicolas Cage sort of way, Umaibo has recently run into a minor bit of controversy. To tie in with The Cage's latest film, Army of One – retitled My Target, Bin Laden in Japan – special promotional editions of Umaibo were printed with the actor's grinning likeness on the packet.
This would be an odd development all by itself, but it then emerged that Cage had never signed off on having his photo plastered all over a food packet. To limit the damage, the company behind Umaibo was forced to send out a press release, clarifying that "Nicolas Cage is in no way engaged with an endorsement for the snack food brand Riska."
Apparently, the snacks were only supposed to be produced in a limited quantity, and handed out with tickets at a couple of Japanese cinemas.
"All parties responsible for the creation and announcement of this promotional product sincerely apologize for the use of Mr. Cage's image in this manner and any harm that may have been caused to him and his image and reputation," the release concludes.
In fairness to Cage, the photo chosen to grace the packaging isn't what we'd describe as flattering – though it is in keeping with the profoundly strange tone of the film it's advertising. Cage plays a blue collar worker who believes he's on a mission from God to capture Osama bin Laden. The Almighty is played by Russell Brand, and Army of One went straight to VOD in the US last year. Out of context, Cage looks as though he's promoting the hottest country and western album of 1996.
We're hoping Nicolas Cage shows up on a packet of Wotsits sooner rather than later.
Read the latest Den of Geek Special Edition Magazine right here!