News
New York Comic Con 2019 News: Trailers and Highlights
Keep up with the latest news, exclusive trailers, and other highlights from NYCC 2019 with us!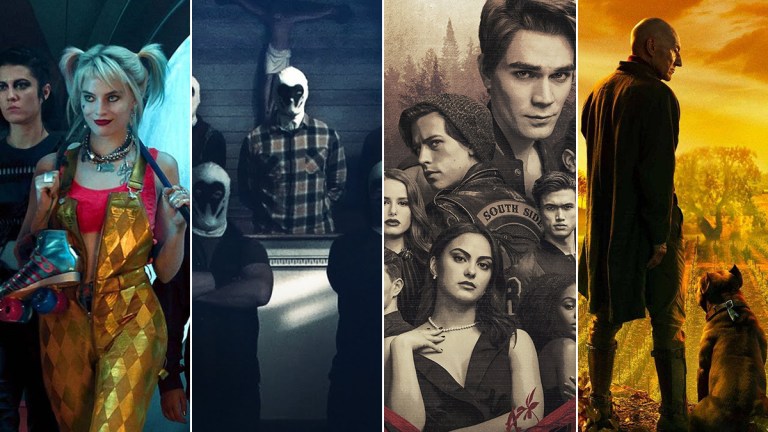 It's the geekiest time of the year for New York City with the return of New York Comic Con, and we here at Den of Geek have all hands on deck to bring you the latest news, trailers, and highlights from inside the convention! Book mark this page to keep up with everything you need to know coming out of NYCC 2019.
Since its establishment in 2006, New York Comic Con quickly grew to being the predominant pop culture convention on the American east coast, attracting hundred of thousands of attendees per year. With amazing cosplays, big-name talents, panels packed with exclusives, and more, NYCC is a can't miss mecca for fans of anything geeky, especially so in 2019.
If you're interested in details of the convention, we've got all the information you need in one centralized article right here. (Did you know that Thursday badges are still on sale?!) Better yet, follow us on Twitter and Facebook for the latest breaking updates. We've also got a handy guide to pop culture attractions and locations around New York City for those who are in town for the con, those who live in NYC but aren't attending the con, or simply anyone who plans on visiting NYC in the near future.
Lastly, don't forget to check out our NYCC 2019 magazine, featuring on the cover Regina King as Sister Night in HBO's upcoming adaptation of Watchmen. Con go-ers can pick up a copy for free on the convention floor, but everyone can enjoy the full offerings of this special edition magazine digitally. 
New York Comic Con 2019 News and Trailers
Fans of DC Comics and Sandman can sleep easy because the realm of The Dreaming is in good hands.
Amethyst, the Princess of Gemworld, will get a new look courtesy of DC's Wonder Comics imprint.
Orville creator Seth MacFarlane revealed at NYCC 2019 that the show's episode order would be slightly smaller for season 3. The Orville season 3 will receive only 11 episodes on Hulu.
Netflix revealed at New York Comic Con 2019 that She-Ra and the Princesses of Power season 4 will arrive on November 5, as well as the first trailer for season 4.
The first trailer for Riverdale season 4 has arrived! After opening with the show's touching Luke Perry salute, it moves into some of the more salient plot points to expect from season 4.
Producers announced at New York Comic Con 2019 that Jason Behr and Gaius Charles have been added to the Roswell, New Mexico season 2 cast.
No Time to Die is slated to hit theaters on April 8, 2020 after being delayed from its previous Feb. 14 window. 
At NYCC 2019, NBC unveiled another teaser for Manifest season 2. Much of it is a recap of previous events but it does reveal some season 2 events.
The Dragon Prince season 3 wil arrive on November 22, 2019. Netflix made the announcement during the show's NYCC 2019 appearance, along with a new poster.
Are the new Star Trek trailers revealed at NYCC hinting at a narrative link between Picard and Discovery?
As the X-Men continue to return, Marvel's Dawn of X will include a new Wolverine series.
Fresh from the show's NYCC 2019 appearance, here is the first official trailer for Outlander season 5.
Now a new trailer from The Expanse season 4's appearance at NYCC 2019 has arrived. 
Al Ewing will take over a new Guardians of the Galaxy series for Marvel.
Marvel's main Star Wars book is relaunching with Charles Soule and Jesus Saiz at the helm!
Talent for next year's The Grudge movie, including Sam Raimi, confirm it's R-rated and not a reboot…plus a few Evil Dead details!
We speak with the cast and showrunner of Servant, M. Night Shyamalan and Apple TV+'s new series, and unlock some of its secrets.
FX released a brief first look at Devs during its New York Comic Con 2019 appearance.
Although season one premiered way back in April of 2018, Lost in Space season 2 will be have a Christmas Eve arrival with the show's producers announcing its December 24, 2019 return during New York Comic Con along with the trailer below.
Marvel's main Star Wars book is relaunching with Charles Soule and Jesus Saiz at the helm!
Star Trek: Picard will premiere on Jan. 23, 2020 on CBS All-Access.
The first teaser trailer for Star Trek: Discovery Season 3 is here!
A new animated teaser for Snowpiercer premiered at New York Comic Con 2019. There isn't much actual footage from the series but it's a stylish set up to this post-apocalyptic snowy world. 
The first full trailer for the third Walking Dead series has arrived. It imagines a world in which children grow up amongst the dead.
She's back! AMC has announced that Lauren Cohan will return as Maggie in The Walking Dead season 10.
The Walking Dead season 10 is introducing Princess, a major character from later in the comics' run. Paola Lázaro will portray her.
The Walking Dead season 11 is happening! Here's what we know so far…
Iron Man 2020 launches in January from Dan Slott, Christos Gage, and Pete Woods.
Marvel has confirmed a new Thor series with a new creative team.
Harley Quinn and the Birds of Prey sees the return of Amanda Conner.
MSNBC commentator and host of The Rachel Maddow Show, Rachel Maddow will be a part of Batwoman. Maddow will play Vesper Fairchild, a radio personality and host, who also has a romantic relationship with Batman in the comics.
John Constantine is doing what he does best in this preview: screwing his friends over.
Primal will premiere at midnight on Monday, October 7, 2019 as the beginning of a five-night, five-part event. The full season will consist of 10 episodes. But if you just absolutely can't wait that long, Adult Swim has made the first episode of Primal available on its website right now.
We unpack some of the Free Guy Footage screened at NYCC, as well as why it's Ryan Reynolds' most exciting movie since Deadpool.
The rumors are true: Ms. Marvel is joining Marvel's Avengers as a playable (and awesome) new hero.
To coincide with New York Comic Con 2019, Hulu released its first teaser trailer for Runaways Season 3.
Carnage recently destroyed Marvel's supervillain asylum Ravencroft. Marvel is going to explore it further.
We got a closer look at the Birds of Prey costumes at New York Comic Con.
The King's Man NYCC footage promises a different kind of spy movie that could be as anachronistic as X-Men: First Class.
BizarroTV will be a mix of live action, animation, and puppetry bringing weirdness like Ambush Bug and Space Cabbie to DC Universe.
Servant will be released on November 28. The date was announced at New York Comic Con 2019 along with a fittingly creepy teaser.
The Harley Quinn animated series will arrive on November 29. DC Universe made the announcement at New York Comic Con 2019.
The popular and mysterious character will start her own adventures in a five-issue run in January.
The next film in the Kingsman spy franchise will be the historically set prequel, The King's Man. The new trailer for The King's Man has arrived!
Netflix has ordered Human Resources, a spinoff of its animated series Big Mouth that will cover the professional lives of monsters.
The Adventure Zone graphic novels offer nerds a whole new way into this rich storytelling world and fandom.
Fresh from New York Comic Con 2019 is a first look photo at The Grudge reboot. It isn't much for now but it certainly is ominous. 
Sam Mendes's first film since Skyfall and Spectre will be star-studded World War I drama 1917, which Steven Spielberg is producing.
Here are six speculative fiction books we're exciting about this fall season.
These 10 indie creators are putting the comics back in Comic Con.
Alien and Ghostbusters return to cinemas nationwide for anniversary celebrations this October via Fathom Events.
HBO turns to Leftovers creator Damon Lindelof to tell a new story within the Watchmen universe.