News
New Marx Brothers Book Captures Their Early Stage Madness
Robert S. Bader unearths an unprecedented comic history in Four of the Three Musketeers: The Marx Brothers on Stage.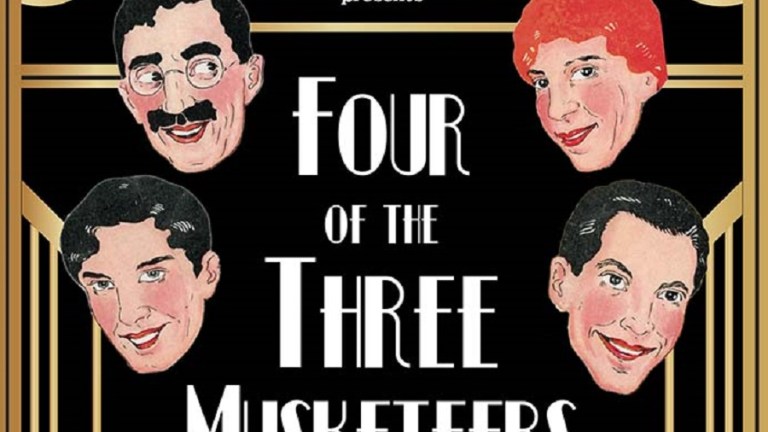 "I think I just heard one of the original lines," playwright George S. Kaufman was overheard saying during a Marx Brothers stage performance. He encapsulated a comic legend: The Marx Brothers were improvisational geniuses. Their films, brilliant as they were, barely did them justice. These were four guys who stripped naked and played cards in the office of a studio exec when they first got to Hollywood, just because he kept them waiting. Four of the Three Musketeers: The Marx Brothers on Stage, the new book by Marxist Authority Robert S. Bader, explains how they got the keys to that office.
"Before film made them international comedy legends, the Marx Brothers developed their comic skills on stage for twenty-five years," reads the press release. "From Groucho's debut in 1905 to their final live performances of scenes from A Night in Casablanca in 1945, the brothers' stage career shows how their characters and routines evolved before their arrival in Hollywood."
Four of the Three Musketeers: The Marx Brothers on Stage is the first comprehensive history of the Marx Brothers' "hardscrabble early years honing their act in front of live audiences."
Robert S. Bader is the editor of Groucho Marx and Other Short Stories and Tall Tales. He discovered the comic legends on the small screen.
"The Marx Brothers were going through a bit of a revival when I was growing up, so in the late 1960s and early 1970s I discovered them on television," Bader said in a book announcement for his 2011 book Groucho Marx and Other Short Stories and Tall Tales. "I was an inquisitive kid and after seeing a couple of the films I checked out everything I could find on them in the local library and was surprised to learn that Groucho had written several books. So I became interested in him as a writer and a performer almost simultaneously. And his writing was as enjoyable to me as everything else he did from the beginning."
Take the Den of Geek 2016 Reader Survey for a Chance to Win a $100 Amazon Voucher Right Here!
Bader's "detailed portrait of the struggling young actors both brings to vivid life a typical night on the road for the Marx Brothers and also illuminates the inner workings of the vaudeville business, especially during its peak in the 1920s."
"Who would have dreamed that there could be much, much more to learn in still another book about the Marx Brothers? Not I. And yet, Robert Bader—focusing on the under-researched vaudeville days of the hilarious siblings—has gone where no man went before, discovering a treasure trove of Marxiana to delight the hearts and minds of those of us who can never get enough," wrote Dick Cavett, who once had lunch with Groucho, whose churlish behavior would almost prepare him for a meeting with Homer Simpson.
The book draws on an unmatched array of sources, many not referenced elsewhere.
"Several of the additional items in the new edition were considered for the original but left out for one reason or another," Bader said. "I tried to keep everything in context – placing the pieces in the five sections of the book, which each deal with a certain aspect of Groucho's life and career. Many very funny and beautifully written pieces just didn't fit into any of the sections. So for the new edition I created an extra section for these difficult to categorize essays as well as a few of the items I've discovered in the years since the original publication.
"In the new edition I've also included a few speeches Groucho delivered. Since he wrote these without any intention of publishing them, I didn't consider them for the original edition. But over the years I've enjoyed reading them so much, I decided they belonged in the collection. Groucho's writing style is so conversational that the speeches seem like they were written for publication.
"My methods of finding some of this material are purely unscientific. In some cases, I simply went through every page of a publication until I found Groucho's contribution. I spent many hours in libraries reading magazines from the 1930s like Judge and College Humor, which have never been indexed. As you would expect, I found a few other interesting items too. I consider it time very well spent. And the process rescued a few small treasures by Groucho."
"I have read virtually every book ever published about the Marx Brothers. I have even written about them myself. Robert Bader's book is a revelation," wrote Leonard Maltin, in an endorsement.
As Bader traces the origins of the characters that would later come to be beloved by filmgoers, he also skillfully scrapes away the accretion of rumors and mythology perpetuated not only by fans and writers but by the Marx Brothers themselves. Revealing, vital, and entertaining, Four of the Three Musketeers will take its place as an essential reference for this iconic American act.
The documentarian has a fluid take on his favorite funny flicks, a virtual monkey soup.
"Like many Marx Brothers fans I love the five Paramount films – their earliest," Bader said. "It would be ludicrous to say that they were funnier with Zeppo, but I like seeing the Four Marx Brothers because that's how they became stars on the vaudeville stage. We get to see them as relatively young men in these films.
"Many people don't realize that Groucho was almost forty when the first film was made and Harpo and Chico were a couple of years older. If pressed to pick one I'd select Monley Business or Duck Soup. Do I really have to pick only one? It's almost impossible for me. All of their films mean so much to me. I can say Duck Soup now and it'll be Money Business next week."
The comic scholar also spouted some horse feathers about how movies and stage got in the way of Groucho's writings.
"The most frequent criticism Groucho received as a writer had little to do with his writing ability," Bader said. "It was often said that he was funnier on stage or screen than he was in print. It would be hard to argue against that, but it seems unfair in assessing his written work, which is frequently hilarious.
"So I would agree that his status as a successful entertainer kept him from his rightful place in the world of literature. And in part because of the constraints on his time. He had a pretty successful and prolific writing career for a guy who was busy being a star for 60 years. He found time for writing because it meant a lot to him."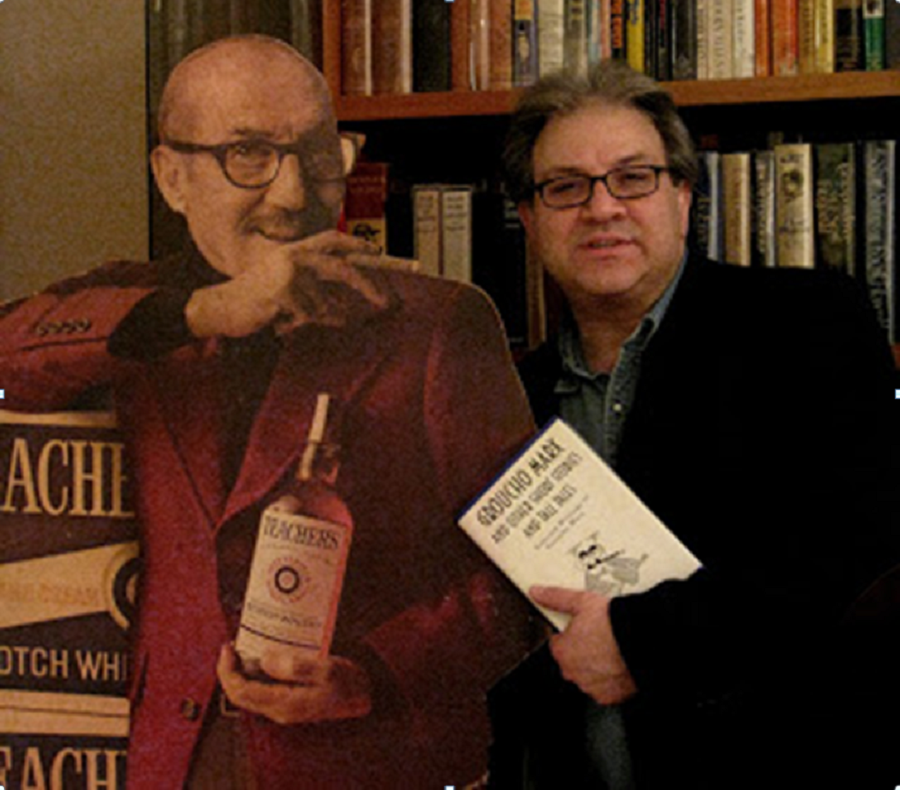 The wittiest of the brothers didn't learn how to scribble in his skewl daze, he learned on the Vaudeville stages.
"Groucho was mostly self-educated and sought acceptance from writers more than film critics," Bader said. "Writing was very important to him. He wasn't just a movie star who wrote some books and articles. He was a formidable enough writer to have succeeded at it without his other more successful endeavors."
Bader says he is "partial to anything Groucho wrote about his days in vaudeville," but particularly loves the "Our Father and Us" essay about Sam Marx, the Marx Brothers' father.
"There are many articles and stories about their mother, Minnie and she developed legendary status as a result," Bader explained. "But Sam was a very special and unique man who was so beloved that his sons considered him a sixth brother. This piece was published shortly before Sam died in 1933 and it shows a sweet and loving side of Groucho that is rarely evident in anything else he ever did.
"I first discovered this piece when I was around twelve years old and recall it making me more aware of the great relationship I shared with my own father, who always seemed like a friend first and a parent second."
"Groucho became a very prolific writer in the early 1940s," Bader detailed. "The Marx Brothers were winding down their film career and Groucho had yet to find success on the radio, so he planned on becoming a full time writer. He wrote topical humor, quite a lot of which was published in This Week, a Sunday newspaper supplement to The New York Herald Tribune and other papers around the country.
"It was during this time that Groucho was involved in some collaborating with his writer friend Arthur Sheekman, who is sometimes erroneously referred to as Groucho's ghost writer. The truth is that Groucho helped Sheekman make a little money by hiring him as an editor and letting Sheekman sell a few of his own humor pieces through Groucho's agent. When he had trouble selling his own stuff Groucho and his agent let him sell the material under Groucho's name. "What This Country Needs" came to be as Groucho and Sheekman kicked around ideas and decided it would be a good time for a political piece, since it was an election year.
"Sheekman made some uncredited contribution to this piece but it is unmistakably Groucho's. I almost didn't include it in the book because of Sheekman's involvement and the fact that a truncated version of it appears in Groucho's 1963 book Memoirs of a Mangy Lover. But the full length original version from 1940 has so much good additional material I felt it merited inclusion."
Bader is currently Vice President for Marketing and Productions of Bing Crosby Productions.  He produced the television special The Legendary Bing Crosby, was the writer and producer of the Warner Bros. documentary The Dawn of Sound: How Movies Learned to Talk, and has produced numerous archival DVD releases including two sets of You Bet Your Life, the Marx Brothers TV Collection; The Honeymooners: Lost Episodes, 1951–1957; and The Best of the Danny Kaye Show. 
Four of the Three Musketeers: The Marx Brothers on Stage will be available on October 15, 2016.