News
New Black Panther Footage Brings Suave Superspy Flair
The Black Panther footage shown at Comic-Con hints at the movie's unique style.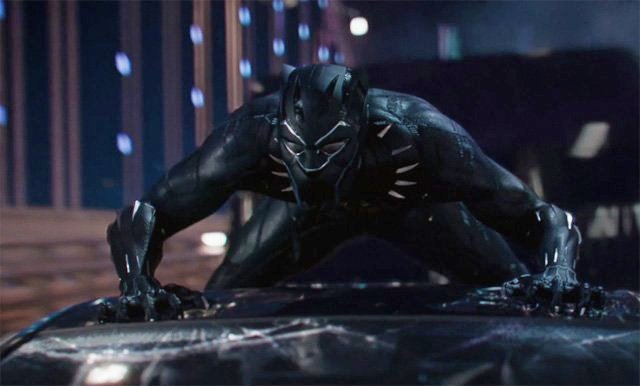 Unlike many of the studios and TV networks that come to Comic-Con every year, Marvel Studios doesn't put a lot of the footage it shows online, preferring to keep it special for the fans crammed into Hall H for the company's presentation. That's why you still haven't seen the sizzle reel from Black Panther online…but hopefully at some point you will, because this movie doesn't quite look like any Marvel release to date.
On the panel for the movie prior to the footage being shown, star Chadwick Boseman explained that Wakandan king T'Challa, who we first met in Captain America: Civil War, "is just learning how to become a new ruler and is still mourning his father's death, so he's in a transitional period that gets interrupted very quickly."
The exclusive footage started with, surprisingly, a scene that could have been out of a James Bond movie, set in a nightclub or casino of some kind, where a deal to trade diamonds for vibranium between Ulysse Klaue (Andy Serkis) and the CIA's Everett Ross (Martin Freeman) is about to go down. Klaue has a prosthetic attached where his arm used to be, having lost the appendage in Avengers: Age of Ultron.
T'Challa is there with Dora Milaje commander Okoye (Danai Gurira) and Nakia (Lupita Nyong'o), but one of Klaue's goons makes Okoye and a battle ensues, with both Klaue's men and the Dora Milaje operative breaking out hidden weapons.  Even Klaue has something up his sleeve, so to speak, breaking open his fake arm to reveal a sonic cannon.
The scene is fast-moving, smartly paced and expertly staged, displaying the same crackling energy that director Ryan Coogler brought to Creed a couple of years back, with outstanding fight choreography. Right out of the nightclub the footage segued to a kinetic car chase, with T'Challa atop the car and in full, upgraded Black Panther garb.
The rest of the footage went by quickly and featured confrontations with Eric Killmonger (Michael B. Jordan), more battles and car chases, a number of images of Wakandan settings and costumes, and more glimpses of the isolated country's technology and culture. Perhaps most amazing was watching the cast — who had clearly not seen the footage either — literally jumping up and down with excitement at what they were watching.
Coogler told the audience at one point, "I grew up as a black kid in the Bay Area. I grew up loving all comics. X-Men, Spider-Man — but as I got older I wanted to find a comic book character who looked like me. The shop owner took me to Black Panther."
And soon Coogler and his cast will take Black Panther — which looks like it could end up being one of Marvel's most unique and thrilling projects — to the rest of the world.
Black Panther opens on February 16, 2018.
Read and download the full Den of Geek SDCC Special Edition magazine here!