News
Never Surrender: A Galaxy Quest Documentary Trailer and Release Date
The cast and crew of Galaxy Quest look back at the film as its 20th anniversary approaches.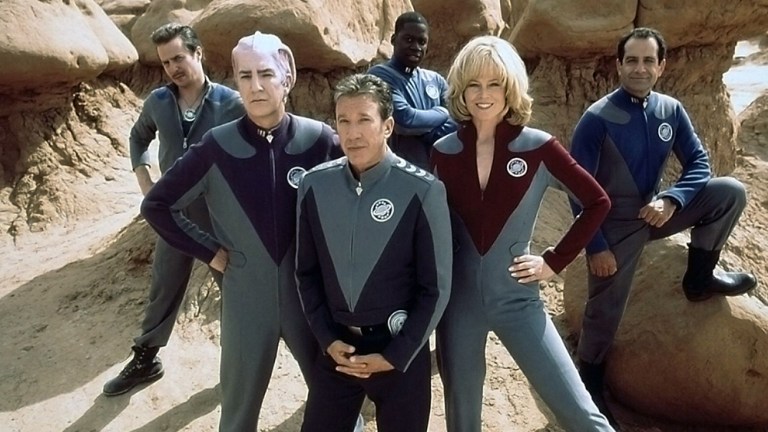 "Galaxy Quest is the best Star Trek movie," states former Next Generation star Wil Wheaton in the trailer for an upcoming documentary that celebrates the 1999 cult classic ahead of its 20th(!) anniversary. Is he wrong? It's at least debatable!
The first trailer for Never Surrender: A Galaxy Quest Documentary, which will get its first big screen preview in late November, arrives to tease a new retrospective that genuinely seems like a raw, honest and joyous celebration of the beloved Trek parody that managed to break down a wall between the format and its fans.
Stars Tim Allen, Sigourney Weaver, Justin Long, Sam Rockwell, Tony Shalhoub, Missi Pyle, Rainn Wilson and Daryl Mitchell wax lyrical in the trailer, while director Dean Parisot and writer Robert Gordon, along with a host of Galaxy Quest celebrity fans like Brent Spiner, Greg Berlanti and Damon Lindelof, all share their thoughts on the film itself, its impact and its troubled production, taking you behind the scenes on a cinematic sci-fi shooting star that studio Dreamworks just …did not know what to do with.
Watch it here…
Fandom and Screen Junkies are behind the new doco.
"Fandom is powered by fans who deeply care about the movies, shows and games they love," said SVP of Programming Michael Chiang in a statement. "Galaxy Quest was the first film that put fans at the centre of the action and really foretold the era we're in now, where fans are the most powerful force in entertainment."
Never Surrender: A Galaxy Quest Documentary will screen courtesy of Fathom events on Nov. 26.