News
Netflix to Replace User Reviews With Up or Down Votes
Netflix is about to eliminate online user reviews, citing declined usage and inaccurate matches.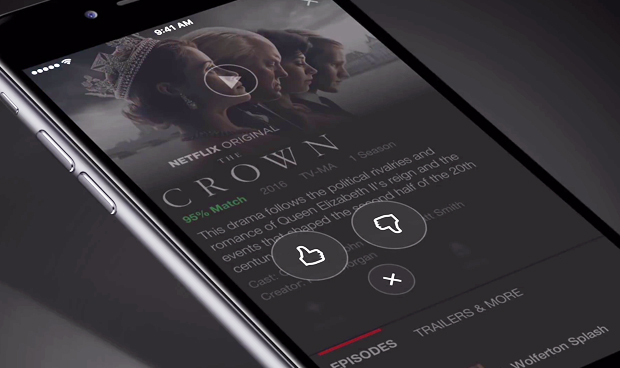 Netflix is about to deprive its more opinionated viewers of the long-held pastime of online user reviews.
The end of the line for Netflix's user rating feature – a five-star scale selection and brief review option for computer users – has been officially announced to occur on Monday, July 30, leading to an eventual pull-down of the archives. As a Netflix spokesperson explained to THR:
"We are removing the ability to read and write reviews in the coming weeks. This feature is only offered on the website and has seen declining usage over time. We have notified members who have used the feature recently that they will no longer be able to write reviews by the end of July and will no longer be able to read reviews by mid-August."
Yet, the move is hardly a surprise, since the streaming giant already laid the groundwork back in April 2017 when it announced (in the video below,) the eventual phase-out of the traditional 5-star/review system, heralding the arrival of a simplified thumbs-up/down vote. Netflix's belief is that the simplified voting system will better serve the user base, since it will utilize inspiration from the swipe left/right algorithmic matching of dating sites to create a percentage-based personality profile that will (in theory,) provide better recommendations for the viewers' tastes.
Of course, the 5-star method is clearly the preferred method for those who use their free time to sound off online about what grinds their gears, since it offered users a platform to rate and review Netflix content, as well as provide feedback for other users' reviews. However, Netflix has called the 5-star system "a misunderstood hero," making it clear that it was always designed to be a predictive device, not a soapbox or a quantitative measure of popularity. Thus, when it comes to its designed purpose, the system is apparently not generating the kind of accuracy that Netflix had always hoped to achieve, resulting in the phase-out.
While Netflix is publicly attributing the failure of the 5-star system to its failure as a predictive device, there were practical concerns to consider, especially in any situation in which users (mostly anonymous ones,) post content to its site. Indeed, user ratings tend to be tainted by dubious standards and, with the Internet being what it is, comments will always need moderation; things that require the attention of employees (actual human ones,) whose efforts could be better spent elsewhere.
Consequently, the end of the 5-star/review system – while certain to raise the ire of some users – is probably seen as a boon behind the scenes over at Netflix.