News
Netflix's Horror-Comedy with Bella Thorne, The Babysitter, Gets Red Band Trailer
Netflix has released a NSFW red band trailer for McG's The Babysitter with Bella Thorne.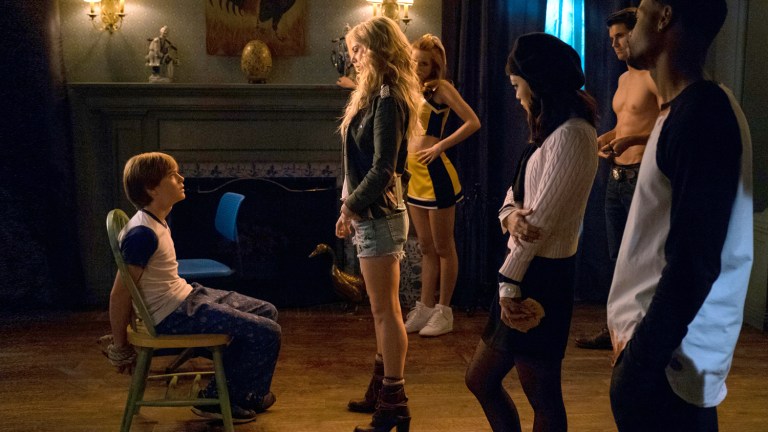 For those of you who grew up under the watchful (or not-so-watchful) gaze of a babysitter, then there was probably always a sneaking suspicion that there was something ominous behind that curt smile. Oh sure, babysitters by and large are a wonderful lot… but do parents and their children really know what these usually young women do when the kids go to bed? McG wagers that question mark is the stuff of scares and laughs alike. Potentially.
Thus enter Netflix's original film The Babysitter, which is out in just over a week. In the new picture, a 12-year-old lad named Cole (Judah Lewis) has a crush on his babysitter Bee (Samara Weaving). Little does he know that when he puts his weary head on a pillow, Bee brings over her friends… or should we say followers? Aye, Bee is the leader of a Satanic cult which is developing a taste for human sacrifice. These followers include Bella Thorne as a cheerleader-turned-killer, as well as Robbie Armell, Andrew Bachelor, and Hana Mae Lee. And the cult also is ready to sacrifice a virginal innocent, like the wee lad up the stairs.
Set to be the latest horror film release from Netflix after the much buzzed about Death Note and Gerald's Game, there will be more attention given to this new chiller-comedy from the director of Charlie's Angels and Terminator Salvation. It also has a screenplay by Jane Got a Gun's Brian Duffield.
The movie drops on the streaming giant on Friday, Oct. 13.