News
Netflix Holiday Lineup: TV and Movie Release Dates and Teasers
Who said "too early?" Netflix has unveiled their holiday movie and TV show lineup for the 2019 holiday season.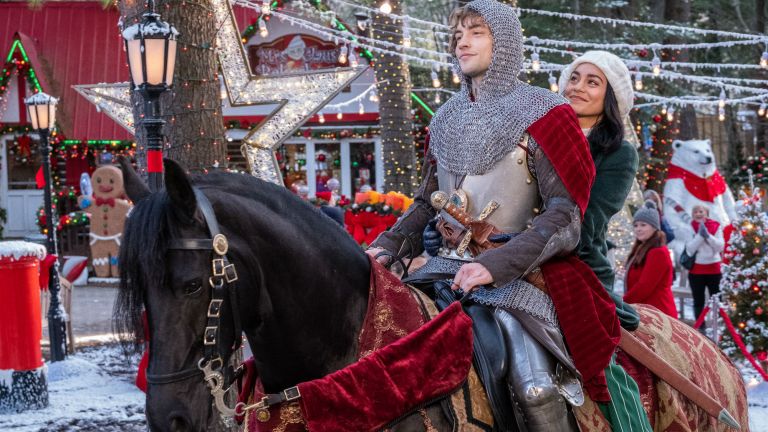 Proving once and for all that the tyranny of Christmas and the holiday season knows no bounds, Netflix has released a full list of their upcoming holiday movies and TV shows for the 2019 holiday season.
Yes, the announcement comes before Halloween has even had its say but we're just the messengers here. Plus, it's never too early to better plot out your holiday movie and TV watching schedule. A splash page for Netflix's "It's Beginning to Look a Lot Like Netflix" lineup can be found here. The streamer also provided a helpful teaser of all the new holiday content.
The festivities begin in earnest on November 1 with the Kristin Davis and Rob Lowe starring Holiday in the Wild. November also sees the arrival of Let it Snow (Nov. 8), Klaus (Nov. 15), and most notably The Knight Before Christmas (Nov. 21). In The Knight Before Christmas, a sorceress transports a Medieval knight Sir Cole (Josh Whitehouse) to the present holiday season where he befriends science teacher Brooke (Vanessa Hudgens). These two attractive individuals will absolutely fall in love during the holiday season.
December is a little lighter on the film side of things but sees the arrival of plenty of Netflix original series and Kids & Family series. Not only that, but Netflix has intriguingly included Lost in Space season 2 among the holiday fare. Apparently season 2 of the family sci-fi epic begins on Christmas day and the show arrives fittingly on December 24.
Here is a full list of Netflix's holiday content:
November 1
Holiday in the Wild (NETFLIX ORIGINAL MOVIE)
Christmas Break-In
Christmas Survival
Elliot the Littlest Reindeer
Holly Star
Santa Girl
The Christmas Candle
Christmas in the Heartland
November 4
A Holiday Engagement
Christmas Crush
Dear Santa
November 8
Let it Snow (NETFLIX ORIGINAL MOVIE)
The Great British Baking Show: Holidays Season 2
November 15
Klaus (NETFLIX ORIGINAL MOVIE)
November 21
The Knight Before Christmas (NETFLIX ORIGINAL MOVIE)
November 22
Nailed It! Holiday! Season 2 (NETFLIX ORIGINAL SERIES)
November 26
Super Monsters Save Christmas (NETFLIX KIDS & FAMILY)
True: Winter Wishes (NETFLIX KIDS & FAMILY)
November 28
Holiday Rush (NETFLIX ORIGINAL MOVIE)
Merry Happy Whatever ((NETFLIX ORIGINAL SERIES)
November 29
Sugar Rush Christmas (NETFLIX ORIGINAL SERIES)
December 1
A Cinderella Story: Christmas Wish
December 2
Team Kaylie: Part 2 Holiday Episode (NETFLIX KIDS & FAMILY)
December 5
A Christmas Prince: The Royal Baby (NETFLIX ORIGINAL MOVIE)
December 6
Magic For Humans Season 2 Holiday Episode (NETFLIX ORIGINAL SERIES)
Spirit Riding Free: The Spirit of Christmas (NETFLIX KIDS & FAMILY)
December 9
A Family Reunion Christmas (NETFLIX KIDS & FAMILY)
December 24
Lost in Space Season 2 (NETFLIX ORIGINAL SERIES)
December 30
Alexa & Katie Season 3 Holiday Episode (NETFLIX KIDS & FAMILY)
Alec Bojalad is TV Editor at Den of Geek and TCA member. Read more of his stuff here. Follow him at his creatively-named Twitter handle @alecbojalad