News
Neill Blomkamp to Tackle Sci-Fi Film Inferno, Taylor Kitsch to Star
Taylor Kitsch will headline Inferno, with Neill Blomkamp attached to direct, showcasing an extraterrestrial murder mystery.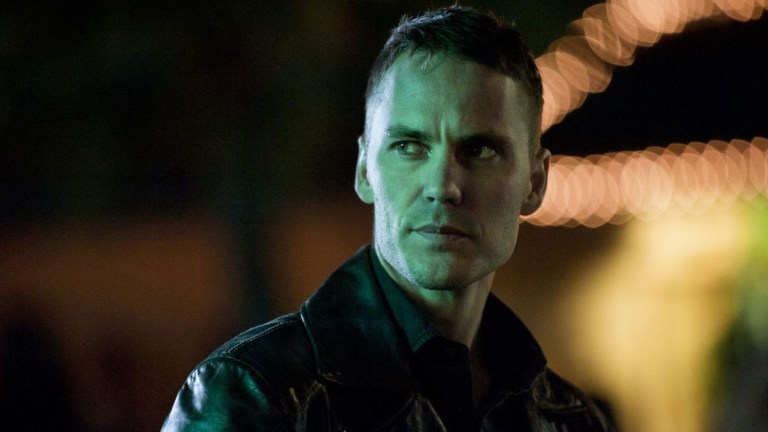 Inferno, not to be confused with Ron Howard's 2016 Da Vinci Code threequel, is the newest major movie project on the docket of South African sci-fi helmer extraordinaire Neill Blomkamp, who – after letting a pitched Alien 5 project and developing sequel RoboCop Returns slip through his fingers – has been on the hunt for a new feature film ever since his last turn with 2015's Chappie.
AGC Studios, which is financing the project, has tapped Blomkamp to direct Inferno, announcing the casting of its lead actor, Taylor Kitsch. The studio is describing the project – a murder mystery with an alien creature twist – as a "one-of-a-kind epic sci-fi thriller where nothing is what it seems." The plot is certainly right up the alley of director Blomkamp, who burst on the scene in 2009 with the allegorical alien sci-fi film, District 9.
As Blomkamp expresses of Inferno in a statement:
"I am very excited to be getting behind the camera and making Inferno with AGC. The film is filled with themes and concepts that I find deeply fascinating, I feel lucky to be shooting it."
The story of Inferno will see star Taylor Kitsch play a cop who's tasked with investigating a murder in the New Mexico desert. However, upon the arrival of furtive FBI agents, it becomes clear that said murder may have extraterrestrial implications, eventually leading the cop to a confrontation with a humanoid beast that's exterminating witnesses to the crime in question. Moreover, personal stakes enter the fray with the abduction of the cop's wife. Indeed, as the statement teases, "Everything he knows about the universe will be challenged, and our connection to other life forces in the universe will be revealed."
Further Reading: New RoboCop Movie Loses Director
The Inferno project landed on the lap of Blomkamp after his last prospective gig of directing the long-awaited sequel, RoboCop Returns, fell through this past August after about a year's worth of news cycle hype. Amongst the other projects that Blomkamp was (in view of the public eye,) circling was a fifth film in the main Alien movie series, for which he whetted fan appetites with some intriguing concept art; plans that ultimately fell through. At one point in 2017, he was also circling a movie adaptation of Tom Sweterlitsch's time-travelling sci-fi crime novel, The Gone World, similarly to no apparent fruition.
As AGC's Stuart Ford lauds of Blomkamp in a statement:
"Over the last decade Neill Blomkamp has proven himself to be one of the most innovative creators of science fiction cinema in the world and I'm convinced that Inferno is going to break new ground and take Neill's body of work to even greater heights."
The set Inferno star, Taylor Kitsch, has been curating is would-be roles carefully after falling on his proverbial sword after an infamous 2012 box office run as the headliner for expensive duds John Carter and Battleship; a bit of misfortune later exacerbated by his 2015 starring run on the much-maligned second season of HBO's True Detective. He recently appeared in the Chadwick Boseman-headlined crime drama, 21 Bridges, played cult leader David Koresh in Paramount Network miniseries Waco, appeared as part of fact-based ensemble flick Only the Brave and played a villain opposite Dylan O'Brien and Michael Keaton in American Assassin.
As for director Blomkamp, Inferno will be his first proper feature (not counting an array of short films,) since 2015 robot movie Chappie underwhelmed at the box office. Before that, he released the exorbitantly-budgeted (at $115 million,) Matt Damon-headlined sci-fi epic, Elysium, which was similarly anemic at the box office. That film was Blomkamp's follow-up to 2009's District 9, a sci-fi apartheid allegory that took the industry (and pop culture,) by storm. Consequently, it will be interesting to see which version of Blomkamp we'll get with Inferno.
Inferno doesn't have a release date yet, but production is slated to begin sometime in early 2020.
Joseph Baxter is a contributor for Den of Geek and Syfy Wire. You can find his work here. Follow him on Twitter @josbaxter.