News
Neil Gaiman Thinks Sandman Should Be a TV Series
Warner Bros. wants to make a Sandman movie, but Morpheus' creator knows that he belongs on TV instead.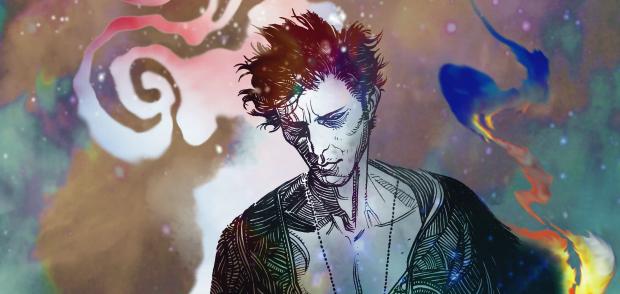 I realize that in the age of "peak TV" it's easy to get greedy and just start thinking that everything should be a TV series. Why wait years in between installments when your favorite piece of intellectual property is adapted for the screen when you can get your fix weekly, right? I'm guilty of this, too. But sometimes, well…sometimes it's the right thing to do.
Let's take DC's Sandman, one of the most celebrated comics of the '80s and '90s. Neil Gaiman and a pantheon of brilliant artists produced what is considered by many to be the definitive finite extended comic book series. Sandman is a mythology unto itself, with a story that spans centuries, and its measured, slow burn approach feels like it anticipated the prestige cable drama format by about 10 years.
Warner Bros. is, of course, intent on turning Sandman into a big budget movie. As recently as last year, Joseph Gordon-Levitt was getting set to produce (and possibly direct and star) with Eric Heisserer (Arrival)  working on a screenplay. It fell apart. At the time, he confessed that a story like this isn't really something that's suited for the big screen.
Well, Neil Gaiman agrees. And right now, he should know. Mr. Gaiman is currently celebrating the imminent release of Starz's small screen adaptation of his best novel, American Gods (something else that might have been a little too much for one film), and while promoting it, the inevitable question of the Sandman movie came up.
"If I had control over Sandman," Gaiman told The Hollywood Reporter, "which I do not, because I signed the deal when I was 26, and I knew what I was getting into," he would send it to TV.
"For a long time, I've been saying with a movie, you'll have to throw so many things out," Gaiman said. "Why not… take all the bugs in Sandman, and make them features. The fact that you have 75 issues, plus a whole bunch of stories? You have 80 episodes. That's a good thing! The fact that you have adult themes and adult things? That's now a good thing. It will be very strange to take Sandman to TV, but I really do think it's the most important thing we could do."
Bryan Fuller and Michael Green, who are showrunning that other Gaiman adaptation, American Gods, agree. "Those comics are so filled with so much story, and so much humanity and such visual candy — try to stop us if we have half the opportunity," Fuller told Yahoo TV.
There's a certain irony in the fact that Lucifer, who was a Sandman supporting character, has his own TV series that's about to enter its third season on FOX. Of course, that show has little resemblance to the comic version, and we wouldn't necessarily endorse such a drastic departure for something like Sandman. Eventually, Warner Bros, who have been trying to make a Sandman movie for well over 20 years now, might finally figure out what fans, and Neil Gaiman, have known all along. "You can't crack it, because it's too big!"