News
Nat Faxon & Jim Rash to Make Slasher Comedy, Dead Mall
Nat Faxon and Jim Rash, the writers behind The Descendants, reteam to write and direct Dead Mall, a horror comedy.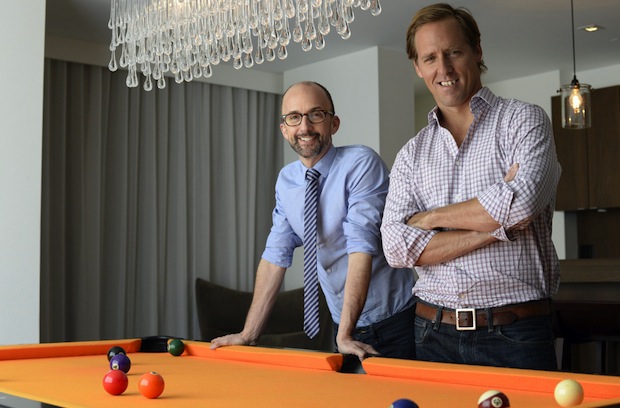 Nat Faxon and Jim Rash are two of the more eclectic personalities seemingly bouncing around Hollywood these days. Both have held steady day jobs as actors in the past, including Faxon on FX's Married and Rash as the fan favorite character of "Dean Pelton" on the cult comedy Community.
However, both are really making their names behind the camera since they have a shared Oscar for writing the screenplay to The Descendants, a sweet Alexander Payne dramedy about family and loss that starred George Clooney and Shailene Woodley. They followed up that Oscar win by transitioning into writing and directing with one of the most underrated gems of 2013, The Way Way Back, whichSteve Carell and Sam Rockwell starred in. Yet now, the duo are collaborating again for a project that sounds much more up the alley of Community's Abed: a horror-comedy set in a dilapidated mall with its very own slasher serial killer.
As according to Deadline, The Way Way Back duo will be writing and directing again for this feature that makes use of a recent quirk in suburban life: second-tier malls that went the way of the dinosaurs. Monuments to America's shopping boom (or greed) from the 1970s through the 1990s, these buildings became proverbial ghost towns when shopping went online.
Such a Dead Mall makes an excellent backdrop for a horror flick, and apparently Faxon and Rash agree. As per the new project's logline, "Set in that backdrop, the comedy concerns an ensemble of 40-year old guys and girls, seemingly with enough brainpower to escape a slasher film-quality killer, but maybe not."
Kevin Walsh will be producing the film through his B Story production label while the project is set up for distribution at 20th Century Fox. Faxon and Rash will also executive produce the movie.