News
Mystery DVD Club No 22: Warnings
Stephen Baldwin arrives in the Mystery DVD Club! But have we found a hidden gem?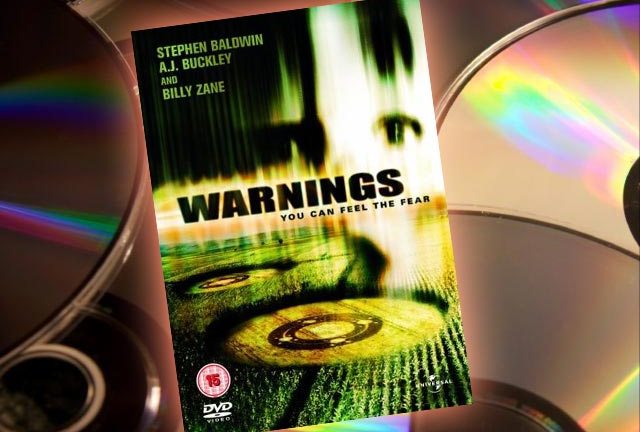 Stephen Baldwin plays Joe, a guy who lives in his farmhouse, talking to his cousin, who appears to be a Guy Fawkes-like doll, and recording videos revealing the 'truth' about the things that go on in his cornfield, whilst keeping something locked in his attic. He's got guns, he's got booze and he's clearly got problems.
It's Friday at Brightwood College, where we find Layne (A J Buckley), the real cousin of Baldwin's character, and his friends. His friends are helping Layne out by taking him back to his cousin's farm. There's also plenty to sort out in his hometown of Porterville, including a meeting with Billy Zane as Sheriff Billy.
There's not much to do in Porterville, so the five friends head off to the farmhouse, with ominous music, and instantly feel creeped out by the place. The house is a mess and it's up to our guys to tidy it up.
Monday drops round and the friends are pretty much sorted. The place is looking tidier, allowing them to spend their time in a jovial manner now that the smell of rotting meat and mould has been completely removed. Whilst Layne and Macy cook and declare their love for each other, Joe's other friends are out in the field finding a crop circle… a spooky crop circle… one of many (well, three) that will appear in the film.
Spooky goings on don't prevent the group of friends from staying in the house and continuing their whole Changing Rooms experience, revealing more and more of the bizarreness in the life of Joe, particularly his attic of alien memorabilia and his tape of ramblings about aliens. 
Between falling out with each other and the spookiness, there's 82 minutes of film here and you'd think that the filmmaker would have been able to fit in something bordering on suspense. Even with the signposted moments – lights coming through the field, feeling something strange outside, strange footprints in the attic – it's 55 minutes before something actually happens, and even then it's neither scary nor particularly engaging.
By the final act, where the aliens do appear in their disappointing CGI glory, it's too late for the film to redeem itself as it tries to build an explosive ending. Actually, something does explode, but that's not what I meant.
Obviously, a lack of suspense isn't the only fault with the film. Examples of the fantastic dialogue in the film include "I love you… I love your body, that's the truth," and "Joe had obviously created an electro-magnetic field around the house. It all makes sense."  Sadly, very little in the film does make sense. The predictable script is full of overused plot devices and clichés. Each character is a stereotype with interchangeable and instantly forgettable dialogue. 
Warnings is low budget nonsense that would have fit perfectly as one of the poorer episodes of The Outer Limits. It suffers from really bad characterisation, really bad dialogue and really bad acting. All in all, it's a really bad film.
I wasn't expecting any extras, but they include an Alien Gallery – featuring line drawings and model work, a CGI model, the CGI running, the CGI disintegrating as part of a film test and (totally unconnected with the alien) an unused shockwave effect. Not everyone's cup of tea, but mildly interesting.
The Cast & Crew extra are basically the credits. I'm not sure if you can count credits as a special feature, even if you present them as still screens, as they pretty much appear at the end of the film anyway.
The trailer is a trailer for the film and is actually just as poor as the film itself. It's like a really bad TV movie trailer.
There's also scene selection (seriously, it's been years since I've seen a film offer this as a feature) and language set-up (English 5.1, English subtitles).