News
My Pet Dinosaur Trailer Recalls the Classic Family Film Feel
The trailer for imaginative Australian movie My Pet Dinosaur uses familiar family film tropes.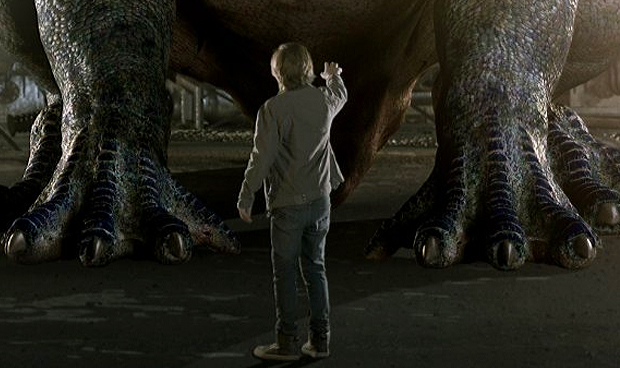 While it might not appear so on the surface, live-action family film adventures are still relevant in the industry, especially with Disney's drive to adapt several of their classic animated features and even a new Jumanji brewing. Yet, they don't quite replicate the wide-eyed optimism and wonder exhibited during the genre's glory days in the 1980's with unquestioned classics like E.T. and The Goonies. While Netflix tapped into that vein, mixing it with horror on TV with Stranger Things, upcoming Australian effort My Pet Dinosaur makes its own attempt.
Debuting as an exclusive for THR, the My Pet Dinosaur trailer doesn't take long to showcase familiar elements. In the anytown suburb of Brightwood, where apparently, "there's only two options, military or mischief," a young boy, bullied and disrespected, discovers (amongst some provocative-looking white amniotic ooze,) a miniature baby dinosaur of some unidentifiable species. While the creature becomes a companion to the troubled youth, there is the major logistical issue that it's rapidly growing, literally expanding before his very eyes. Inevitably the creature garners the attention of the mean old adults in town and stereotypically trigger-happy military who see a merciful "capture" as an unlikely option.
My Pet Dinosaur is the brainchild of an Emmy-winning Australian visual effects artist-turned-film-visionary Matt Drummond, who serves as writer and director. Drummond made his directorial debut in 2014 with a similarly-themed Australian family film called Dinosaur Island. While the film's primary cast of children Jordan Dulieu, Annabel Wolfe, Christopher Gabardi and Tiriel Mora won't ring familiar to most audiences, there are a few scant familiar faces such as David Roberts (The Matrix films, Fool's Gold) and Joanne Samuel, who Mad Max fans will remember as Max's ill-fated wife Jessie from the original 1979 film.
My Pet Dinosaur hasn't quite set a North American premiere date, but it will debut at the European Film Market next month and has locked down a March 30 premiere in its native Australia. Check out the trailer below!