News
Music in the movies: the finest horror scores
Halloween's almost upon us, and to mark the occasion, Glen's delved into the archives to find his favourite horror movie scores…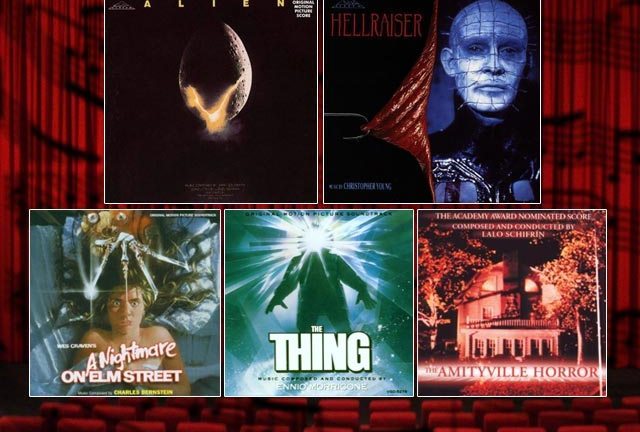 Good readers, it's that time of year again. The time when it's acceptable to wander the streets dressed like a psycho killer and not get arrested for it. It's also the time of year when there'll be all manner of Halloween parties, and while some will no doubt resort to lazily playing Monster Mash and Thriller on a loop, I can't help but feel it would be better if people would dig into some great horror scores to add a suitably spooky atmosphere to proceedings.
A great score can make or break a horror film. With this in mind, here are some of my favourite horror movie scores, as well as some suggestions from some well-informed writers I converse with.Hellraiser – Christopher Young
When taking up the challenge of scoring Clive Barker's directorial debut, composer Christopher Young was quite young and relatively inexperienced. Full of gothic tinged synth work, this is a strong effort that complements the dark imagery rather brilliantly. There are moments of invention here, as Young incorporates a waltz and deploys it in a deliciously creepy way. He also allows his compositions to develop, creating a sense of tension and dread. What's most impressive is how the score sits together as a whole, and when listened to in isolation from the film, it's as effective, if not more so, than when it's accompanying Barker's often grotesque imagery.
Nightmare On Elm Street – Charles Bernstein
The first film in Wes Craven's classic slasher series still remains an incredibly strong watch, striking a great balance between horror and humour, before the franchise's scales tipped too far into comedy in its numerous sequels. The score has dated somewhat, but it's still a charming piece of work that uses synths to evoke the dream state, and switches from relatively serene to terrifying at the drop of a hat.
The Amityville Horror – Lalo Schifrin
Composer of the iconic Mission: Impossible theme, Lalo Schifrin wasn't averse to turning his hand to composing genre scores, and for his efforts on the 1979 adaptation of the bestselling book, The Amityville Horror, he was rewarded with an Oscar nomination for Best Original Score. It has been rumoured that Schifrin reused much of the material he composed for his intended score for The Exorcist, although the he's denied this. Such is the quality of the music, it could have easily been used as The Exorcist's soundtrack, as it creates a wholly tense and unsettling atmosphere.
Army Of Darkness – Joseph LoDuca & Danny Elfman. Nominated by Richard Street
Having composed scores for the two preceding films in Sam Raimi's Evil Dead trilogy, Joseph LoDuca returned for the concluding instalment, with a little help from long-term Tim Burton collaborator, Danny Elfman. LoDuca would compose the majority of the score, with Elfman composing The March Of The Dead Theme. Played by a full orchestra, the score is very grand in scale, creating levels of excitement and creepiness, as well as some quite beautiful moments. There are also some comical tracks in here, too. Perhaps not the most terrifying of scores on the list, but no horror list would be complete without some Evil Dead. Alien – Jerry Goldsmith
Considering Jerry Goldsmith's calibre,  and how great the score is, it's strange that he wasn't Ridley Scott's first choice as composer. Scott originally wanted Japanese composer Isao Tomita to provide the score, but the studio wanted a more recognisable name. It's hard to argue with the end results, as Goldsmith's score is quite astonishing.
Having already established himself as a great composer in the sci-fi genre, he furthered that reputation, as well as showing a knack for horror, with a lyrical composition that carries an underlying sense of mystery, along with an overriding aura of fear and tension.
Goldsmith's original version wasn't used in the film, but is available now in a deluxe edition. What's heard in the film is an amalgamation of Goldsmith's score combined with a temporary score he'd had come up with during production, but still it's very effective.
Deep Red – Goblin
The score for Argento's Deep Red marked a hugely impressive debut for Goblin. Not only did it complement the film brilliantly, but the album would also go on to be a chart topping hit in Italy, and earn the band a cult reputation throughout the world. It's a genre-defying piece of work that blurs jazz, prog and metal with startling results. 
Leitmotifs are used, with distinct differences between the variations on the main theme with the use of acoustic guitars and gentle tones in quieter moments, and pounding organs and synthesisers during more intense scenes. 
One of my absolute favourite scores, and one that I certainly regard as one of the greatest debut scores of all time, it's an incredible piece of work, and easy to see why it enjoyed such success, and why the band would go on to become Argento's go-to source for film scores.Candyman – Philip Glass. Nominated by Giles Edwards
Candyman is a film that really unsettled me when I first watched it in my early teens, and I still find it quite terrifying to this day. Philip Glass' score really is quite a piece of work, and shows the level of understanding he had for the material. It's not out to relentlessly shock the audience, but instead deploys some rather beautiful and quite delicate pieces. There are also some incredibly creepy numbers, full of chanting and oppressive organ work.
The Thing – Ennio Morricone. Nominated by Dan Auty 
The score for The Thing marked one of Morricone's earliest forays into composing an electronic score and, given the moods evoked throughout, it could easily be attributed to Carpenter on first listen. 
Morricone acknowledged Carpenter's earlier work as an influence on the piece. While not the easiest listen in Morricone's extensive back catalogue, this is a fantastic piece of work. He draws out a sense of dread and atmosphere that enhances the film considerably, and it's a large part of why the film holds up as well as it does today.
Tenebrae – Goblin. Nominated by Phil Walsh 
While this isn't widely regarded as an official Goblin release, since the band split prior to the film being made, Argento still wanted them to score his movie. He was able to convince three members of the band back to provide the score.
The score for Tenebrae sees them retain the elements of darkness and tension that typified their previous output, but also saw the band adopt elements of 80s pop music, giving the score the feel of a dance album, which goes some way to explaining why French duo Justice sampled the main theme for two  of their songs. 
The Wicker Man – Paul Giovanni & Magnet. Nominated by Ben Howard 
Given just how good this score is, it's amazing to think that this is Giovanni's only foray into composing for film. The composer was given the freedom to create a score that took influence from traditional folk songs, and worked these into the score alongside original compositions to give the film a real sense of time, while also reflecting its theme of insularity.
Part of what makes the film so unsettling is how your initial impression of the island's inhabitants are distorted as the film progresses and the truth of their acts is revealed, and the same can be said about the soundtrack. What seems quaint when first introduced soon becomes immensely unsettling and eerie.
Rosemary's Baby – Krzysztof Komeda. Nominated by Phil Beresford
Komeda worked on a number of Roman Polanski's films, but none managed to catch the sense of atmosphere and confusion evident here. This really is an underappreciated piece of work, certainly when it comes to horror scores, so I'm pleased Phil nominated it, since it encouraged me to listen to it again in preparation for this article.
A leitmotif is used throughout that starts off light in tone, but soon evolves into a much darker piece as it mirrors the experiences of the protagonist. It's easy to see the inspiration this has had over the years on the likes of Jerry Goldsmith. If you haven't seen the film or heard the score, I'd encourage you to do so, as both are excellent.
The Fly – Howard Shore. Nominated by Stuart Barr
Great composers have a habit of going beneath the surface of a film and drawing out the subtext in the process. Howard Shore is one of those composers. Lesser composers may have simply opted for atmospherics and cheap scares, but Shore, while delivering the aforementioned attributes in spades, recognises that the film is as much a romance as it is a horror. Shore uses strings and horns to create a masterpiece of composition that, to this day, acts as a highlight of his career, and he's yet to better The Finale and the pieces that lead into it.
Prince Of Darkness – John Carpenter and Alan Howarth
While many of Carpenter's other scores get most of the attention (especially from me, as this particular score was omitted from a column I wrote on his music) this is up there with the best of his compositions. Even when very little is happening on screen, the score manages to carry a sinister and deeply unnerving tone, where the threat of something bad happening is always a possibility.
It's a case of the quality of the score outweighing that of the film, as Carpenter and Howarth teamed up to deliver an effective score, which they achieved through Carpenter's typical simple synth work and Howarth's masterful production.
Don't Look Now – Pino Donaggio. Nominated by Marc Foster
The inclusion of this score provides an interesting comparison to Goblin's Deep Red, not only because both scores are by Italian composers working in the horror genre, but also because both are also debuts of an incredibly high standard. Donaggio was apparently reluctant to take the job, as he had no previous experience, but his musical talent, and the fact that he was a native of Venice, made him an ideal choice for the job.
The success of this score led to him quitting his singing job and embarking on a career composing for film, where he has produced a number of classic genre scores over the years. His work here remains a highlight, however – it's grand, beautiful and disturbing. Listening to the score takes you on an emotional journey, whether accompanying the film or not.
Carrie – Pino Donaggio. Nominated by Charlie Brigden
Another of Donaggio's genre efforts, and another classic score. This was one of his many collaborations with filmmaker Brian De Palma for what is one of the finest adaptations of Stephen King's works. It's strange to think that Donaggio got the job following the death of Bernard Herrmann, who died shortly after completing his score for Taxi Driver.
There are thematic similarities to Donaggio's score for Don't Look Now, and it follows a similar evolution to Komeda's score for Rosemary's Baby, in that it highlights the innocence of the protagonist. But the themes soon warp, as the protagonist's experiences become ever more traumatic. Donaggio opts for a subtle approach, and draws an incredible amount of tension from simple techniques.