Features
Music in Film: The Oscars 2013
In the wake of the Oscars, Ivan looks at the year's nominees, and argues that it's time the Academy changed its music categories...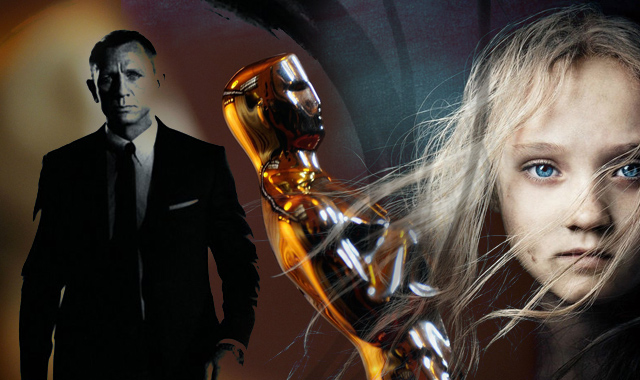 It's February. People are talking about John Williams. It must be Oscar season again. And this year, it's a fairly traditional bunch: Alexandre Desplat, John Williams, Thomas Newman and Dario Marianelli are all familiar faces on the ballot sheet, with only Mychael Danna offering a relative shot of fresh blood.
So, is it time the Academy Awards introduced a few more changes to its music categories?
Back in the 1930s, Best Music (Scoring) was the award composers coveted, a gong given out to pre-existing musicals and brand new work alike. In 1938, the music prize was split into two: Original Score and Scoring, allowing new work (Korngold's The Adventures Of Robin Hood) to be rewarded while still celebrating the wealth of musicals (Alfred Newman/Irving Berlin's Alexander's Ragtime Band) ringing out through cinema speakers.
That led to another split, dividing the booty, a la Golden Globes, into Scoring of a Dramatic or Comedy Picture and Scoring of a Musical Picture. All very well and good, until musicals became less common. And so, in 1962, they replaced it with yet another double category: Substantially Original Score and Scoring of Music Adaptation or Treatment. This wonderful combination actually saw My Fair Lady battle The Beatles' A Hard Day's Night for an Oscar in 1964. (No prizes for guessing who won.)
Within a decade, the Academy tweaked the distinction again, giving us Original Score and Original Song Score and Adaptation, a clumsy system that made the whole thing more confusing. Still, Marvin Hamlisch had no complaints: he won Original Dramatic Score, Best Song Score and Adaptation and Best Song in 1973 – the first and only time a composer has taken home three music Oscars in the same year.
Presumably to stop Marvin winning all of the awards ever, the Oscars pulled one more switcheroo, leaving us (as of 1985) with the now-familiar Best Original Score and Best Song awards.
This year, though, has been a textbook example of why it might be time for the Academy to change things up all over again.
Les Misérables is leading the charge for the modern wave of (adapted) movie musicals with a revolutionary (ish) soundtrack – but like all musicals these days, it only has a musical nod for Best Song because they scribbled a bonus number at the last minute. One of the other striking soundtracks of the year, Django Unchained, continues Tarantino's trend of using pre-existing music for his score – an approach that has undoubtedly earned awards over his career. Even with some fantastic original songs, Django is still left off the list of 2013's musical nominees.
And what of Jonny Greenwood's The Master? There Will Be Blood's use of his previous composition Popcorn Superhet Receiver as the basis for half of the score made him ineligible for an award he richly deserved. The Master (the best film score of 2012) only recycles a few minutes from Greenwood's 48 Responses To Polymorphia, a small enough percentage to grant it a place on this year's official Original Score shortlist. But still, the Radiohead guitarist has no Oscar nomination – the controversy surrounding his previous collaboration with Paul Thomas Anderson surely couldn't have helped.
Would bringing back Best Adapted Score help? It would at least help to fill in some of the gaps.
With popular music becoming increasingly, well, popular, in modern cinema – big shout out to Katy Perry's Firework, which appeared in both Madagascar 3 and Rust & Bone last year – recognition of the cinematic contribution it makes would be a fitting addition to the Oscar roster.
For filmmakers who aren't Tarantino, music supervisors play a key role in assembling a movie's soundtrack. As Time Goes By is as much tied to Casablanca as Stuck In The Middle With You is to Reservoir Dogs. In some cases, such as T-Bone Burnett's work on The Hunger Games, musical supervisors can even erase an original score (in this case, James Newton Howards') almost entirely to make way for pre-existing material.
How about an award for Best Music Supervision instead?
At the very least, a third musical award, separate from Original Song, would be a useful thing. After all, grouping Best Song with Adaptation could be disastrous, leaving Adele's Skyfall, J Ralph's sorrowful Before My Time (sung by Scarlett Johansson for the documentary Chasing Ice) and Norah Jones' excellent song from Seth MacFarlane's Ted all potentially overlooked. In previous years, it might even have cost a win for Once's sublime Falling Slowly.
Still, Searching For Sugar Man's Rodriguez playlist can't go unnoticed. Neither can Django's knack of rejuvenating an old track – if it can't win Best Picture, it can at least take home something for Best Adapted Music.
Les Misérables could compete as well, although for future singalongs, Best Original Musical is apparently still a valid category. There just hasn't been a film deemed worthy of it since Prince's Purple Rain in 1984.
The eligibility rules are as follows (according to Wikipedia):
"An original musical consists of not fewer than five original songs by the same writer or team of writers either used as voiceovers or visually performed. Each of these songs must be substantively rendered, clearly audible, intelligible, and must further the storyline of the motion picture. An arbitrary group of songs unessential to the storyline will not be considered eligible."
(Conclusion? The Muppets was robbed.)
Music in film is a beautiful thing. Whether it's a CD played on a character's car radio or a brand new magnum opus from Tom Tykwer's Pale 3 for Cloud Atlas, isn't it only right that the Oscars recognises soundtracks in all their forms?
For better or worse, the 2013 musical nominees for the Academy Awards were:
Best Original Score (Spotify playlist here)
Anna Karenina: Dario Marianelli
As versatile as ever, Marianelli waltzes round a Russian folk tune with heady, passionate and brazenly self-aware twirls. Magnificent.
Argo: Alexandre Desplat
Vocal percussion and Eastern instruments help this otherwise typical thriller stand out from the crowd. It's no Moonrise Kingdom, but it's still a Desplat. And that's better than most. Alexandre's had five nominations in the past, but when you're producing nine scores a year, that's just a drop in the ocean.
Life Of Pi: Mychael Danna
Mychael Danna's soft blend of woodwinds and vocals works beautifully as part of the film, but the gentle ambience soon wafts away outside of the cinema.
Lincoln: John Williams
Surprisingly understated, John Williams' latest trip out of retirement replaces trumpets with clarinets for a regal – but never pompous – sound. It's basically Carter Burwell's True Grit score. With more facial hair.
Skyfall: Thomas Newman
It's not quite David Arnold, but Newman balances electronics with orchestral work nicely. It's just a shame there's no real theme to carry it through. Still, Skyfall certainly grows on you. And with 11 nominations on his plate, it's high time Newman got his dues.
Should win: Anna Karenina / Skyfall
What won: Life Of Pi
Should've been nominated:
The Master: An entire country tuning up in the wake of war? Breathtaking.
Cloud Atlas: A haunting melody ties the plot together with mesmerizing subtlety.
Beasts Of The Southern Wild: Responsible for 60 per cent of the movie's magical charm.
Safety Not Guaranteed: Ryan Miller layers instruments sneakily to create an epic symphonic score, which builds to an unexpectedly rousing finale.
John Carter: Michael Giacchino goes full John Williams for this glorious sci-fi.
Looper: An orchestra made of random objects? Nathan Johnson's one of the most original composers working today. One day, the Academy will notice.
Best Original Song (Spotify playlist here)
Before My Time – Chasing Ice
If you ever doubted Scarlett Johansson could sing, J Ralph's simple composition brings out her dulcet baritone with class. (Warning: Combined with the film's stunning end credits, it will make you cry.)
Everybody Needs A Best Friend – Ted
"My words are lazy, my thoughts are hazy…" Norah Jones finds her old jazz spark with this witty big band number, which acts as a base for the delightful score.
Pi's Lullaby – Life Of Pi
Bombay Jayashri and Mychael Danna combine to create this heartfelt tribute to Life Of Pi's innocent male lead. It won't stay with you, but it's a solid match for the subject matter.
Skyfall – Skyfall
Borrowing from almost every other James Bond theme song, Skyfall is a reassuring, likeable blend of old school and new, belted out by Adele with true aplomb – and a lot of wobbly notes.
Suddenly – Les Miserables
The only new track in the musical, you almost don't notice Hugh Jackman's bonus solo at all. Partly because it blends in so well, partly because it's so unmemorable.
Should win: Before My Time / Everybody Needs A Best Friend
What won: Skyfall
Should've been nominated:
Ancora Qui, Django Unchained – A brand new Ennio Morricone and Tarantino's most mature use of music to date. Seriously, why is this not nominated?
Big Machine, Safety Not Guaranteed – A moving song, but one that, like Norah's Ted ditty, is built into the full score beautifully.
Airport, Brooklyn Brothers Beat the Best – Flight Of The Conchords meet childhood toy instruments in a kooky, but infinitely enjoyable bit of folk pop.
Ladies Of Tampa, Magic Mike – Because who wouldn't want to see Matthew McConaughey perform this live on stage, butt naked save for a cowboy hat?