Features
Music in Film: Iron Man 3 and Star Trek Into Darkness
Two of this summer's blockbuster soundtracks come under scrutiny in this week's Music in Film: Iron Man 3 and Star Trek Into Darkness...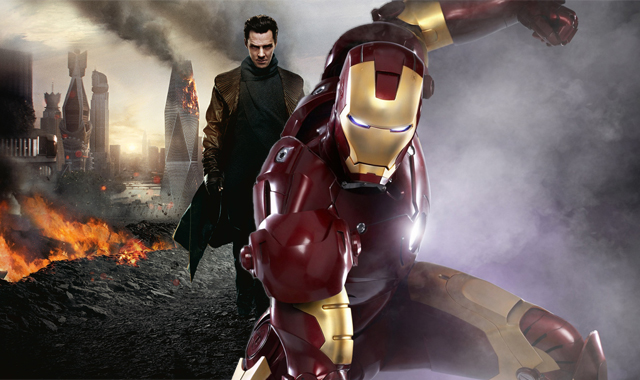 Summer is here. How can you tell? One, it's probably raining. Two, you can hear loud noises from inside the screening room when you stroll through your local cinema. And with blockbuster season in full swing, we're taking a look here at two of the scores from this season's big movies…
Iron Man 3
What does a superhero need more than anything? A good theme tune. From John Wiliams' Superman to Hans Zimmer's Batman, a recognisable musical signature is a useful thing to have on a utility belt. You know, just to let people know who's coming.
It's no coincidence, then, that Iron Man 3 is where Marvel's maverick finally finds his rocket-propelled feet: the soundtrack is fantastic.
Taking his metal-head persona a little too literally, director Jon Favreau chose to begin Tony Stark's original outing with AC/DC's Back In Black. With five power chords, he captured Iron Man's character perfectly – to the point where its equally guitar-driven score by Ramin Djawadi was completely overlooked. (Fast forward to now, when Djawadi's Game Of Thrones theme is stuck in everyone's heads, and it's hard to believe that something he composed could be so easily forgotten.)
Iron Man 2 continued the series' style, but replaced Ramin with Elf's John Debney, who shelved the series' back catalogue for a bigger, darker sound. Rage Against the Machine guitarist Tom Morello balanced the rock sound with a giant orchestra and choir, but it was another largely anonymous outing. The main standout track, Monaco Drive, was a cheeky pastiche of David Arnold's Bond, while I Am Iron Man – after two films, the closest the franchise had to an out-and-out theme – felt like something from a Jerry Goldsmith movie.
Iron Man's lack of musical identity was made worse by Favreau's decision to add more AC/DC to the mix. There was even an Iron Man 2 album released which was essentially a collection of their greatest hits. It went straight to number one.
Enter Brian Tyler. With Call Of Duty, Battle: Los Angeles and The Expendables under his belt, you'd expect something solid for Iron Man's third outing, but he delivers more. For one, there's no sign of AC/DC. In their place? The London Philharmonic Orchestra. And, erm, Eiffel 65's 1999 earworm Blue (Da Be Dee).
It's a bonkers way to start a summer blockbuster, but director Shane Black is sending a clear message: this is a new direction for Tony Stark. In a post-Avengers world, where the stakes are higher, Tony has graduated to a grander theme. And it's a corker – an old-school piece placed proudly at the top of the album.
The rest of the score continues that melodic style while still retaining the guitar-driven attitude of the first two films. Attack On Malibu Point veers towards Zimmeresque drums, War Machine blends James Bond-like brass and strings with the odd "BRRRMMM" moment, while New Beginnings continues the current trend of using that epic-sounding chord progression from Oblivion/Sunshine's Adagio in D Minor/the list goes on, but Tyler's spy-cum-superhero adventure keeps its own tone throughout by never losing sight of that catchy theme.
A gorgeous line that jumps to jazzy major fourth from a straight-faced minor, it scales down to a quiet harp and piano on Isolation and sidesteps into sinister for Extremis and Heat and Iron – the kind of versatility that makes David Arnold's Casino Royale score such a classic. The Mandarin's tune builds nicely from slow strings to fast-paced minor thirds on violins, but Tyler's showstopper is end credits number Can You Dig It: a triumphant blast of retro cool that turns those guitar power chords into blasts of sax and bluesy organ and establishes Tony Stark's theme as the most ear-catching piece of Marvel music to date.
For the first time, you can hum Iron Man to yourself in the shower. More importantly, you'll want to.
Star Trek: Into Darkness
One day, the laws will change in the UK and my ears will be allowed to marry Michael Giacchino's film scores. Star Trek Into Darkness is definitely on the potential suitors list – not least because of Giacchino's typically terribrilliant puns for the track titles.
Mission: Impossibles III and IV proved that Giacchino is a pro when it comes to reworking existing tunes. 2009's Star Trek saw him dust off Alexander Courage's old Star Trek theme and give it glorious new life. Into Darkness is his first sequel to one of his own scores, though, so to hear Giacchino do the same thing to himself is great fun, much like listening to John Williams building up the sound of Star Wars.
That Williams comparison will follow Giacchino even more now thanks to the JJ Abrams connection, but it's a fair one: driven by instruments and characters, Giacchino's score builds on previous leitmotifs set up by Star Trek, reworking familiar ideas with the odd tiny tweak.
It's an appropriate approach to take for a film that relies so much on pre-existing material, but where Abrams' blockbuster makes multiple missteps, Giacchino doesn't miss a beat.
The opening logo sees a repeat of his fantastic Star Trek signature, cementing the boldly-going trumpet as the series' official theme. Linked to both Kirk and the Enterprise, it's as much a part of the overall sound as it was last time around, popping up in the background of most of the score. Whether in A-form or its inverted B-form (Sub Prime Directive), it's a simple enough refrain – with, unusually, a lot of time for the harp – that it suits both loud bombast and quieter moments of reflection.
Not that we get that much time for reflection. From the off, Pranking the Natives barrels along at breakneck speed, followed by the danger-filled Spock Drops, Kirk Jumps. And, if the harpist's got any fingers left, the relentless Earthbound And Down truly finishes them off.
John Harrison's theme, London Calling, is the main slow piece (and the biggest new addition), a quiet triplet-led piano miniature that builds suspense by shifting between minor and major seventh, an alternating pattern pushed forwards by crescendo triplets in the brass and on-beat staccato strings. It's a beautifully intricate ditty that refuses to resolve neatly, right to the last unfinished cadence.
Those three beats start undercutting everything else as Harrison's influence seeps through the film before his theme bursts into The Kronos Wartet – a bonkers cue that combines clanging metal, loud brass and, best of all, a choir shouting in Klingon. The words are "random hurled insults and things that a Klingon might say to an intruder of their planet", Giacchino explains in an interview with Movies on the Radio, and were added at the last minute.
Given the madcap excitement of the orchestra, it would be nice to hear what the Wartet is like without the choir over the top – perhaps we will on the extended album (like 2009's score, this is a heavily edited release) – but any piece that has hundreds of Klingons chanting naughty words in unison is impossible to dislike. 
The standout composition, though, is The San Fran Hustle. Accompanying the big showdown, it's a hectic mess of stabbing brass, banging timpani and strings screeching up every few seconds, but listen carefully and you realise what Giacchino has done: rewritten his lonely, ethereal Spock theme (heard on That New Car Smell a few years back) and turned it into a balls-out, souped-up action number – a perfect demonstration of the versatility of Giacchino's Star Trek universe and the audacity the composer has to use it.
The moodier melodies are no less impressive; Meld-merized, a sad character beat for Kirk and Spock, blends the triplet rhythm of John Harrison with sombre strings (hello to the harp again), while Warp Core Values is a soaring climax that moves from a surprising siren to a choir-laden, heartbreaking blend of the Enterprise theme and Kirk Senior's motif from the first film; a rousing note of sacrifice and destiny that, despite the derivative script, gives the film real emotional heft.
Coupled with repeated echoes of Courage's classic theme and you have a soundtrack that borders on a remake of a previous outing, but one that manages to take the old and go somewhere new with it. The only disappointment? We don't get the astonishingly good suite from the sequel's end credits (another, you suspect, for the extended cut). Instead, we're left with an almost identical reprise of the Star Trek Main Theme from the 2009 release. Still, when an album boasts such daft track titles as "Brigadoom", it's hard not to smile.
You wonder what puns he could come up with for a Star Wars soundtrack.
Follow our Twitter feed for faster news and bad jokes right here. And be our Facebook chum here.