Features
Music in Film: Do you hear the people sing?
In the wake of Les Misérables' success, Ivan takes a look at how the musical has reinvented itself in the modern era...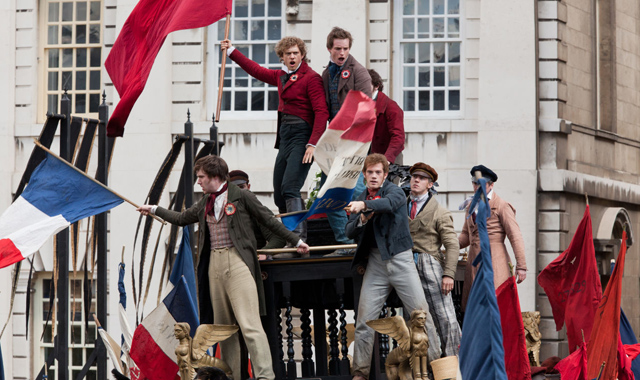 Do you hear the people sing? The refrain, bellowed by fans of Les Misérables whenever a French flag is in sight, was given a new meaning when Tom Hooper's magnificent adaptation of the musical arrived in cinemas earlier this month. Because for the first time in years, we really could hear them – live, on camera.
It's an inspired decision by director Tom Hooper, who ignored the usual route of actors recording a track beforehand and miming for the cameras and instead gave them all an earpiece connected to a piano and told them to let their vocal chords rip.
The result? A cast full of people acting rather than lip-syncing – a raw edge often missing from studio song-fests. It's a pain in the eardrum for sound editors, who have to blend those live vocals with an orchestra track, recorded later to mirror their performance, but as anyone who's seen Anne Hathaway's mesmerising version of I Dreamed A Dream will attest, it's worth it.
"I had a dream my life would be," she blubs, more crying than singing, before virtually screaming, "so far from this hell I'm living!" You can't imagine the song being done any other way. And audiences seem to be responding: the film has topped the UK box office two weekends in a row, with packed screenings bursting into applause as well as tears. The cast are now even performing live at the Oscars ceremony, where the film is nominated for Best Original Song.
No wonder, then, that this "revolutionary" approach has been the main talking point of the film's awards and marketing campaigns – one 10-minute behind-the-scenes trailer accompanied practically every film that came out at the end of last year. "It was an amazing opportunity to do something genuinely groundbreaking," said the director of The King's Speech.
But in the world of movie musicals, it's far from the first time live singing has been used.
In fact, you only have to travel back a few years to 2007 to find Across The Universe, a film based around Beatles songs and featuring the unpolished strains of Jim Burgess and others. Director Julie Taymor has said that roughly 90% of the musical numbers were recorded live, a move that scored the movie bonus points in its mixed reviews.
The film suffered, though, not because of its untrained vocalists but because of its flimsy source material. The Beatles are brilliant, but that doesn't mean you need a film loosely stitching together their greatest hits. Still, the frequent naffness of jukebox musicals isn't a problem for most studios: in recent years, our ears have had to endure both Rock Of Ages and Mamma Mia, one more than the other.
But while no one could forget Pierce Brosnan's cries of "SOS!" as he murdered ABBA, The Bronhom helped pave the way for Hooper's Oscar contender. No Pierce; no Les Mis. At least, not as we now know it.
Mamma Mia joined a long line of musicals in the noughties that made a point of having its stars sing for themselves – a trend started by Moulin Rouge in 2001. "Can Ewan McGregor really sing?" Googled stunned audience members when it turned out that Obi-Wan Kenobi had musical Jedi powers. Since then, we've come to expect it. And so we've had the cast of Chicago, Hairspray, Sweeney Todd and even Joaquin Phoenix in Walk The Line stepping up to the mic.
Songs in films started to stand out because they were dubbed, rather than the other way round: Marion Cotillard in La Vie En Rose and Jamie Foxx in Ray drew attention when the stars were replaced by their real life counterparts. If either happened now, the question of dubbing over the actor wouldn't even be raised.
Go back several decades to when musicals were a regular Hollywood staple, and dubbing was a relatively common thing. Natalie Wood in West Side Story (1961), Deborah Kerr in An Affair To Remember (1957) and, famously, Audrey Hepburn in My Fair Lady (1964) were all taped over by Marni Nixon. It was only the actors who doubled as professional singers that escaped such a fate: Bing Crosby, Frank Sinatra, Fred Astaire, Marilyn Monroe and Bette Midler were the kings and queens of on-screen singing. If they were going to lip-sync, dammit, they would do it to their own tape. Some refused to record their vocals in advance altogether, leading, one could imagine, to Singin' In The Rain-style shenanigans, with orchestras located just off screen and microphones hidden around the set.
What these stars and filmmakers realised was that any kind of pretence made things sound (and look) phoney. How else could Streisand in What's Up, Doc? convincingly fall off a chair halfway through a musical number? Or Cary Grant and Katharine Hepburn be interrupted by a noisy dog in Bringing Up Baby?
Now, audiences – and studios – may be starting to agree again.
A quick re-watch of songs that involve live singing and/or mime makes it painfully obvious the difference the technology can make.
Take Barbra Streisand singing My Man in Funny Girl, whose breathing and stifled high notes add an honest touch to the song until the syncing sets in:
Penelope Cruz sang for herself in Rob Marshall's Nine, but Pedro Almodovar's Volver seemingly wasn't ready to join the new trend for non-professional singers. Hands up if you can guess where Penelope ends and Estrella Morente's voice begins:
Madonna, of course, joined the list of singer-performers too with Evita, but while a large part of the film was lip-synced, Jonathan Pryce's scene shows how perfectly live recording can work, allowing the actor to half-speak his lines, Alan Rickman-style:
Of course, live singing isn't always a ringing success. Peter Bogdanovich loved the old-school method of musical making so much that he directed At Long Last Love in 1975.
Here's how it turned out:
Woody Allen had more success with his own homage in 1993. Everyone Says I Love You, a lovely jukebox musical that put plot first, jazz standards second, features delightful turns from a young Edward Norton, Woody Allen, Julia Roberts and Goldie Hawn. The ensemble's singing isn't live, but it's as natural as it gets. Hawn's voice was so good she was actually asked to sing badly on purpose so she blended in with everyone else. (Drew Barrymore, on the other hand, had no such luck; Allen dubbed her voice for the final release.)
So when you see Anne Hathaway collecting her Oscar while I Dreamed A Dream plays in the background, spare a thought for Drew Barrymore or Pierce Brosnan. Because the next time you see them in a musical, they may not sound like they used to. And if Les Misérables is anything to go by, that's a good thing.
Do you hear the people sing? Yes. And from now on I can't imagine hearing musicals in any other way.
What did you make of Les Mis?
You can read Ivan's last Music in Film column here.
Follow our Twitter feed for faster news and bad jokes right here. And be our Facebook chum here.