Features
Music in Film: Cars, clapping and computer games
Gonzo guitars in Rush, chip tune nostalgia in The Kings Of Summer, and clapping in Ain't Them Bodies Saints. It's Music in Film time...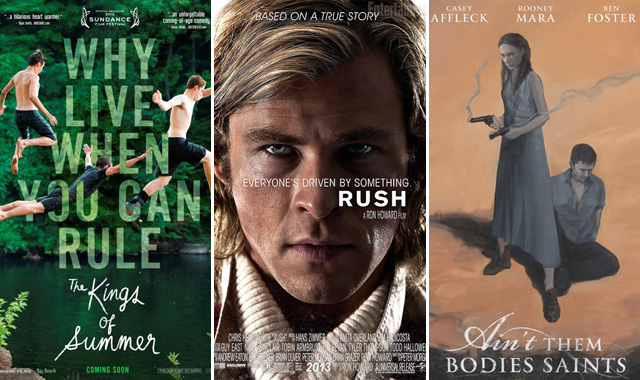 As autumn draws in, film music fans are set for a dream couple of months. Danny Elfman has a concert at the Royal Albert Hall, Michael Nyman is set to perform at the London Film Festival and Neil Brand is leading a BBC4 series starting Thursday 12th September called Sound Of Cinema, which looks fantastic.
To top it all off, September also sees the release of some diverse, decent and downright unique soundtracks. Here are three that have wormed their way into my earholes.
Rush
When watching Ron Howard's F1 drama, the first thing you notice, before you even see a car, is the sound: the roar of an engine as the vehicles scream round the bend and burn tire tracks in your ears. Who do you hire to do the same thing with music? Hans Zimmer, of course.
Volume and Hans Zimmer go together like Ron Howard and Hans Zimmer – so his name on the score is hardly a surprise. In fact, it's hardly a surprise in several ways.
Leaning on electronics and strings, Rush's score sounds a lot like many other, familiar scores. Most of all, Zimmer's main theme, introduced in 1976, bears a striking resemblance to Game Of Thrones' A Lannister Always Pays His Debts, from the use of an evocative cello right down to the opening four notes.
But once Rush warms up, that Hans-tooled engine has a drive that's hard to resist. The engine's main fuel? Guitar. Now that is a surprise. After Man Of Steel, The Lone Ranger and Inception, Rush is like a joyride back to the 1990s, when Zimmer was a teenage boy thrashing his Fender in the bedroom. I Could Show You If You Like swaggers with the cockiness of James Hunt – if he were played by Noel Gallagher. In 1996.
Oysters In The Pits is another classic piece of Zimmer rock: a loud snare drum and strings mixed with simple shifts between first and fourth gear. Things accelerate even faster for 20%, as that electric guitar is joined by a honky tonk piano hammering out fifths. It's like Sweet Home Alabama stuck on a loop – and it's glorious, the kind of thing that makes you want to learn to drive just to blare it out of the windows of your used Fiat Punto.
The tone varies occasionally, with tension-filled bass notes in Watkins Glen, fake choirs and synth backing up the main theme on Reign, and even a whopping brass section carrying the tune for My Best Enemy. That climactic track offers a solid contrast to the rest of the album but it's here that Zimmer sounds least impressive: with his reliance on a minor third-based melody, he recalls Steve Jablonsky's The All Spark from Transformers and Inception's Dream Is Collapsing, not to mention, of course, Ramin Djawadi's Game Of Thrones.
But it's when those guitars fire up that Rush really races away. It's still derivative, but at least it's derivative of The Rock. Cheesy, noisy and fast, it's like playing F-Zero on the SNES at full volume. You can almost hear Chris Hemsworth's hair banging along to it behind the wheel. And over the machine's roar, four words: turn it up Lauda.
The Kings Of Summer
Last year, musician Ryan Miller impressed with the score for Safety Not Guaranteed, a surprisingly sweeping orchestral number to accompany a sweet indie sci-fi. Now he's back with something less grand but even more impressive for The Kings Of The Summer. Swapping size for ingenuity, Miller once again crafts the sound of adventure. It turns out that it sounds a lot like The Legend Of Zelda.
"My mum reminds me of Blanca," says one of the three lads who go to build their own home in the woods. And Ryan runs with that reference, using chip tunes to blend his soundtrack with gaming nostalgia.
It's an inspired move, which brings a happy sense of exploration to Breaking Ground and Walk To The Woods. That theme is slowed down and given the choral treatment before the guitars arrive, so by the time it's whistled on Game Night, this tiny tale takes on the feel of an epic Western – albeit one being played on a Sega Mega Drive.
The retro gaming vibe levels up when Land Trunt boots a climbing bass line of alternating thirds that sounds right out of a boss stage. Throughout, melodies move in chromatic patterns, rising and falling in semi-tones – the kind of progression you see in an old game rather than a movie.
There are more traditional orchestral moments (Stay Above The Surface), but The Kings Of Summer's score is best summed up by its opening and closing tracks: a cast member bashing out an improvised rhythm on a pipe in the woods. It's an outburst of raw energy and carefree optimism that has you reliving your outdoor adventures as a kid – and reaching for your console as an adult.
Ain't Them Bodies Saints
Sports matches. School concerts. The theatre. Clapping isn't something that you'd normally call intimate, but Ain't Them Bodies Saints makes it exactly that. David Lowery's film takes its name from an old folk song – one that he misremembered. It's rather appropriate, then, that the title makes no sense. Even more appropriate is Daniel Hart's score, which turns the sun-bleached Western into a folk song in its own right.
Hart lends the film a homegrown blues feel through fiddles and guitars, using them to build up shimmering backgrounds that hint at a half-forgotten story; a lyrical ballad to accompany a lyrical ballad.
By the second track (Ruth And Sylvie), the beauty of it is already heartbreaking. Freddie's Dead / Sylvie's Born takes a turn for the uneasy with brass sliding down into lost depths, only for Ruth And Sylvie's line to return, lifted by rising strings to give it a renewed sense of hope. Instruments bleed into each other, sometimes hanging on one sustained chord for up to a minute as atmosphere slowly builds.
The thing that drives it forward, though, is the clapping. Hands snap and thighs slap constantly, overlapping other rhythms until several are at it: a medley of fingers and palms that gives events a relentless momentum, a rickety ride towards destiny with a tangible, tender shove.
The clapping speeds up and gets louder as small-town tensions rise. Occasionally, the clapping will mimic other instruments, such as the banjo on Fixer Upper, weaving us in and out of a hypnotic trance.
On Bob Escapes, things become more agitated with entry of breathy woodwind, but The Last Shootout is where things really kick off: three different rhythms smack each other in the face as haunting pizzicato fragments play out on top. That blend of delicate strings and percussion recalls Jonny Greenwood's work on There Will Be Blood. This is a similarly sparse landscape filled with dread – and an equally stunning listen.
Ain't Them Bodies Saints, though, has more emotion running through it. That stems directly from its bluegrass roots. Hart recruits local talent to keep the Texas sound firmly anchored on the porch: Curtis Heath brings in a bluesy Blue Jay, while John Graney joins him on the smoky, sultry Been Waiting. Andrew Tinker – a founding member of The Polyphonic Spree (he played French Horn) – delivers a belter of a soul number. "I've held my breath for such a long time," laments Ain't Long Enough. You believe it.
Cast member Keith Carradine steals the second half of the album, though, with The Lights, a tender, guitar-plucked refrain. "Left your home at 23, suitcase full of gin," he begins with a sad wheeze.
That homegrown melancholy gives Ain't Them Bodies Saints some period colour, the perfect, dusty backdrop for Rooney Mara and Casey Affleck's faded romance. Music moves from diegetic to non-diegetic as they flit in and out of bars, a smart touch that blends our two ballads together with a raw quality reminiscent of Winter's Bone. Given the choice in interviews, Hart has said that he would rather play music live than do film scoring. That feeling stomps through this intimate masterpiece. It swoons. It twangs. It picks at heartstrings. It wilts. More than anything, though, it goes along like the clappers.
You can read Ivan's last Music in Film column here.
Follow our Twitter feed for faster news and bad jokes right here. And be our Facebook chum here.