Features
Music in Film: Broken Circles, Epic Everests, Sky Explosions and Sunshine on Leith
Don't go out in the wind and rain, stay inside and listen to some film soundtracks. Ivan's got some recommendations...
October is a horrible month to go outside but indoors, it's an auditory utopia for film music fans. Here are four reasons why.
The Broken Circle Breakdown – The Broken Circle Breakdown Bluegrass Band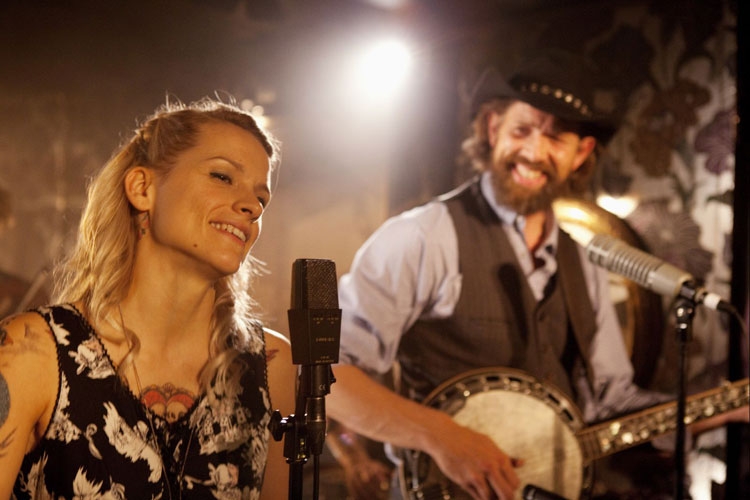 It's always a good sign when a film forms its own band just for the soundtrack.
"If I needed you, would you come to me? Would you come to me for to ease my pain?" That was a question asked by Townes Van Zandt in 1972 and made famous by Emmylou Harris and Don Williams in 1981. 30 odd years later and it's given a new, raw lease of life by this heartbreaking Belgian film, which follows the crumbling relationship of two musicians in a country group.
Writer and actress Veerle Baetens and her co-star Johan Heldenbergh lead the bespoke band, which covers a range of folk standards. What's special about these versions, though, is that they are tied into the film: the characters are performing them on camera, expressing their emotions in the way they sing and play. (For those awaiting the soundtrack to the Coen brothers' Inside Llewyn Davis, this makes for an equally moving companion.)
Baetens' vocals ache with sadness, while Heldenbergh picks his strings with a ferocious speed. When the group comes together following a tragic event, If I Needed You isn't just a thematically appropriate number: it's a question asked by a husband of his wife. The result is a gut-wrenching album that carries the blistering pain of a break-up across several decades – and a continent – right into your ears. This cover of The Wayfaring Stranger alone is staggering.
Goodness knows why American country music resonates so much with these Belgian filmmakers and musicians, but The Broken Circle Breakdown is a testament to the genre's universal power – and a reminder that you don't need an orchestra to blow a cinema audience away. Sometimes, it just takes a banjo and bit of honesty.
The Epic of Everest – Simon Fisher Turner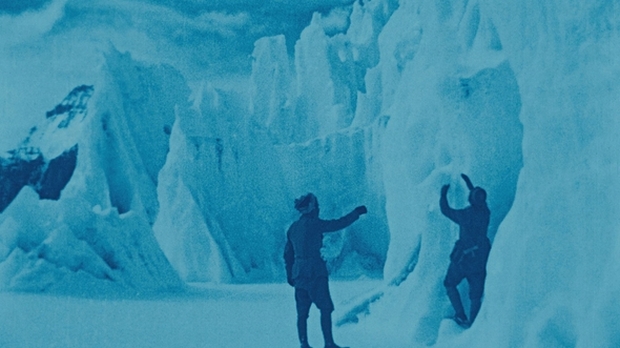 After scoring the BFI's restoration of The Great White Silence, Simon Fisher Turner was the natural choice to provide the music for their latest restoration: The Epic of Everest, Captain John Noel's 1924 account of a failed expedition to climb the summit. Featuring a range of found sounds and new material, it's an unnatural, astonishing score – the perfect fit for such a strange, remote place.
The documentary starts with lengthy title cards and brass (Cosey Fanni Tutti provides some sumptuous cornet for the album) resounding over the mountain range. Then, we see signs of the foreign expedition – and the music changes completely. You might expect the humans to sound like heroes conquering the unknown peak, but Fisher Turner's first masterstroke (one of many) is to swap that around: the peak is represented by undisturbed, natural music, interrupted by mankind's electronica and less conventional instruments.
"Less conventional" may be understatement. Harnessing everything from Yak bells to typewriters, Fisher Turner took a year to paint his Everest landscape. There are even samples of recordings by Noel of Tibetan lamas performing at the original London premiere.
As the company slowly ascend, the horns return, dissonant and almost sad, accompanied by whirs, clicks and rattles – notes that sound like bits of rock and ice tumbling down the sheer cliffs into the great white silence. When they near the top, the air thins and breathing gets louder. It keeps on getting louder: an immersive, intense experience that transforms this documentary from a factual artefact into a chilling art installation. Not one to listen to when the central heating's broken.
Prince Avalanche – Explosions in the Sky & David Wingo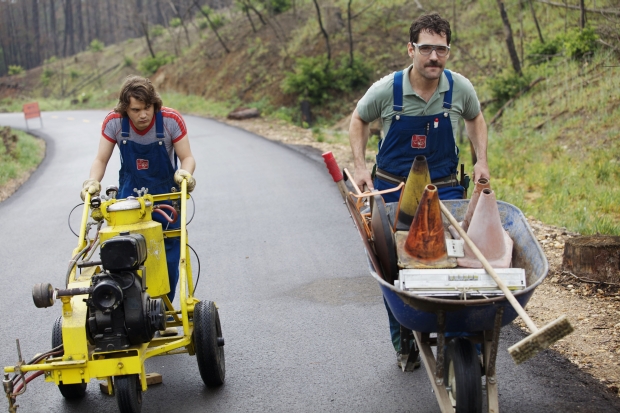 Explosions in the Sky usually live up their name, building sonic eruptions with long, drawn-out guitar crescendos. For Prince Avalanche's soundtrack, they tone it down, teaming up with David Wingo to provide a sparse, atmospheric work.
The film follows Alvin and Lance as they paint the never-ending highway that stretches through a barren landscape, recently ravaged by a forest fire. (The filming location was actually suggests by the band's drummer, Chris Hrasky.) The score conjures up that desolate isolation with a gentle piano and clarinet tune.
Stepping softly from a major third to a fifth, the woodwind paves the path on Theme From Prince Avalanche for an equally basic keyboard line – accompanied by fluid arpeggios – that leaves you hanging on an unfinished chord.
Passing Time swaps the piano lead for a stumbling guitar, which awkwardly plucks through the score with a disjointed feeling of post-fire damage, while Rain introduces a grace note to suggest falling water. Mouth organs and sitars add a spiritual element to the whole thing.
That gentle sense of the incomplete staggers through the album. Alone Time offers a mellifluous bout of guitars and synth; a taster of Join Me On My Avalanche – and a reassuring sense of rhythm that suggests Explosions haven't left their chart days behind them, emphasising both the boredom of Alvin and Lance and their inability to move on with their lives.
But all that unfulfilled potential detonates on the penultimate track, Join Me On My Avalanche. As guitars, synth and snare drums overlap, the volume increases. A choir enters. A cello joins in. The volume gets louder still – until finally, the simple rising piano melody explodes in the sky. Enchanting.
Sunshine on Leith – The Proclaimers / Paul Englishby / Various
When you hear the phrase "a musical based on songs by The Proclaimers", one question immediately springs to mind: is this Scotland's answer to Mamma Mia? And if so, which cast member is Pierce Brosnan? The answer is as unlikely as they come: Peter Mullen. And not only is the Trainspotting and Tyrannosaur star singing, he's dancing too. And, most shocking of all, he's smiling.
Mullen is on vocals for Oh Jean, a tribute to his wife, Jean. That's just before Jean (Jane Horrocks) sings Letter From America to her daughter, who is travelling to America. George McKay and the excellent Antonia Thomas, meanwhile, serenade each other with promises to walk… you get the idea.
The song selection may feel a little forced (Make My Heart Fly is a particularly awkward inclusion) but unlike Mamma Mia, the vocal performances are all top notch. Jason Flemyng steals the show with Should Have Been Loved, Horrocks' rendition of Sunshine on Leith is a delight, and even Mullen, the weakest of the (very good) bunch, gives his number a gruff edge that sounds sincere. The song writing, too, is superb; if you haven't heard many Proclaimers tracks, prepare to be impressed by a versatile range of mature and flippant poetry. All performed in a Scottish accent.
Add to that some confident arrangements of familiar hits – I'm Gonna Be is slowed to a romantic stroll, while Sky Takes The Soul becomes a drum-heavy war march – plus a score from Paul Englishby (Luther, An Education) that uses I'm Gonna Be's chords to give the movie a feel-good momentum, and you have a jukebox musical that'll have you drumming your fingers on your sporran.
In a post-Les Miserables world, the lack of live singing makes the soundtrack feel at times like a feature-length Halifax advert, but the music and lyrics are so strong that by the time a flash mob arrives to walk those 804.6 km, you'll be too busy singing along to care. Da lat da, indeed.
Read Ivan's last Music In Film column here.
Follow our Twitter feed for faster news and bad jokes right here. And be our Facebook chum here.