News
Murder Mystery: Release Date, Trailer, Cast, and More
Adam Sandler's Netflix movie, Murder Mystery, will reunite him with his Just Go with It co-star, Jennifer Aniston.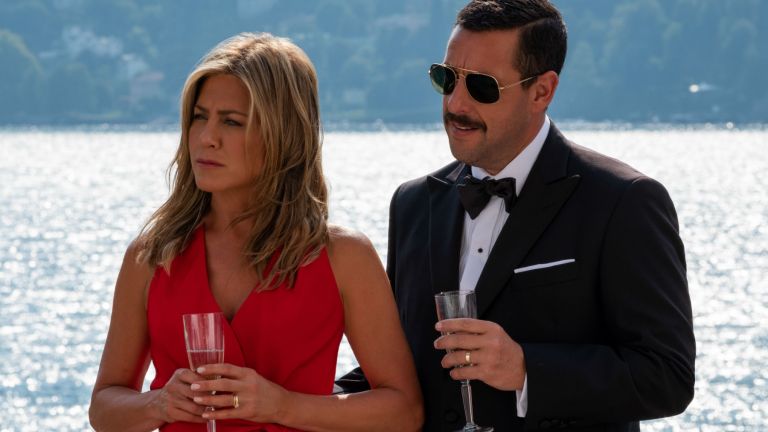 Adam Sandler, comedy's former box office king, has spent the past few years making Netflix his exclusive feature film home, thanks to a lucrative deal, one that was even reupped last year for four more films. With Sandler's Netflix sandbox having reunited him with various former SNL co-stars, notably with Chris Rock in the recent comedy, The Week Of, the upcoming movie, Murder Mystery, is facilitating a reunion with Jennifer Aniston, with whom he co-starred in 2011's Just Go with It.
In the latest news, Netflix has revealed loads of new details for Murder Mystery, including an updated synopsis and full cast list.
read more: Why Adam Sandler Stopped Reading Movie Review
Per the new synopsis, the Murder Mystery story centers on a New York City cop (Sandler), whose relationship with his wife (Aniston) is on the rocks. Consequently, the couple take a long-promised European trip, leading to a chance meeting on the flight with a mystery man (Luke Evans) who invites them to a Super Yacht on which elderly billionaire Malcom Quince (Terence Stamp) is holding a family gathering. However, Quince is subsequently found dead – a victim of murder… most foul – and our non-fancy-folk couple find themselves as the prime suspects, forced to find the real killer(s).
Murder Mystery Release Date
Murder Mystery is scheduled to premiere on Netflix on June 14, 2019.
Netflix revealed that filming began this week in Montreal and will continue in locations throughout Europe.
Murder Mystery Trailer
Here's the sunny first trailer for Adam Sandler and Jennifer Aniston's Murder Mystery. 
Murder Mystery Cast
Here is Netflix's official Murder Mystery cast list:
Adam Sandler (The Meyerowitz Stories, The Week Of)
Jennifer Aniston (Horrible Bosses, Marley and Me)
Luke Evans (The Alienist, Beauty and the Beast, The Hobbit Trilogy)
Gemma Arterton (Their Finest, The Girl with All the Gifts)
Terence Stamp (Miss Peregrine's, The Limey, A Song for Marion) is also onboard for a crucial – clearly brief – role in the film, not giving us time to kneel before Zod.
Amongst the supporting players are:
Luis Gerardo Mendez (Club de Cuervos, Nosotros Los Nobles, Time Share), Shioli Kutsuna (Deadpool 2), David Walliams (Little Britain), Adeel Akhtar (The Big Sick, Murdered by My Father, Four Lions), John Kani (Captain America: Civil War, Black Panther, The Lion King), Ólafur Darri Ólafsson (The Meg, True Detective, The BFG), Dany Boon (R.A.I.D. Special Unit, Bienvenue chez les Ch'tis).
Murder Mystery Details
In the director's chair for Murder Mystery is Kyle Newacheck (Game Over, Man!, Workaholics), who works off a script by James Vanderbilt (Independence Day: Resurgence, The Amazing Spider-Man). Interestingly, the director job originally belonged to Anne Fletcher (The Proposal, Step Up, 27 Dresses), who was to work off Vanderbilt's script.
For Sandler, Murder Mystery will follow a string of his previous Netflix deal-delivered offerings, consisting of 2015's The Ridiculous 6, 2016's The Do-Over, 2017's Sandy Wexler, 2017's The Meyerowitz Stories and the impending The Week Of. – Aniston, on the other hand, comes into the film off the just-wrapped musical comedy Dumplin' and recent efforts such as this past January's war drama, Yellow Birds, and comedy Office Christmas Party.