News
MST3K Season 12 Release Date, Trailer, Movie List, and More
MST3K Season 12 on Netflix is a go! Expect more Mystery Science Theater 3000 on your screens just in time for Turkey Day.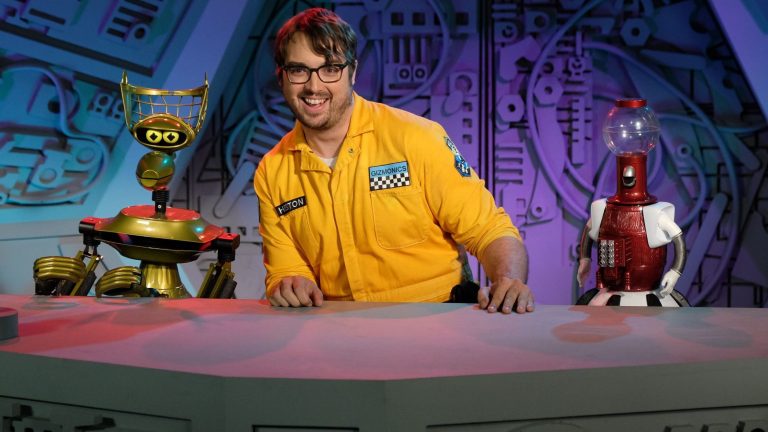 Mystery Science Theater 3000 Season 12 will head back to Netflix for more mirthful movie-riffing, just in time for a proper Thanksgiving Turkey Day marathon. Indeed, Jonah Ray, Felicia Day, Patton Oswalt will be back in their respective MST3K roles, joined, of course, by Crow T. Robot, Tom Servo and Gypsy.
Last year's inaugural revival season was officially titled Mystery Science Theater 3000: The Return. This time, however, the sophomore round will bear the formal title, Mystery Science Theater 3000: The Gauntlet. This is because the series is upping the cheesy movie stakes higher than ever with a cinematic sextet ominously referred to as "The Gauntlet."
You can read our review of MST3K Season 12: The Gauntlet right here!
MST3K Season 12 Trailer
The long wait is finally about conclude, as teased by the MST3K Season 12 trailer. As we can see, space-stranded Jonah Heston (Ray) and the Satellite of Love's longtime bot residents will be subjected to six especially unendurably cheesy offering, collectively called "The Gauntlet," with Kinga Forrester (Day) and Max (Oswalt) forcing their perennially captive audience to catch the entire run – apropos to the name – in one grueling sitting.
MST3K Season 12 Movies
The Gauntlet of MST3K Season 12 will consist of the following films:
Mac and Me (1988), director Stewart Raffill's box-office-failure fantasy film about a wheelchair-bound boy and his NASA-escaped alien friend, MAC (Mysterious Alien Creature).
Atlantic Rim (2013) director Jared Cohn's strategically-titled Pacific Rim-capitalizing kaiju genre offering.
Lords of the Deep (1989) director Mary Ann Fisher's undersea sci-fi thriller, which managed to arrive a few months before that summer's major undersea effort, James Cameron's The Abyss.
The Day Time Ended (1980) director John "Bud" Cardos's genre-masher, depicting a middle-class family's encounter with extraterrestrials, which leads to them being whisked back in time to a prehistoric era.
Killer Fish (1979) director Antonio Margheriti's horror film about an undersea jewel heist in piranha-teeming waters. Big-name headliners Lee Majors and Karen Black were not able to salvage this one from Davy Jones's Locker.
Ator, the Fighting Eagle (1982) director Joe D'Amato's Conan: The Barbarian-capitalizing fantasy actioner, depicting a swords-and-loincloth-rocking tale about a warrior who must rescue his step-sister/love-interest from the dark priest (and his cult,) who slaughtered his village.
MST3K Season 12 Release Date
Thursday, November 22, 2018 will see the release of all six episodes. The original version of the show started on Thanksgiving of 1988. It's only fitting that we'll get a new set of episodes on Thanksgiving of 2018, thirty years after. What better day to binge a new season than the day constantly used for binging MST3K?
MST3K Season 12 Renewal
Back in 1988, on Thanksgiving Day, a new show debuted on KTMA in Minneapolis, Minnesota called Mystery Science Theater 3000. While extremely rough at first, it found its footing over time and got picked up by the Comedy Channel, later known as Comedy Central. On Thanksgiving 1991, a new annual tradition started where Comedy Central would do a marathon of the show throughout Turkey Day. Even with two cancellations to its name, MST3K still held onto the Thanksgiving marathon tradition in one way or another via the internet.
further reading: The Best MST3K Christmas Episodes
Last year, series creator Joel Hodgson hosted the annual Turkey Day Marathon alongside new cast members Jonah Ray and Felicia Day. After spending half the day showing off classic episodes and clips of the latest season (including a promotional clip of Jonah and the bots watching several minutes of the first episode of Stranger Things), there still appeared to be no word on whether or not Netflix would be bringing the show back for a 12th season.
That is, until the very, very end of the feed. That's when this baby kicked in.
And once again, we have movie sign! Joel and his buff arms then sent out an email to the Season 11 Kickstarter backers to reiterate this. Over time, he explained that the season would be half as long as the previous one, mainly due to making easier to get these new seasons out the door faster in-between releases. The filming finished and although he wouldn't mention what movies would be watched, Joel did say that one was something people have wanted them to cover for a long while.