News
MST3K Reboot News: 14 Episodes Funded, Full Details Here
The MST3K reboot news is here! Get ready for 14 new episodes of Mystery Science Theater 3000 thanks to a successful crowdfunding campaign.
We've got movie sign! 14 of them, in fact. The MST3K reboot is now officially, fully funded. In fact, it's the most successful crowdfunded project in internet history. Thanks to people not too different from you or me (disclosure: I donated to the crowdfunding campaign), 14 new episodes of Mystery Science Theater 3000 will arrive in the not-too-distant future.
Alright, fine, if you want to get into semantics, it's not really a reboot. It's a Mystery Science Theater 3000 revival. They aren't throwing out the old continuity. And yes, to some of us, continuity matters. A little. Not too much. It's just a show.
Here's a quick breakdown of what else you need to know…
MST3K Reboot Cast
Jonah Ray (you may have heard some of his Nerdist podcasts) will put on a jumpsuit as "Jonah Heston."  
Hampton Yount and Baron Vaughn will be the new voices of Crow T. Robot and Tom Servo, respectively.
Felicia Day will play "Kinga Forrester." As you might expect, she's the daughter of currently departed mad scientist Dr. Clayton Forrester.
Patton Oswalt is the son of TV's Frank.
Thanks to an interesting piece at Flavorwire, which deals with some of the larger questions surrounding the campaign we also know who isn't coming back. As of now, Mike Nelson, J. Elvis Weinstein, Trace Beaulieu, and Mary Jo Pehl aren't involved. Hopefully they'll reconsider as things move forward. Some of them have been (affectionately?) heckling the project on Twitter, as well.
Oh, and there will be guest stars, including folks like Mark Hamill and Jerry Seinfeld. We've got more details on that right here.
MST3K Reboot Crew
The new Mystery Science Theater 3000 will boast a tremendous amount of guest writing talent, as well, including Rob Schrab, Nell Scovell, Ernie Cline, Pat Rothfuss, Paul & Storm, Dana Gould, and Robert Lopez. We have more details on the complete writing team right here.
A terrific team of artists will contribute to the designs of the show, including Wayne White (Pee Wee's Playhouse), Adventure Time creator Pendleton Ward, Rebecca and Steven Sugar (Steven Universe), Guy Davis (artist of one of my favorite comics of all time, Sandman Mystery Theater), and more.
Here's a piece of concept art from Gary Glover:
Here's Marty Baumann's concept art for the Satellite of Love bridge…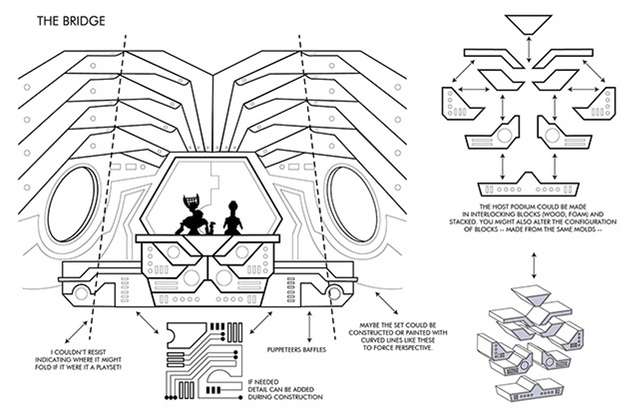 Grant Bacciocco and Russ Walco will be the show's head puppeteers. Adam Savage (of Mythbusters fame) will help out with practical effects, as well.
You can see more concept art on the MST3K Kickstarter updates page.
There have been signs of life in the Mystery Science Theater 3000 universe over the last year or two. There was the recent announcement that you can watch episodes on RiffTrax, large chunks of the library turning up on Vimeo and Amazon Prime), the return of MST3K tradition, Turkey Day, to a RiffTrax show on, of all places, the National Geographic Channel.
But actual, new content bearing the Mystery Science Theater 3000 brand is something else entirely. Welcome back.
Mike Cecchini finds this news pleasing. Does it please you?