Features
Mourning the loss of DVD booklets
As well as providing extra information about a film's production, DVD booklets were a great extra for film fans, Ryan argues...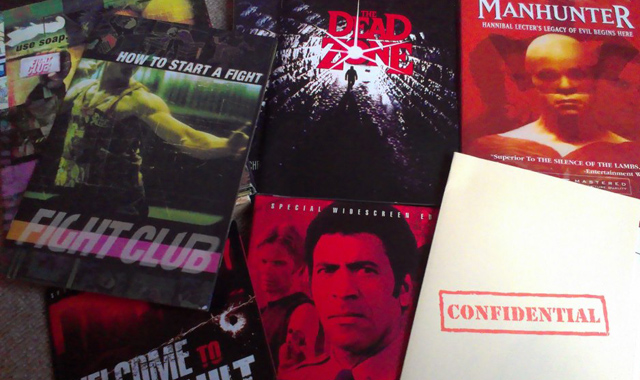 In early January, several pieces of news appeared to signal the beginning of the end for physical media. First, there was the announcement that more than £1bn had been spent on digital goods – movies, games, books – in 2012. At the same time, the sales of physical stuff, whether on disc or printed on bits of paper, had plummeted by an estimated 17.6 per cent.
These statistics coincided with the news that two of the UK's major entertainment outlets – HMV and Blockbuster – were going into administration, putting thousands of jobs at risk and leaving gaping holes in highs streets up and down the country. When it comes to the consumption of entertainment, it seems, we're voting with our wallets – gradually, more and more of us are choosing to download or stream things onto a hard drive rather than place them on our shelves.
In many ways, the advantages of streaming movies is obvious; as services improve and online libraries expand, more and more titles are available with the press of a button. We no longer have to look at creaking shelves packed full of DVDs or Blu-rays and wonder what we're going to do when the space runs out. We no longer have to look down the back of the sofa to see where that Tango & Cash disc went.
When the final DVD or Blu-ray plops out of a factory somewhere in a few years' time (and it's still a good few years off yet – although its market share's falling, physical media still accounts for three-quarters of the entertainment market), there are several things I'll miss about them. I'll miss the cover artwork, the steel books and special editions. I'll miss being able to lend them to friends, or better still, borrow films I've never seen from friends, and then chat about them afterwards. And in an odd sort of way, I'll miss looking down the back of the sofa for half-remembered action movie discs.
There's another thing I'll miss, which for most people is probably nothing more than a detail: booklets. Now, booklets began to disappear from the inside of DVD boxes several years ago, presumably when the people who make DVDs realised they could save quite a lot of money by not printing them. But for a while, when DVDs were relatively new (late 90s, early 2000s), these booklets enjoyed a brief golden age.
Sanctuary's 2002 DVD issue of David Cronenberg's The Dead Zone, for example, contains a fabulous little 24-page book, which provides all sorts of background information about the film. There's  an essay about its writing and production, reproductions of international posters, a separate article on Cronenberg's career, and a reproduction of several pages from Jeffrey Boam's script, which show what a deleted scene might have looked like.
Perhaps the finest DVD booklet – at least, that I've encountered – came with the special edition release of Fight Club in 2000. Titled 'How to start a fight', the book is full of interviews the film's producers, makers and author Chuck Palahniuk, which are interspersed with excerpts from reviews. Hilariously – and fittingly, for Fight Club's anarchic themes – glowing reviews of the movie sit alongside more scornful assessments. ("It is an inadmissable assault on personal decency," raged the London Evening Standard's Alexander Walker.)
Admittedly, not all DVD booklets were as smartly put together or inspiring as the two mentioned above. Some were little more than a folded sheet of paper with a scene listing inside, or maybe an advert for Pluto Nash. But the best of them were like miniature time capsules – a chunk of further reading which complemented the extras on the disc and the feature itself. For a fan of the films in question, they made the purchase seem extra special, as though the people who produced it were as interested in movies as you were.
The rising popularity and competition from rental and streaming video services had briefly led me to hope that DVD booklets might make a comeback – that companies might try to seduce consumers back into buying physical media by reintroducing booklets and other extras with their discs. Although this still happens on occasion – the special edition of the recently released anime Journey To Agartha comes with a miniature artbook, for example – they're still relatively unusual these days.
Interestingly, videogame publishers still attempt to entice consumers with special edition versions of games, often packaged with all sorts of books, toys, soundtrack CDs and other trinkets. While downloading videogames is undoubtedly the future, there still appears to be a ready market for collector's edition boxes – especially if the popularity of the recently-released RPG Ni No Kuni's anything to go by.
There's still a tiny, tiny chance, then, that the distributors of movies will adopt a similar tactic, and start putting booklets inside DVD or Blu-ray boxes again. Film fans may be turning to downloads as a quick and clutter-free means of consuming movies, but there will, I'd argue, remain a desire to collect and own truly classic films that we plan to watch again and again.
Great films deserve special treatment, and the better examples of DVD booklets provided the perfect supplement. 
Follow our Twitter feed for faster news and bad jokes right here. And be our Facebook chum here.