News
Mortal Engines Cast on Bringing the Book's Characters to Life
The stars of Mortal Engines discuss bringing their characters to life in the new steampunk movie from Peter Jackson.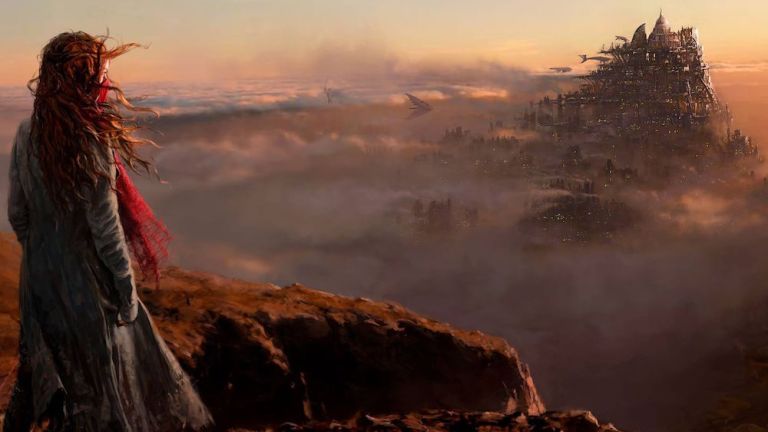 With any sort of cinematic adaptation, there must be a give and a take with casting, which is almost inevitably always followed by some sort of grumbling from fans of the novel. Peter Jackson faced it on Lord of the Rings when he made Frodo and Sam roughly the same age (Frodo is hardly so boyish in J.R.R. Tolkien's prose), and his latest production, Mortal Engines, continued the creative tradition by aging up the characters from the Philip Reeve book in order for the franchise to organically expand.
We caught up with the leads of Mortal Engines at New York Comic Con this month to discuss those changes, as well as how one inhabits a world in which London has become a glorified rock atop a mechanical turtle's back in a steampunk vision of our future.
"We developed the character as inspired by the book, but you have to take ownership to some degree as well," Robert Sheehan told us of his character Tom Natsworthy. In the book, Tom is a teenage apprentice historian who has been sheltered to the method by which London thrives on top of a mechanical machine, consuming smaller villages in a form of 'Municipal Darwinism.' In the film, however, Sheeehan of course had to put his own spin on this character.
"When people read a book, there is a less of a passive participation as watching a film," Sheehan says. "The phenomenology of a book is that you are creating all the images and the faces of the characters in your mind. 'Oh Tom Natsworthy looks like my uncle!' Everybody has a different face, but now they'll all have to deal with this face and no other face."
Leila George, who plays Katherine Valentine in the film, also spoke to us about how an actor approaches such material that requires stunning production value and visual effects.
"One of the first things that kind of hit me when I arrived in New Zealand and they kind of took me on a kind of tour of the studios and everything is, 'Oh my God, my acting has to live up to what these people have created.' And that was the first moment I was really scared." She goes on to add, "It's a huge action movie and there's a lot of green screen, and you have to imagine to an extent you're on London, and you're on this machine, but the art department does a phenomenal job so that you're not just acting in front of a green screen, and you got things to use."
Stephen Lang, who plays the antagonistic Shrike in the movie, a semi-robotic character, also found freedom in the fact that his character, who's been given a sci-fi lobotomy, is also named after a bird of prey.
Says Lang, "It's actually a nasty little predator, it's called the butcher bird. What it does is it kills its prey, maybe a small rodent, and then it hangs it on a thorn or a fence so it can feed on it later. So I thought that's pretty cool, I can work with that a little bit. So I started out with birds." Lang also turned to the book for inspiration in how he is described by the story's ultimate heroine, Hester Shaw (Hera Hilmar): "He's like a house that's been vacant for a long time with a new tenant in it, and that's good, because there's this sort of frame left and this new thing is placed inside of him, but in any old house, there's still vestiges of the lives that were there before."
It's those vestiges that hopefully promise to carry what made the Mortal Engines stir on the page to a big screen with its own sense of steam and style. You can watch the full interviews in the video below.
Mortal Engines opens on Dec. 14.
Read and download the Den of Geek NYCC 2018 Special Edition Magazine right here!