News
Morrissey At The Movies
Morrissey may have a new album out, but he's not shy of a few movies on his CV. We take a look at Morrissey and the cinema...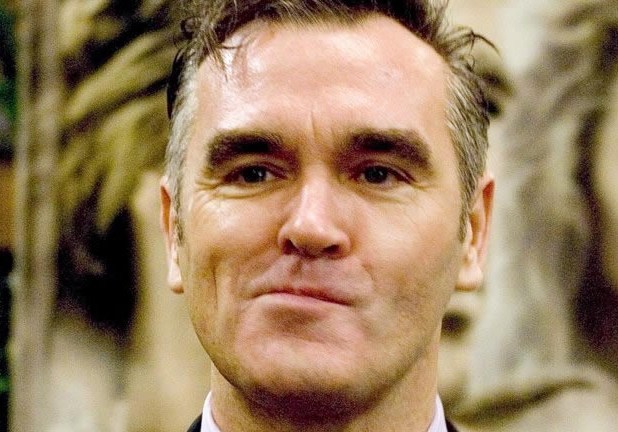 Like him or loathe him, you've got to admit, you can't ignore him. (And the more you do, the closer he gets.) Who? Morrissey! He's back with a new single, Throwing My Arms Around Paris, accompanied by a new album, Years Of Refusal (out later this month), and that got me thinking about Mozza and his numerous connections and references within the world of cinema. So much so that I made a flippin' list. And here it is!
Please note: Due to the cinematic nature of The Smiths' sleeve art (numerous albums and many singles), I have excluded those particular connections (though some do get a mention), as we would be here all effin' day!
10. LET THE RIGHT ONE IN (2008) Anyone in the mood for a Swedish vampire love story? Well, that's what this is. Based on the book of the same name, it takes its name from a rare Moz B-Side (Let The Right One Slip In) that turned up originally on the US single release of Tomorrow – which had a video directed by Zack "300" Snyder, fact fans! Whether or not we'll get in a tie-in single is up for debate though I'd lurve to see that video!
9. UPTOWN GIRLS (2003) Whadda ya mean you didn't watch Uptown Girls? It's Brittany "Whatever Happened To?" Murphy's finest performance to date. Anyway, it gets a mention 'cos there's a singer in the film called Neal, played by Jesse Spencer (ex-Neighbours and currently in House), who shares some of the quiffed Manc's attributes. The girls squeal, "He's celibate, like Morrissey!" I'm confused, is celibacy sexy now?
8. GIRLFRIEND IN A COMA (DATE TBC) This film hasn't been made yet but we're reliably informed it will be a "satirical high school comedy that focuses on an unlikely romance". Let me guess: in this "unlikely romance" is one of them (possibly the girl) in a coma? I suggest that Douglas Coupland, who wrote a book of the same name, get in touch with the filmmakers who, as of yet, have made no reference to the movie being an adaptation of what could be a very similar story. Anyway, the claim that Girlfriend In A Coma will be a "comedy" looks rather far fetched as it will be co-written by Marco Schnabel who directed The Love Guru. Get those RAZZIES ready.
7. HIGH FIDELITY (2000) Right at the start of High Fidelity, John Cusak's character (Rob Gordon) says of his clientele: "Mostly young men, who spend most all of their time looking for deleted Smiths singles and original, not re-released (underlined) Frank Zappa albums." Inside the original source, written by Nick Hornby, you'll find more references, including Last Night I Dreamt Somebody Loved Me being one of Rob's favourite songs ever. And, if I may paraphrase: do I listen to Morrissey because I'm miserable or am I miserable because I listen to Morrissey? Also noteworthy are the mentions (and sounds) of top Scottish acts Belle & Sebastian and The Beta Band.
6. 24 HOUR PARTY PEOPLE (2002) Missed Morrissey in this Brit-flick based on the Eighties Manchester music scene? Well, that's because the scenes featuring The Smiths frontman were deleted. Real life impresario Tony Wilson seemed to be getting one last dig (before his untimely death in 2007) at the Mozster by negating his contribution to one of the most momentous times in UK musical history. Interestingly, and I use the word wrongly, Morrissey was played by James Cartwright who went on to star in the BBC series Blackpool which featured The Smiths' tune The Boy With The Thorn In His Side 'sung' by David Morrissey.
5. THE COLLECTOR (1965) I tried to avoid the lengthy issue of covers to records by The Smiths but this connection was too juicy to gloss over. The saga of the sleeve art to What Difference Does It Make? is legendary. Originally, the single featured a still of Terence Stamp (holding a cloroform pad) but the Stampster took umbridge and asked for the release to be pulled. Ever the clever boys, they reshot the cover with Morrissey stepping into the shoes of Zod and replacing the anesthetic amusingly with a glass of milk. The film itself also includes the line, "What difference does it make?" along with the phrase, "Half a person", which would also spawn a Smiths' song.
4. PRETTY IN PINK (1986) It always strikes me as nut-scratchingly odd that in the Eighties such American movies (and they're very American) such as Ferris Bueller's Day Off, She's Having A Baby and Pretty In Pink should feature The Smiths. And used very effectively at that. The tune of choice here is Please Please Please Let Me Get What I Want (used in half a dozen films, fact fans) and it displays all the pain of spurned love you could hope for. Pink goes one further though – a poster of The Smiths can be clearly seen a number of times (including one close-up) in the record store.
3. MAMA'S BOY (2007) Jon Heder (Napoleon Dynamite) continued his downward spiral with this awful film that has the distinction of being the only film ever to feature a solo Morrissey track. In a scene, imitating Jon Cusak in Say Anything, Heder hold aloft a boom box blasting out America Is Not The World. That particular tune featured on the solo album You Are The Quarry which we also see a poster for in the movie. But the connections don't end here, the Moz-man and The Smiths are used in the actual narrative as plot devices – Heder believes Morrissey to have "died" when the band split in '87 whilst the 'love interest' (Anna Faris) tries to turn Heder onto Mozza's solo career. You'll also hear Heaven Knows I'm Miserable Now and There is a Light That Never Goes Out along with some Billy Bragg numbers.
2. MY LIFE WITH MORRISSEY (2003) This little-seen flick has the rather amusing tagline, "The outrageous tale of a Morrissey fan gone wrong," so you know it's slightly connected to Manchester's greatest export. Written and directed by an animation director of SpongeBob SquarePants (no, really), Andrew Overtoom basis his entire tale around the lead character meeting her idol and falling in love with him – with high-larious consequences! Not for the prudish, it takes an honest look at life, love and the search for fullfillment in the otherwise vapid life of an obsessive fan trapped within the confines of modern day corporate culture.
1. A TASTE OF HONEY (1961) This 'kitchen sink' drama from the Sixties is the veritable mother lode when it comes to Morrissey influences. The film, based on the play by Shelagh Delaney, is strewn with phrases and sentences that would end up being pilfered by the international famous playboy. The lines from Reel Around The Fountain, "I dreamt about you last night, and I fell out of bed twice," and "You're the bee's knees, but so am I," are lifted directly from Honey. You'll also find words from I Don't Owe You Anything, Hand In Glove, This Night Has Opened My Eyes, Shoplifters Of The World Unite and You've Got Everything Now in there too.
It doesn't end there, though. Shelagh Delaney, the writer of a A Taste Of Honey, became a cover star for The Smiths, turning up on the sleeve of 1987 single Girlfriend In A Coma and the compilation album Louder Than Bombs. Rita Tushingham, the 'star' of Honey, also pops up in the video for the aforementioned Girlfriend In A Coma whilst getting her very own sleeve appearance on Sandie Shaw's cover version of The Smiths' first single, Hand In Glove. But let's not get started on the 'cover stars' of Smiths' singles…
Honourable Mentions:
We Are The Lambeth Boys – Morrissey's finest solo outing Vauxhall & I is peppered with quotes from this excellent 1959 documentary.Suedehead Video – Morrissey's tribute to James Dean. Derek Jarman – The director made a short film made which consisted of The Smiths' tracks The Queen Is Dead, Panic and There Is A Light That Never Goes Out. He also directed the video for Ask.Breakfast At Tiffany's – Moz performed a cover of Moon River on a B-Side.Carry On Abroad – Various clips of the film can be seen throughout the promo for Everyday Is Like Sunday.Demons 2 – Italian horror from 1986 with the 'kids' dancing to Panic.Shaun Of The Dead – Panic also turns up here in a blink-and-you'll-miss-it live performance on television.Closer – Natalie Portman strips to How Soon Is Now? Not soon enough!Definitely Maybe – Isla Fisher wears a Smiths t-shirt in the 2008 Ryan Reynolds vehicle.