News
Monsters, Inc. TV Series Set for Disney+ with Original Voice Actors
Disney's upcoming streaming service, Disney+, is reviving Monsters, Inc. as a TV series, with the original voice cast returning.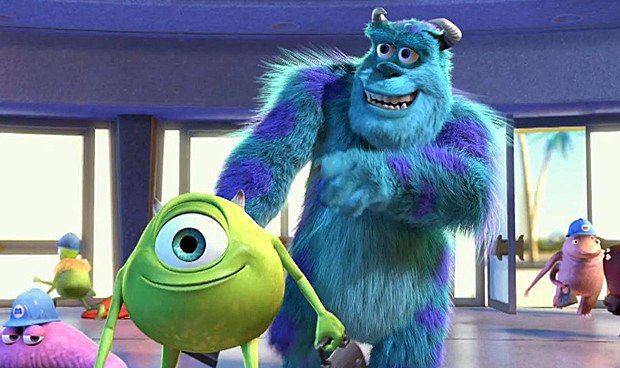 Monsters, Inc. is going public again, this time in the streaming medium, on Disney+.
Monsters at Work, an animated TV series that continues the story of hit 2001 Pixar-produced, Disney-distributed feature Monsters, Inc., is coming to the late-2019-launching Disney+, as THR reports. Moreover, the series will see the original voice cast – headlined by John Goodman and Billy Crystal – reunite for the first time since the film's one-and-only follow-up, 2013 prequel Monsters University.
Indeed, with the franchise's last major outing manifesting as a college-set prequel, Monsters at Work will finally catch us up with the continuing story of horned furry blue ogre Sully (Goodman) and cycloptic green creature Mike (Crystal), taking place six months after the events of the original movie. With Sully placed in charge of Monsters, Inc., changing the business model to powering the city of Monstropolis by harvesting the laughter of children – after previously harvesting their fear-induced screams – the series will follow a new protagonist in Tylor Tuskmon (Ben Feldman), a mechanic on the company's Facilities Team, who aspires to work alongside the big brass in Sully and Mike on the Laughter Floor.
Joining the returning Goodman/Crystal headlining duo are fellow returnees John Ratzenberger (as Yeti), Jennifer Tilly (as Celia) and Bob Peterson (as Roz). Additionally, the list of newcomers to the Monsters, Inc. franchise, consists of the aforementioned Ben Feldman (Superstore), Kelly Marie Tran (Star Wars: The Last Jedi), Henry Winkler (Barry), Lucas Neff (Raising Hope), Alanna Ubach (Coco), Stephen Stanton (Star Wars Resistance) and Aisha Tyler (Archer).
Tran will play Val Little, described as "Tylor's lifelong friend and confidante," Winkler voices Fritz, the "scatterbrained boss." Neff will voice Duncan, "an opportunistic plumber," Ubach plays Cutter, "the officious rule follower," Stanton is Smitty Needleman, "the bumbling custodial team." Lastly, Tyler voices Tylor's mom, Millie Tuskmon.
The original Monsters, Inc. arrived at theaters on November 2, 2001; a time that, due to an obvious recent tragedy, made lighthearted outings a difficult sell. However, the film managed to reap $577.4 million globally at the box office, and – over a decade later – its June 2013 follow-up prequel, Monsters University, managed to top it, earning $744.2 million. While plans for a third film bore no fruit, there was the 2014 short, Party Central; a follow-up to the prequel movie, released theatrically with Muppets Most Wanted.
Monsters at Work will be directed by the duo of Kat Good and Rob Gibbs. The series will be produced by Disney Television Animation, developed and executive-produced by Bobs Gannaway, joined by producer Ferrell Barron.
We'll keep you updated here on Monsters at Work as the news arrives!
Joseph Baxter is a contributor for Den of Geek and Syfy Wire. You can find his work here. Follow him on Twitter @josbaxter.