News
Monster Problems: Release Date for Jessica Henwick and Dylan O'Brien Sci-Fi Film
Iron Fist's Jessica Henwick and Maze Runner's Dylan O'Brien will serve as the headliners for sci-fi film Monster Problems.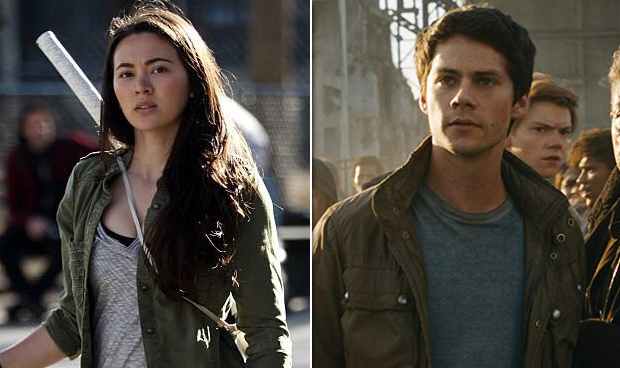 Monster Problems, a sci-fi film project in the pipeline at contemporary-aimed studio subdivision Paramount Players, appears to be putting a romantic spin on the crowded post-apocalyptic genre. Indeed, it's a coming-of-age tale that centers on a young man searching for the girl of his dreams while navigating a world that, as the title implies, is overrun by monsters.
Jessica Henwick (Iron Fist) will co-star in Monster Problems alongside Dylan O'Brien (The Maze Runner), as first reported by THR. O'Brien is set as the film's protagonist, with Henwick set to play the dream girl for whom he'll brave a global mutant apocalypse.
The film will be directed by Michael Matthews (Five Fingers for Marseilles), working off a screenplay by Matthew Robinson (Dora and the Lost City of Gold, Monster Trucks), updated from a previous screenplay by Brian Duffield (Insurgent, Jane Got a Gun). The project will also see the involvement of Stranger Things production company 21 Laps via producers Shawn Levy and Dan Cohen.
Monster Problems Release Date
Monster Problems is scheduled to hit theaters on April 17, 2020.
The date – which gives the film a jump on the summer movie season – marks a shift back from its previously set March 6 spot.
Monster Problems Cast
Dylan O'Brien plays Joel Dawson, who braves a dangerous world filled with mutant menaces to reunite with his high-school sweetheart. An American actor who broke out on MTV's Teen Wolf, O'Brien is best known for portraying protagonist Thomas in the Maze Runner films, which recently came to a conclusion with 2018's Maze Runner: The Death Cure, on which he sustained serious injuries while filming. He also co-starred with Michael Keaton in the spy thriller, American Assassin, and Mark Wahlberg in Deepwater Horizon and provided the voice of the titular Transformer in 2018 blockbuster Bumblebee.
Jessica Henwick plays Joel's high-school sweetheart. An English actress, Henwick is coming off her run as Colleen Wing on Netflix Marvel series Iron Fist and The Defenders; a run that came to a conclusion upon the streaming giant's cancellation of those shows, and, in effect, the entire continuity-connected "Street Level" side of the Marvel Cinematic Universe. She's also known for her run as Nymeria Sand on Game of Thrones. However, big screen prospects lie ahead as she's set to appear in the upcoming sub-maritime action thriller, Underwater, as well as current franchise sequel, Godzilla vs. Kong, which revives a classic cinematic confrontation.
The headlining duo will be joined in the Monster Problems cast by Michael Rooker (Guardians of the Galaxy), Ariana Greenblatt (Avengers: Infinity War – Young Gamora), Tonia Renee Hammerich (Godzilla vs. Kong) and Keiichi Enomoto (Godzilla vs. Kong).
We'll keep you updated here on Monster Problems as things develop!
Joseph Baxter is a contributor for Den of Geek and Syfy Wire. You can find his work here. Follow him on Twitter @josbaxter.