News
Mom and Dad Trailer: Nicolas Cage & Selma Blair Go Homicidal
Mom and Dad, a horror film with a unique concept, stars Selma Blair and Nicolas Cage as homicidal parents.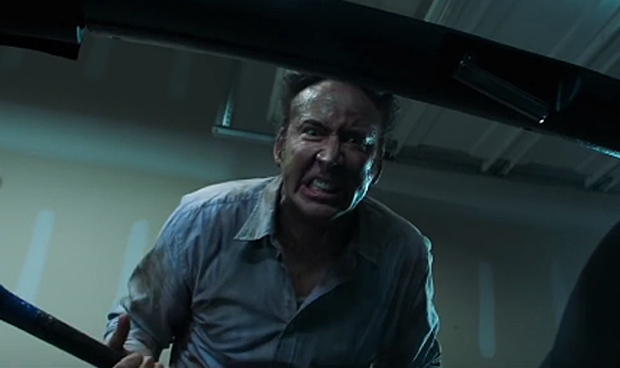 Selma Blair and Nicolas Cage are certainly no strangers to acting gigs in often-bizarre horror concept films throughout the course of their respective careers. However, Mom and Dad, an upcoming horror movie pairing the two together, appears to showcase a deliciously demented onscreen synergy.
Mom and Dad Trailer
As the Mom and Dad trailer makes evident, Selma Blair and Nicolas Cage will co-star as the titular characters of a horror film. However, as the homicidal outbursts prove, the duo are clearly not destined to be protagonists in this picture. The plot involves a mysterious mass hysteria that overtakes a town, causing people – notably Blair and Cage's "Mom and Dad," Brent (Cage) and Kendall (Blair) – to be overwhelmed by violent urges to attack their own children. At that point, the couple's teenage daughter Carly (Anne Winters) and her little brother, Josh (Zackary Arthur), must survive what is apparently a 24-hour duration for this widespread rage epidemic.  
On the bright side, the gif galleries of connoisseurs of Cage-rage clips will likely receive a substantial content boost, judging by what we're seeing in this trailer alone.
Mom and Dad Details
Serving as both writer and director for Mom and Dad is Brian Taylor, whose work behind the camera – up until now with regular collaborator Mark Neveldine – is probably best known from Jason Statham's heart-charging action films, Crank, in 2006 and sequel Crank: High Voltage in 2009, along with the 2009 Gerard Butler vehicle, Gamer. However, Mom and Dad will actually be serving as a reunion platform, seeing as Taylor (along with Neveldine) directed Nicolas Cage in his 2011 flopped comic book movie sequel effort, Ghost Rider: Spirit of Vengeance.
Mom and Dad should be an interesting turn for Selma Blair. The Cruel Intentions and Hellboy series starlet has been mostly keeping things on the small screen with roles in FX's The People v. O.J. Simpson: American Crime Story and in Charlie Sheen's now-defunct sitcom Anger Management. She'll also appear in the upcoming TV Land television series adaptation of the dark 1988 teen movie classic, Heathers.
Yet, when it comes to the prolific rollercoaster career of the 1996 Leaving Las Vegas Oscar winner, Nicolas Cage, one might be inclined to hear the sound of a card being run through an old-school punch-clock, since Mom and Dad sounds like yet another bizarre conceptual payday. Whether or not that ends up being the case remains to be seen. However, amongst his myriad payday projects, he recently appeared in 2016's CIA whistleblower biopic Snowden with Joseph Gordon-Levitt and will field a voice role in the 2020-scheduled The Croods 2.
Mom and Dad Release Date
Mom and Dad will look to redefine tough love when it makes a debut with limited theatrical showings and on VOD on January 19.