News
Mixed Martial Arts at the movies
With Quinton 'Rampage' Jackson appearing as B.A. in the A-Team and Randy Couture in The Expendables, Matt looks at other MMA sports stars who have made the jump to films…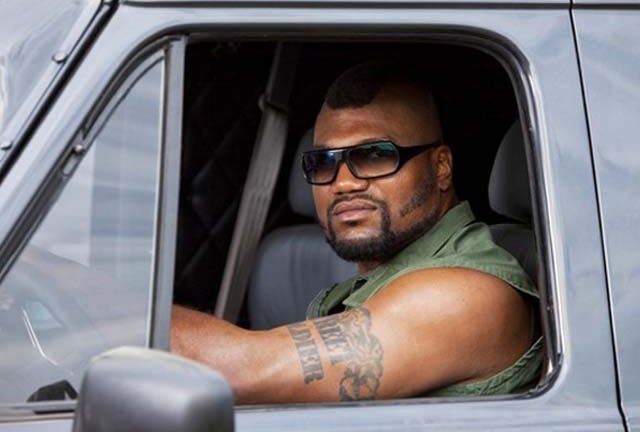 Fight!
Mention the sport of MMA (Mixed Martial Arts) and you'll likely be greeted by blank stares. Most people will, however, respond to hearing it referred to as UFC (the most popular brand, a bit like referring to your generic brand vacuum cleaner as a Hoover or your generic brand fake-torch sex-toy as a Fleshlight) or cage fighting. But then they'll usually tell you that it's terrible and it should be banned. You don't really watch that, do you?
Such is the stigma attached to MMA. If you're reading this site, you can probably relate to this. Ever get told by people with no idea that comics are for kids or that if you like watching Star Trek then you might also like to try having sex one day?
However, the sport is becoming more popular and I find I'm running into other people who are interested. It's slowly creeping into pop culture, as you'll notice if you like action movies and plan on visiting the cinema this summer.
Two of the summer's blockbusters feature MMA fighters in prominent roles. That's why this article is here – to give a little insight into who these guys are and whether you might like to see their films.
The key people to watch out for this summer are:
Quinton 'Rampage' Jackson
Who is he?
Quinton 'Rampage' Jackson started his MMA career in Pride FC, where he proved to be a game fighter with heavy hands, powerful wrestling slams and a big personality. Rampage then moved to the UFC where he soon captured the light-heavyweight championship with a vicious knockout win over fan favourite Chuck Liddell. He defended the belt once before, losing a contentious decision to Forrest Griffin (whom you'll find a bit further down the article. Incidentally, I don't see what people are complaining about and think Forrest was the rightful winner of that match).
Rampage still fights in the UFC, despite a rather public falling out with the company and its outspoken president Dana White over his pulling out of a fight to take a film role. The fight, against rival Rashad Evans, had been much hyped as the two constantly clashed as coaches on the reality show The Ultimate Fighter. Rampage made a bad impression on the show, where he struggled with coaching duties and appeared to bully one of the contestants.
Rampage is a respected and dangerous fighter and is also one of the most charismatic and popular competitors in UFC.
What's he in?
I, erm, pity the fool who has to ask. I can only imagine that you'll be bumbling across Rampage on the screen of your local multiplex when you go to see The A-Team, where he'll be stepping into Mr. T's iconic shoes to play the role of B.A. Baracus.
Should I be afraid of him?
He's called Rampage. Yes, you should be afraid of him. Obviously. I can only advise you to not, under any circumstances, upset Rampage because he might punch your head off. You have been warned.
When can I next see him fight?
Rampage last fought at UFC 114, where he lost a decision to Rashad Evans and didn't look particularly sharp in doing so (although he landed a malicious shot in the third round that very nearly ended the fight).
Rampage has attributed his performance to having spent a year out of the ring, whilst critics have suggested that he had trouble with his conditioning after gaining a considerable amount of weight for his role in The A-Team.
It's a bit early to expect his next fight to be announced just yet, but expect to see Rampage back later this year, likely against karate expert and recently dethroned light-heavyweight champion Lyoto Machida.
One of Rampage's most famous KOs. Seriously guys, this never happens.
Randy 'The Natural' Couture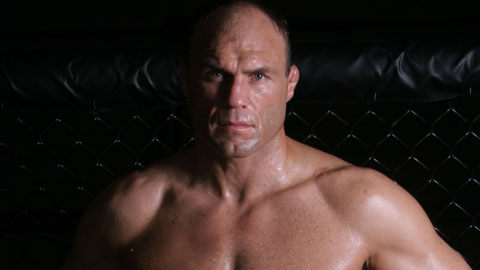 Who is he?
If you'll excuse the crass comparison, Randy Couture is like the Hulk Hogan of the UFC. He's the all-American hero who is, it seems, impossible to suppress.
The man dubbed 'Captain America' by fans made his UFC debut at UFC 13 back in 1997. He's since competed in many events and held both the heavyweight and light-heavyweight titles. Primarily a wrestler, Randy's fighting style usually involves bundling people to the ground and working them over. He's also something of a master at 'dirty boxing', which involves sneaking in decent punches whilst grappling with a standing opponent. It's more impressive than I make it sound.
The thing about Randy that is so awe inspiring to a lot of people is that he is still able to compete at a high level despite his age. Combat sports competitors don't tend to last a particularly long time because of all the hitting, but somehow Randy is still going at forty-six.
Also, as a result of his age Randy is constantly considered to be the underdog when he fights and so has caused some serious upsets in his time.
What's he in?
How about the all-star action-a-thon, as directed by Mr. Sylvester Stallone, The Expendables! Also, you might have seen him in the straight-to-video sequel to The Scorpion King. Although I hope, for your sake, you haven't.
Should I be afraid of him?
It might not seem like it, because he comes across as such a thoroughly bloody nice chap, but do bear in mind that, should he feel inclined to, Randy Couture could smash you in.
Randy Couture holds a win over the 6'8″ monster Tim Sylvia, who at the time was the UFC heavyweight champion and recently performed some stunt work as mega-Myers in Rob Zombie's Halloween II. Randy beat up Michael Myers for twenty-five minutes. What do you think he could do to you, should the mood take him?
When can I next see him fight?
At the end of August, Randy will be fighting at UFC 118 in Boston. His opponent? Former professional boxer James Toney. Toney has been critical of MMA as a sport (an attitude that several people with ties to boxing seem to have adopted) and is making his UFC debut. He's causing ire amongst the UFC's fans by making all sorts of bizarre, ill-informed and fantastic statements. His arrogance makes him the perfect villain to face off against Couture's hero. As a boxer, Toney has a very good chance of knocking Couture out should he land a decent shot on him. That being said, expect Couture to utilise his well-rounded skill set to take the win.
Let's hope The Expendables is better… er, I mean, just as good as Randy's last film.
Other players
Andre 'The Pitbull' Arlovski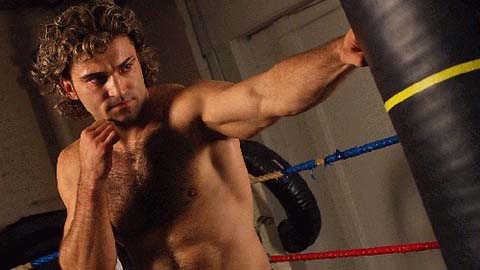 Andre Arlovski is a man who hits hard. He hits very, very hard. Unfortunately, his career has been hampered by a questionable chin and so he's recently been exploring his options.
I imagine a few of you will have seen the recent Universal Soldier sequel that united Van Damme and Ivan Drago. Arlovski apparently plays a major role in that film. Maybe some of you that have can let us know how the Pitbull got on, as I don't think I have it in me to sit through it.
Appearing in a relatively high profile release like this, particularly one which is likely to have a follow up, suggests that Arlovski may soon be appearing in more films.
Gina Carano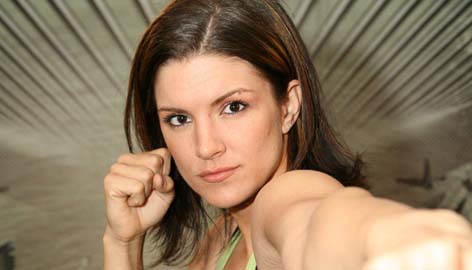 Look, there's a bloody girl on the list! Girls fighting! Phwoar! etc. etc.
It may surprise a few of you to know that, not only does women's MMA exist, but the fights don't take place in a paddling pool full of jelly. As an interesting side note, it's worth noting that these women could batter you into a coma in their lunch break.
Whilst the competition is not as developed as the men's, women's MMA is very much to be taken seriously. I'm not proud to admit that I was sceptical of the idea, but having seen a few fights now I can happily report that it's competitive and interesting. I would still argue that it's entirely unnatural, but that really only applies to combatants agreeing to being weighed in public prior to the fights.
Carano had her unbeaten streak ended in a battle with the aptly named Cyborg (a woman who may actually be a terminator) at a Strikeforce MMA event last year. However, prior to that she'd been on an impressive run.
She hasn't fought since, having been cast in Steven Soderbergh's upcoming film Knockout, and seems set for movie stardom.
She's the prettiest person on this list by a country mile, which will help no end, is articulate and very media friendly. Don't be surprised if you see more of Gina Carano.
Heath Herring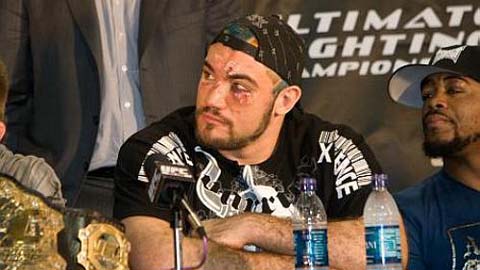 Heath Herring is a confusing entry on this list, even for me. The former Pride FC contender has not seen a great deal of success since moving to the UFC after the Japanese company was bought out.
Herring has been absent from competition for a while, seemingly sitting out his contract with the UFC rather than taking fights with lower tier opposition. According to Herring, he's getting lots of acting work and earning enough doing it that competing in MMA is no longer a sound financial decision. All I can see of note on his IMDB page is an uncredited role as 'Henchman' in the upcoming Angelina Jolie action movie Salt. But maybe I'm just wrong. Watch this space, I guess.
While we're on Heath Herring, have you ever seen when the fighters put their heads together and stare each other down before a fight? It's pretty intense. Have you ever wondered what would happen if one of the fighters kissed the other? Someone did that to Heath Herring once and it turns out that the end result is considerably less hilarious than you might think. Here's what happened:
Ill-advised.
Who to keep an eye on
Tito Ortiz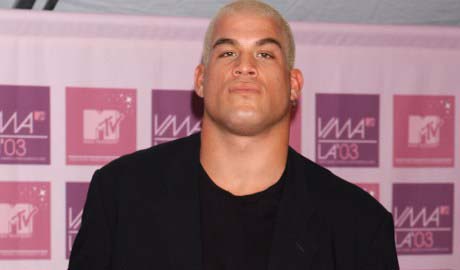 Giant-headed (figuratively and literally) former light-heavyweight champion Ortiz took a small role in Zombie Strippers (alongside his wife, Jenna Jameson, whom you may have seen in other films you dirty, dirty boys).
Ortiz has been racking up some serious injuries over the years, and now requires a second bout of surgery on his spine. There's a chance he'll be forced into looking for alternative work and the direct-to-video movie market may be the perfect home for him.
Forrest Griffin
Forrest Griffin is a fan favourite in the UFC, and for good reason. He won their first reality TV series, The Ultimate Fighter, in which he proved to be a funny and charismatic guy.
Another former champion, Griffin also has a best-selling book to his name (the follow up is due out in July). He had a small role in the recent comedy I Hope They Serve Beer In Hell and has appeared on Law & Order. All that and he does a monkey impression that puts Nick Frost to shame. I
If Griffin isn't the most likely person here to end up a successful actor, he's probably the most likely to be any good at it.
Anderson 'Da Spider' Silva
Anderson Silva is dangerous man. The current UFC middleweight champion hasn't lost a fight in years. However, Silva has recently fallen afoul of fans by becoming more of a showman than a fighter. He'll dance around the ring, taunting opponents and shouting abuse at them. Granted, he beats them up while doing so, but he hasn't finished a fight in some time, seeming content to coast to decision wins. Particularly in the US, UFC events are expensive to watch and people feel he is being disrespectful to his opponents and to the people who pay to watch him fight.
Personally, I think they're misinterpreting Silva's actions. No doubt irked at seeing less successful fighters getting high profile movie roles, I think Silva has been using recent fights as an audition for a Westside Story remake. He can fight, he can dance. Hollywood, give this man a call.
'The Dean of Mean' Keith Jardine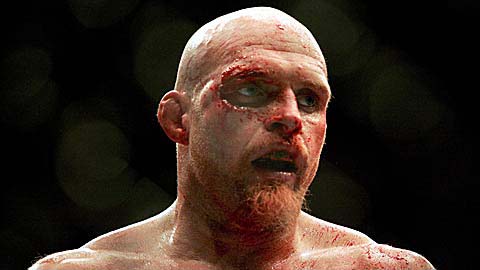 You'd recognise Keith Jardine if you saw him. He popped up in Crank 2 for a moment (he was the confused bald man in the scene where Corey Haim got beaten up outside) and appeared in Gamer, from the same directors.
So long as Neveldine and Taylor keep making movies, the chances are you'll keep spotting Keith Jardine's cheeky face on the big screen.
Brock Lesnar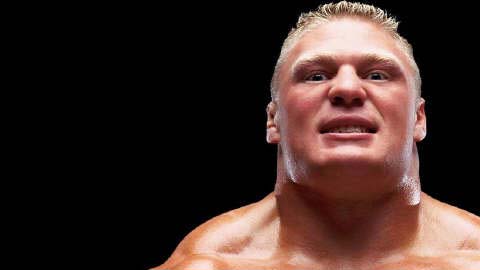 There is nothing to suggest that former WWF wrestler and current UFC heavyweight champion Brock Lesnar would want to act, but for the sheer novelty value of having someone that size pop up in a movie, there's always going to be a chance of him having a Hollywood career.
Honestly, the guy looks like a wall of muscle.
Joe Rogan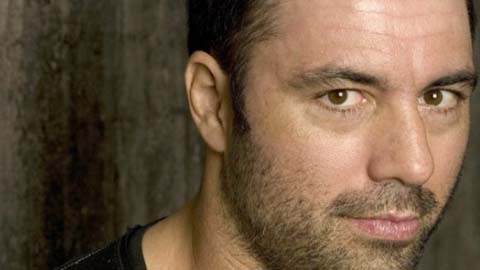 Technically not a fighter, but a commentator at UFC events, you might know Joe Rogan from all sorts of things, like his TV work (Rogan presented Fear Factor, which he has openly mocked, and a later series of The Man Show, as well as acting in News Radio) or his career as a successful stand-up comedian.
Rogan will be featuring in The Zookeeper next year, along with Paul Blart and King Of Queens star Kevin James (who can be spotted in the crowd at UFC events regularly).
If you're interested in seeing what MMA is all about, I'd recommend catching UFC 116 on 3rd July. It'll be on in the middle of the night on ESPN, so you'll need to set your video. I'd watch it with you, but I'll catching the fights live from the cheap seats in the MGM Grand Garden Arena in Las Vegas.