News
Mission: Impossible Accepts Christopher McQuarrie as Director for Two More Movies
After saying he wouldn't be back, Christopher McQuarrie has accepted making Mission: Impossible 7 and 8 back-to-back.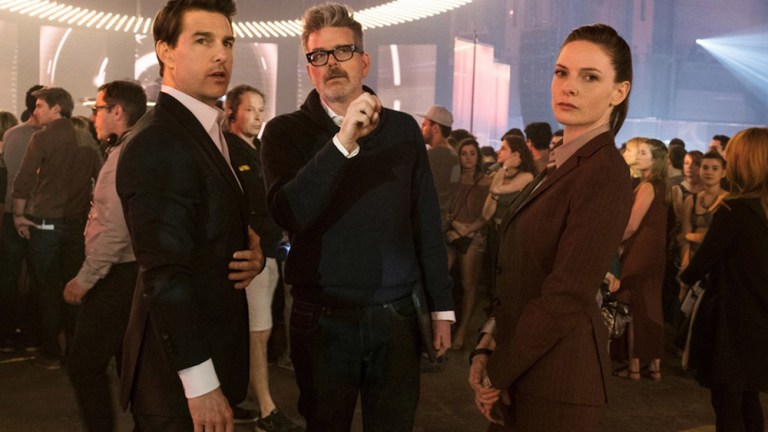 "Missions: Accepted," Christopher McQuarrie tweeted earlier this evening. And like that, somewhere out there, Tom Cruise must have begun running. Yep, after suggesting he would not be back for a third turn in the director's chair for the Mission: Impossible franchise, writer-director McQuarrie broke the news he's coming back for not one, but two more Mission: Impossible movies.
The Monday evening shock that McQuarrie is steeping behind the camera again is welcome news for both Paramount Pictures and fans of their everlasting espionage franchise. Mission: Impossible – Fallout marked the first time a director reprised his role in a franchise that was previously notorious for changing filmmakers and aesthetics with every installment. Yet with 2015's Mission: Impossible – Rogue Nation, McQuarrie left a creative stamp of energy on the already popular franchise, helming the then most critically well-received film in the series. He then topped that with Fallout, the new, new best reviewed movie of the series, as well as 2018's most well-received blockbuster (it just won "Best Action Film" at the Critics Choice Awards yesterday). Fallout also earned a franchise high of $791 million.
It is that euphoric reaction that caused McQuarrie to suggest he wouldn't want to try to it. That's clearly changed. Variety has since confirmed further that the next two Mission: Impossible films, ostensibly Mission: Impossible 7 and 8, will be shot back-to-back with the plan to release the first in summer 2021 and the second in summer 2022. This will also be done in an effort to capitalize on the resurgent popularity of the franchise while also not competing with Paramount and Cruise's other old school franchise effort due out in 2020, Top Gun: Maverick.
We are more than excited about this, as our first chat with McQuarrie left us eager to see him come back. His own composer on Fallout, Lorne Balfe, mused it would make sense for McQuarrie to complete a pseudo-trilogy within the larger M:I franchise, something we also speculated on our M:I7 wish list.
However, doing two films back-to-back creates momentum and at least the illusion of the series building to a natural conclusion (much like Marvel's most recent Avengers films) while also at least providing a possibly real conclusion to a story McQuarrie began developing since 2015. In Rogue Nation, he introduced now beloved franchise staples like Rebecca Ferguson's Ilsa Faust and Sean Harris' coldblooded Solomon Lane. Fallout also introduced new intriguing characters in Vanessa Kirby's shifting femme fatale, the White Widow, and Angela Bassett as a CIA Director who looks less than amused by Tom Cruise's Ethan Hunt… and didn't necessarily change her mind by movie's end. If McQuarrie can further develop these elements while also continuing his trend of engineering some of the most amazing stunts in movie history, alongside a game Cruise and second unit director Wade Eastwood, then we should be in for an action movie two-parter that's actually marvelous.