News
Miseducation of Cameron Post Trailer with Chloe Moretz in Gay Conversion Camp
Watch the first trailer for the Sundance award winning The Miseducation of Cameron Post, Chloë Grace Moretz's gay conversion camp movie.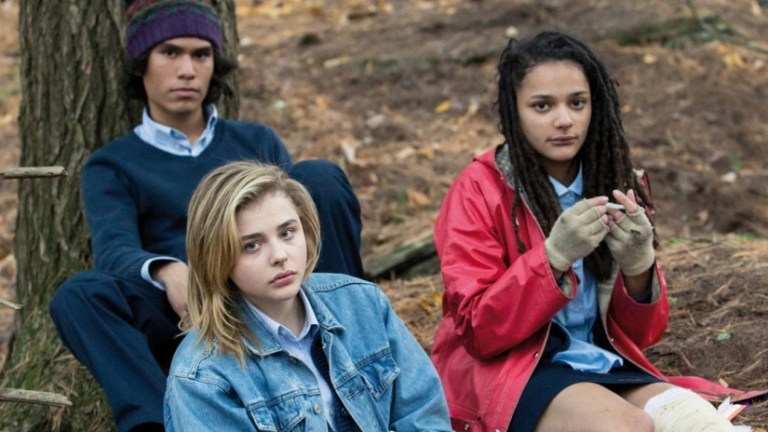 Our perception of what it means to be tolerant has thankfully evolved over the years. Mostly for the better with regards to the LGBTQ community in contrast with the religious community. While there are still many who wish to not treat gay neighbors as equal citizens, simply judging by how our media now "understands" institutions as heinous as gay conversion therapy camps is evocative of how the conversation's improved. Thus enters Chloë Grace Moretz's The Miseducation of Cameron Post, a movie set in a much less tolerant 1993.
Depicting the confusing odyssey inflicted upon a teenage girl who was caught having a lesbian relationship with her best friend by her disapproving evangelical family, Cameron Post follows the titular character as she is forced into joining a "pray the gay away" camp ruled over with an iron fist by a smiling and malevolent Dr. Lydia Marsh (Jennifer Ehle). Ehle's psychologist seeks to prove that each boy and girl's "perversion" in her camp stems from a childhood disorder that can be corrected. The movie does not hide that this is a form of Hell.
Even so, director Desiree Akhavan's Cameron Post becomes a most unconventional telling of a most conventional experience: coming of age. Following Moretz's heroine and a number of friends and acquaintances who acquiesce to the program, or don't, the film features among its impressive cast John Gallagher Jr., Sasha Lane, Forrest Goodluck, and Quinn Shephard. You can watch the trailer for the Sundance Film Festival's Grand Jury prize winner below.
We also had a chance to see the movie earlier when it played at the Tribeca Film Festival in 2018. Below is an excerpt of our own thoughts on the movie.
The Miseducation of Cameron Post's success stems from how minimalist and yet sophisticated it can be in offering a dramatic rendering of of this special kind of hell. Adapted from an Emily M. Danforth novel of the same name, it takes a narrower and more sharply pointed, 90-minute route than the lengthy source. As opposed to older films on similar subject matters from previous decades, whether it be gay conversion satires like But I'm a Cheerleader (1999) or other melodramatic pieces about teenage evangelical crucibles, such as Saved! (2004), there is no desire to cajole or sweetly mock the naïve biases of godly oppressors. While this film depicts Gallagher's Rev. Rick as a pleasant fool who's doomed himself to unhappiness—Ehle by contrast plays a most self-content incarnation of the Devil—the movie is not interested in empathizing with the mistaken or in persuading a sheltered, skeptical audience.
The Miseducation of Cameron Post opens on Aug. 3, and really is one of the movies of the summer you should watch out for.