News
Miles Teller Defends Fantastic Four and Discusses the Han Solo Audition
Miles Teller tackles the criticism aimed at the notorious Fantastic Four, while making a confession about his Han Solo audition.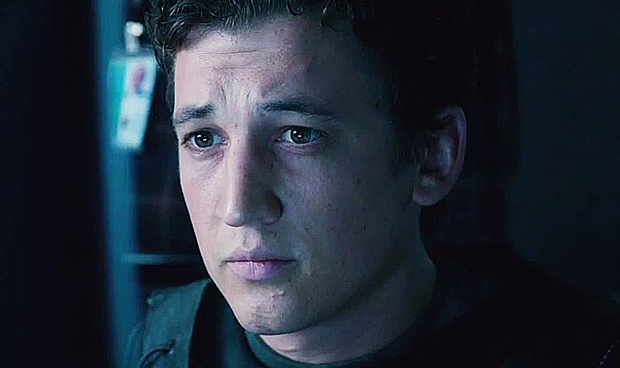 For Miles Teller, the year of 2015 was a proverbial rollercoaster when it came to his surging stardom. Starting promisingly with award season prestige in his memorable performance as the foil to an irascible J.K. Simmons in the multi-Oscar-winning Whiplash, Teller seemed ready to break out his newly-acquired Midas touch on Fox's comic book reboot Fantastic Four that summer. While that film ended up making Teller the centerpiece of an abysmal bomb, he's still reluctant to poo-poo the picture.
Speaking to host Josh Horowitz on the happysadconfused podcast (via Collider) Teller remains adamant that the variables that led to the fantastic failure of Fantastic Four were not rooted in his or anyone's performances. In fact, he seems to take exception to the (common) criticism over the cast's acting, which many believed to be dry and lifeless. According to Teller:
"People think that when you make something like a Fantastic Four that doesn't do well, people think 'Oh you phoned it in' and it couldn't be more untrue. You work harder on the bad films, or the films that turn out maybe not the way you intended, because something's not working. And I thought it was kind of unjustly critiqued that way; there are even bigger bombs if you're looking at how much money went into the production and what they reaped back."
Fantastic Four (or Fant4stic) saw Teller as the science-wiz, would-be stretch-happy leader of the team, Reed Richards, alongside talented high-profile cohorts in Michael B. Jordan as Johnny Storm/Human Torch, Kate Mara as Sue Storm/Invisible Woman and Jamie Bell as Ben Grimm/The Thing. They were joined by Toby Kebbell as Victor von Doom who, after an accident, became their primary antagonist (albeit not until the last 30 minutes of the film). Discussing the post-Fant4stic stigma, Teller states:
"I think it's unfortunate a movie like that becomes a scarlet letter on a resume when so many talented people worked really hard and maybe a handful of people took it in a negative direction. But so many people worked really hard on that that are so talented."
Indeed, this was a solid cast… on paper, anyway. Yet, the individual who clearly fell on his sword deepest over the film was the once-burgeoning Chronicle director Josh Trank, since Fantastic Four's failure was compounded by whispers in the trades of his unprofessional on-set conduct. However, Teller never once evokes Trank and instead points to the film's script, which saw Trank's original narrative consistently re-worked, first by Jeremy Slater and then by Simon Kinberg.
Teller makes his feelings known on that front by quoting George Clooney, who said, "You can make a bad movie out of a good script, you can't make a good movie out of a bad script." From there, he implies that the fluctuating, unstable state of the script was something he was asked to overlook with the proverbial carrot dangled over his head of rewrites or that his role would be "bigger in the sequel." As Teller explains, it's all about star-power and politics:
"If you're in a position where you can say hold off I'm not signing off on this dotted line until this script is exactly where you want it, then you're in a very fortunate position. Because I know actors that have been in literally Oscar-winning performances that told me that script was a struggle every day to get it to a place that [they] wanted it, and [they] were always fighting for the best version of it."
Thankfully, Teller can leave the disorganized ordeal that was Fantastic Four in the past; something that co-star Michael B. Jordan has already achieved with his starring success last fall in the Rocky spinoff film, Creed. Likewise, Teller almost came close to achieving his own casting coup as a finalist in the auditions for the role of young Han Solo in one of the upcoming Star Wars spinoff films. While that prospect didn't pan out for him, he apparently did find it enlightening, since he claims that he never saw ANY Star Wars film until shortly before the audition! As Teller confesses (likely shocking legions of fans):
"I had never even seen any of the original Star Wars movies until maybe a month or a couple weeks before my first audition because I was like, 'I should check this out' (laughs). It holds up. I just love Harrison Ford, I think that's a great character. I love his brand, I mean so many guys would've played that part so wrong and he has humor at the right times. Harrison Ford is a very big actor, when you see the facial expressions and the things he does he goes big, but he's just always the coolest guy in the room and he's got all of those great qualities."
While Teller won't get a chance to embody a young version of the galaxy's favorite scruffy-looking nerf-herder, he will be reprising his role as Peter in the YA film franchise sequel The Divergent Series: Allegiant – Part 1, which hits theaters Mar. 18… today!