News
Mile 22 Trailer, Release Date, Cast, Story Details, and Set Visit
Mark 22, which sees Mark Wahlberg reteam with Peter Berg for an action-thriller, has seen its release day shift by a week.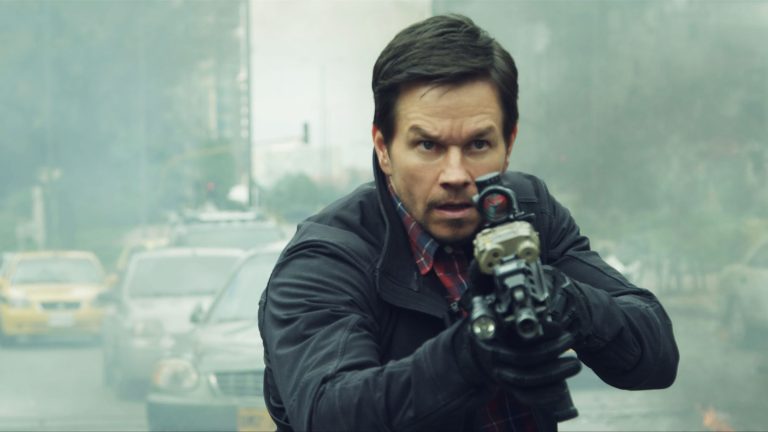 To this day, there are rumors about the alleged "Overwatch" unit in the CIA. Whether true or false, it is believed by some to be a special unit that takes care of major problems off the books. It is also the stuff of fertile cinematic soil. Thus enters Mile 22, the latest collaboration between star Mark Wahlberg and director Peter Berg, who've recently partnered on true story thrillers like Patriots Day, Deepwater Horizon, and Lone Survivor.
Set in an undisclosed country on the brink—it was actually shot in the relatively peaceful capital of Colombia—Mile 22 is the story of an Overwatch team led by Mark Wahlberg, who are forced to try and extract a high-valued target (The Raid's Iko Uwais) from an American embassy all the way to a distant airfield. It's 22 miles to that destination, and hostile enemies are going to make Wahlberg and his team, which includes Ronda Rousey and Lauren Cohan, feel it every step of the way. Below is everything you need to know.
Mile 22 Trailer
The second trailer for Mile 22 is here, and it looks intense in the right kind of way. We knew it was a down and dirty action movie shot on the streets of Bogotá, but this trailer emphasizes just how down and dirty that can be. Take a look and tell us if you're not ready to take that 22-mile journey.
Also in the first trailer, you get the sense of what a refreshingly practical, in-camera action movie this might be. Released in August and at the end of summer, it seems light on computer-generated imagery and heavy on watching martial artist Uwais do his thing. In fact, one can even ponder what happens when Wahlberg attempts to come to blows with The Raid 2's Rama.
Mile 22 Release Date
Mile 22 saw its release date slightly shifted by distributor STX Films. The company has moved the movie's release from Aug. 3 to Aug. 17.
Mile 22 Plot Details
Again, this feels like a departure for Berg and Wahlberg, who have turned to real-life tragedies to make harrowing stories about the resolve of American character, which often plays very well to the heartland. This appears lighter, more fun, and thus more likely to indulge in explosive thrills with a high-concept that includes John Malkovich whispering in Wahlberg's ear (he's watching via aerial drones) every step of the way.
The official synopsis reads: In a visceral modern thriller from the director of Lone Survivor, Mark Wahlberg stars as James Silva, an operative of the CIA's most highly-prized and least-understood unit. Aided by a top-secret tactical command team, Silva must retrieve and transport an asset who holds life-threatening information to Mile 22 for extraction before the enemy closes in.
Mile 22 Cast and Crew
In addition to reteaming Peter Berg and Mark Wahlberg, the pair are joined by Indonesian martial arts legend Iko Uwais in the enigmatic role of Li Noor, the prized asset that Wahlberg's CIA man, Jimmy Silva, must protect at all costs.
The picture also stars Ronda Rousey as Sam Snow, Silva's protégé and second in command, as well as Lauren Cohan, who plays Alice Curr, and is also a longtime member of Silva's team. The picture also features Sam Medina as an antagonistic force after Silva and Li, and John Malkovich as Jimmy's eye in the sky at Overwatch.
Mile 22 Set Visit
We were on the set for Mile 22 last February, and have filed a full set visit to prepare you for the in-camera craziness that is about to come. Here is an excerpt:
I'd never been singled out for death until I stepped foot on the location shoot of Mile 22. It was delightful. The swift and sudden end came on the morning of the 40th day of production. On the streets of Bogotá's normally picturesque Centro Internacional, a pleasant little plaza is about to be blown to hell. But that explosion, which involves Mark Wahlberg's Western machismo running alongside Indonesian martial artist Iko Uwais, is later in the day. In the here and now, director Peter Berg is selecting two journalists to participate in a stunt with Uwais—the actor and stunt coordinator who helped turn Gareth Evans' The Raid into a modern action classic.

I was one such lucky prop to be laid out, fumblingly, by Uwais. The stunt involves a colleague approaching the handcuffed martial artist (who is ostensibly trapped in the backseat of an SUV) and then getting strangled by a seatbelt while I also attempt to surprise Uwais with a firearm in hand. It's a surreal movie moment, but it's also part and parcel for Berg, a stalwart of modern action movies who's notorious for his ability to improv or change the approach to a complex scene at the drop of a hat—or in my case the drop of an inept henchman, who is unconvincingly miming being turned into a human Pez dispenser. (Berg wisely doesn't use our "take.")

Described by star Ronda Rousey as kind of like The Raid in premise, Mile 22 is about a band of badasses in a CIA operation called "Ground Watch." After Uwais' Li Noor gives himself up to an American embassy at a nondescript foreign city, these seasoned and mercilessly single-minded heroes must transport the prized intelligence asset to an airstrip 22 miles away. And the team, led by Mark Wahlberg in the role of Jimmy Silva, will earn every bloody inch.