Reviews
Mike Leigh: The BBC Collection DVD review
Like fish & chips and black cabs, Mike Leigh is a British institution...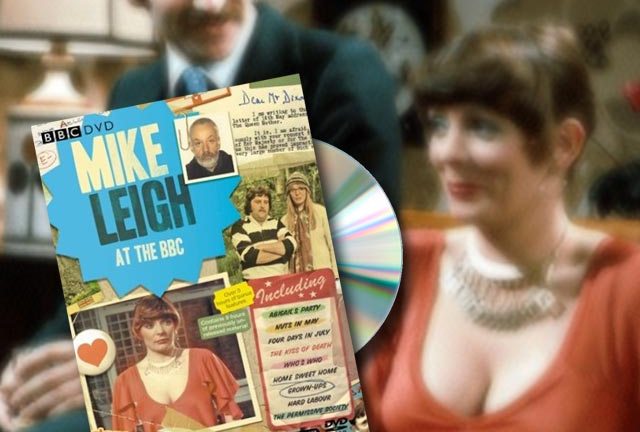 During the 1970s and '80s, Mike Leigh devised a number of works for the BBC, many of which have never been released on DVD. The Beeb has now brought these early works together to form one beefy six-disc box set – an essential for Leigh fans, or indeed for anybody with an interest in classic British drama.
The collection kicks off with Hard Labour from 1973, Leigh's first television drama, a somewhat grim exploration of the daily drudgery of a stoical woman (played by Liz Smith) taken for granted by her family and snooty employer. Leigh's works for the iconic series Play For Today are included in the box set – Nuts In May, The Kiss Of Death, Abigail's Party, Who's Who and Home Sweet Home. Four Days In July examines the troubles in Northern Ireland from the perspective of two couples – one Protestant, one Catholic – expecting their first child, showing how the experience of parenthood is universal and able to briefly unite people. Nuts In May stands out as a highlight in the collection. Alison Steadman plays the naïve Candice-Marie, an outdoorsy wholesome sort on a camping holiday with her self-righteous husband. Some of the other campers don't quite share their views on the sanctity of mother nature, leading to an inevitable clash of cultures and spectacular tantrums. The Permissive Society, Grown-ups and a host of extras are also squeezed into this comprehensive assortment.
Abigail's Party is the jewel in the crown with Alison Steadman at her very best as the formidable Beverly. Together with long-suffering husband, Laurence, she presides over her guests – dopey Angela, angry Tony and middle class Sue – with an iron fist, insisting they dance to the dulcet tones of Demis Roussos. Meanwhile, Sue's daughter Abigail is having a party of her own. During the excruciating torture of Beverly's drinks and nibbles, Abigail's party can be heard in full swing. We are led to believe that Abigail is a rebellious punk. Punk forms part of the backdrop to many of the works in this collection. It can be heard faintly in the background, it is tacitly referred to, it is passed by on the street, but it is never allowed to encroach too far into the domestic lives of the protagonists. The audience is left wondering just what does happen at Abigail's party. A revolution is underway outside, while inside England sips her G&T behind the net curtains.
This is typical of Leigh's approach to social commentary and critique. He does not set out with a didactic purpose and impeccable character development is never compromised in order to push a 'message'. Leigh is often thought of as being fixated by class and it's true that class tensions are evident in everything Leigh does, but there is much more besides. In an interview with Will Self included in the box set, Leigh comments that his work is about the human spirit and the social commentary in his work provides a context in which to explore this. Essentially, Leigh's characters are all attempting to communicate with one another and, for the most part, failing. They are trying to reach out and connect to other human beings but a barrier remains so they end up fixated on the minutiae of life – putting the kettle on, exchanging gossip – they talk and talk without ever truly saying anything at all. But such is the skill of Mike Leigh that we are able to understand the characters through other means, so even when it appears that nothing of importance has been uttered in a scene, what is left unsaid is crucial. Brenda Blethyn's brilliant performance as the interfering sister of a newly wed couple in Grown-ups demonstrates this beautifully. She longs to admit she is lonely and in need of love, but instead of saying the words she hides behind histrionics.
The collection includes many early appearances by actors who would go on to star in Leigh's big-screen films in subsequent years. Timothy Spall, Brenda Blethyn, Sam Kelly and Phil Davis all pop up looking very young indeed. And, of course, the combination of ex-husband-and-wife Mike Leigh and Alison Steadman is a treat to behold. Steadman's performance in Abigail's Party is legendary, but she also appears in Hard Labour and Nuts In May in this collection. Her character Candice-Marie is at the opposite end of the spectrum to Beverly, but is an equally wonderful comic creation.
Leigh had not developed his filmic sensibilities in his early works; they are very much stage plays transposed to the screen. It is interesting to view them in the context of his later films. While the aesthetic (and, of course, the budget) of Leigh's work has changed over the decades, the same blend of comedy and tragedy exists in Nuts In May for instance, as it does in Happy-Go-Lucky.
Extras The extras include a documentary about the creation and the cult status of Abigail's Party, including interviews with Leigh and the cast. Several of the features have the option of audio commentary from Leigh.
Two British creative heavyweights come face to face in a Soho café when Will Self interviews Leigh. The conversation between the two is candid and fascinating, though it focuses on Leigh's later film work rather than his early BBC material. 'The Long Goodbye' is another interview with Leigh in which he reflects on his relationship with his father.
Finally, the extras include an episode of Arena made very early on in Leigh's career. It examines the unusual techniques he employs to create his work. He does not sit down and write a script, rather he begins by working with the actors one by one to devise characters in painstaking detail. He then throws the characters into a situation of his choosing, observes what happens and eventually this becomes a play or a screenplay. It is interesting to witness the difference between the zealous young Mike Leigh captured in the Arena show and the mellow sage that greets Will Self in a Soho café 30 years on.
Features:
Discs:
Mike Leigh: The BBC Collection is released today.