News
Micronauts Movie Gets Director
Beloved 1970s/'80s toy line, Micronauts will be discovered in 2021 by a new generation at the movies.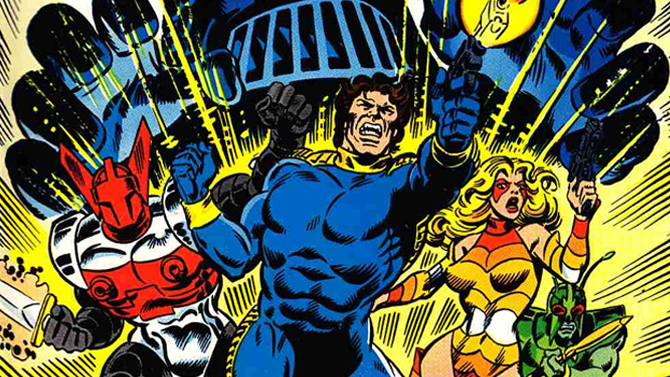 Having already had enormous global success with their Transformers franchise (G.I. Joe, not so much, but that's stopping a new movie and even a Snake Eyes spinoff from being made,) Hasbro/Paramount are bringing another — although somewhat lesser known — toy franchise to the big screen with Micronauts.
The glorious sci-fi toys were based on a line created by the Japanese company Takara and licensed by the Mego Corporation (a company which was better known for their superhero toys and 2-XL, an interactive, educational robot toy that used 8-track tapes). From the late 1970s through the early-'80s. Admittedly these things were awesome, even spawning one of the coolest, most underrated board games ever made.
Dean DeBlois of the beloved How to Train Your Dragon franchise, will direct (via THR), but note that this is a live action project. Rhett Reese and Paul Wernick (Deadpool) have written a script.
Micronauts Movie Release Date
Micronauts is now scheduled to arrive on June 4, 2021.
The move, as reported by The Wrap, represents a shift back from its previous October 16, 2020 date; a slot that now goes to fellow toy property G.I. Joe in the Snake Eyes spinoff film.
Micronauts Movie Details
While other details about the Micronauts movie are just not available as of yet, there's plenty of history to learn about the franchise.
Accompanying the toys was a world-building comic from Marvel that ran from 1979 to 1984, before morphing into Micronauts: The New Voyages and going for another two years. You have to remember that during this time, Marvel never met a licensed property that it couldn't try to make bank with, especially post-Star Wars. Thus the House of M gave us comics based on Logan's Run, The Man from Atlantis, Godzilla, and, more toyetic, Shogun Warriors. All of these titles had truncated runs, which is a shame because they each possess a weirdo charm that had the company's in-house writers trying to expand the parameters of what these characters could do, no easy task given the stipulations the license owners sometimes placed upon them that tied their hands creatively.
Handling writing duties on Micronauts was Bill Mantlo, the creator of Rocket Raccoon who also worked his creative magic on Rom, which was also based on a toy, albeit a less successful one. Mantlo was so skilled at what he did, that both of the licensed comics he worked on were on newstands long after the products they were based on had hit the discount aisles of your local Kiddie City. (Tragically, Mantlo was injured in a hit-and-run in 1992 and has been receiving medical care ever since).
Given the clean slate that the property has as opposed to the baggage that the Joe team and Transformers have, anything can happen in the upcoming film adaptation. These are characters that aren't as deeply embedded in the pop culture landscape, much like Guardians of the Galaxy. So creatively, the sky is the limit.
We don't know exactly what form this new Micronauts flick will take — rumors abound that Hasbro and Paramount want to link together all of their licensed properties in a Marvel-esque cinematic universe that could also take cues from IDW's recent Revolutionaries comic. In the aftermath of The Mummy, which singlehandedly managed to put the kibosh on Universal's planned Dark Universe franchise, not to mention the underwhelming response to Justice League, these united films seem to be a riskier undertaking than anyone anticipated. It's going to be an interesting journey watching this film take place. But if there's one lesson to learn from Mantlo's work on the original comic it is that making these characters, forgive us, more than meets the eye is the way to go. Producers take note, as this property could be the game changer Hasbro and Paramount are hoping for.