Reviews
McLintock! DVD review
Aliya finds this John Wayne adaptation of Shakespeare to be interesting, if uncomfortably old-fashioned, watching...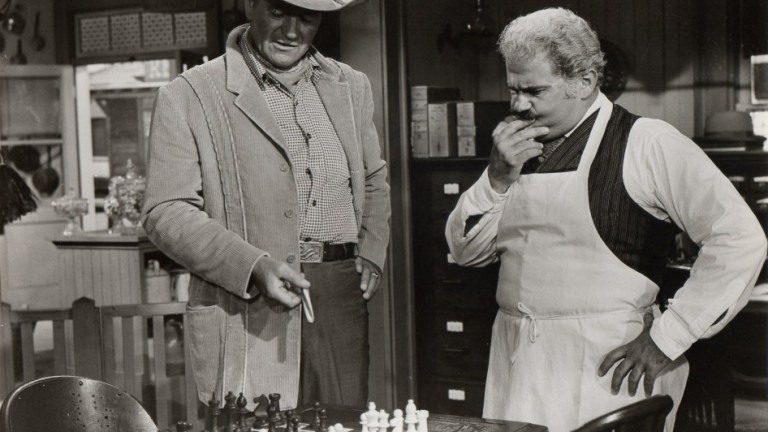 If you're going to watch a movie version of Shakespeare's The Taming of The Shrew you have a quite a few options: from DW Griffith's 1908 silent version to the 2010 Bollywood film Isi Life Mein. You could try Richard Burton and Elizabeth Taylor hamming it up in Franco Zefferelli's 1967 film, or enjoy the music of Cole Porter and the choreography of Hermes Pan in 1953's Kiss Me, Kate. Or there's 10 Things I Hate About You, which surprisingly feels like one of the more faithful renditions, with Heath Ledger and Julia Stiles spitting venom at each other in a very enjoyable way.
And then there's McLintock!, a comedy western from 1963 with the stamp of John Wayne all over it, determined to tell an old story in an old-fashioned way.
George Washington McLintock (Wayne) is a cattle baron out west who believes in paying a fair wage for a fair day's work, and doesn't always make himself a lot of friends in the process. He doesn't have time for politicians, college students, or get-rich-quick schemes, and, in a twist of fate, his own wife Katherine (played by Maureen O'Hara) no longer has time for him. She prefers the bright, cultured lights of New York and only returns in order to ask for a divorce and to try to persuade their daughter (Stephanie Powers) to come with her, away from all the cowboys and coarse settler types of the Wild West.
There follows a mighty battle of wills that is not romantic so much as downright frightening. Most of the time O'Hara looks as if she wants to murder Wayne and is perfectly capable of doing so – there's absolutely no softness about her, from her rock-hard bosom to the scornful sharpness of her gaze. She's terrifying. There are scenes in McLintock! which are obviously parallels of their great film together, John Ford's The Quiet Man, but I find none of the attraction present in McLintock! that enlivened The Quiet Man so. Having said that, O'Hara is still vastly watchable in this, and there are some very entertaining moments of physical comedy where she and everyone else gets stuck in with a fervour that usually belongs in cartoons. The scene where the whole town decides to have a mud-wrestle, and the final comeuppance of Katherine, make no effort to be realistic, and belong purely to the world of slapstick.
So McLintock! is a strange mixture of some very funny moments and some very uncomfortable ones. The idea that a woman needs taming, sometimes physically, is a pretty repulsive business, and it's played as broad comedy, in the manner of Jerry hitting Tom on the head with an anvil. To be fair, it's not even Wayne's idea but Shakespeare's, and I'm certain he wasn't the first to come up with it either. Still, it needs to be mentioned that perhaps there's no other film in Wayne's canon that best represents his personal philosophy of life; his own children were raised in the credo of earning their way, and you can see that in the credits of the film. His son Patrick and his daughter Aissa make appearances, and the producer was his son Michael. The director is Andrew V. McLaglen, son of his old acting buddy Victor. Yvonne De Carlo appears as the housekeeper – the story goes that her career was struggling (before the role of Lily Munster came along in the following year) and she was offered the part in line with Wayne's belief that handouts do nobody any good. In his world, everyone must work for what they get.
There's no better moment in the film that illustrates this than the moment where McLintock explains to his daughter that he won't be leaving his land to her, but to the Native Americans who are being driven out by the government. Nobody could accuse Wayne of being a phenomenal actor, but here he's touching, and real, as he explains that he loves his child and the best he can do for her is to get her to work for her own future. Stephanie Powers is affecting too, in this one scene where the script gives her something to do other than pout.
For me, the best performance of the film belongs to Patrick Wayne. He was a warm, vital actor, with a great presence and a robust handsomeness, and he uses it very effectively here as a settler who earns a job with McLintock and then falls in love with his daughter. It's a shame that he's not particularly remembered now, but he appeared in a number of his father's films and was always enjoyable to watch, and also made perhaps the best Sinbad, carrying along Sinbad and the Eye of the Tiger (1977) with his trimmed beard and glinting earring suiting his physicality.
McLintock! is a real mixed bag of a film. The score is particularly painful – it plays mock Chinese and mock Native American music whenever one of these broad-stroke comic characters appears on the screen – and the direction is utilitarian. But it can't be dismissed so easily, perhaps because of the sheer weight of talent involved, including most of Wayne's old Western friends, such as Bruce Cabot, Edward Faulkner, and Chill Wills, who bring a liveliness to the comedy that entertains. And it surprises you at unexpected moments. The sub-plot of the Native Americans deserving a better deal from the government, and the moment where O'Hara rejects the advances of an old suitor, for instance, lift it to another level, albeit momentarily.
This is not, to my thinking, one of John Wayne's best films. I'd rather watch The Searchers, The Quiet Man, or Rio Bravo, where a strong director uses his persona in a more interesting way. But if you're a fan of Wayne, then McLintock! certainly has some classic moments and some very enjoyable dialogue and slapstick scenes. If you don't know a lot about Wayne and you're looking for a place to start, I don't think this would be the film for you.
McLintock! was released on DVD on 3 June 2013.